THE AUTHOR
For many years Allan Aldiss has been one the most popular and prolific writers of erotic fiction, specialising in stories of respectable Western women, in both past and present times, being degradingly incarcerated in harems under the supervision of strict black eunuchs.
We are lucky to be now able to start offering his stories to our clients especially as they are now being illustrated by Cagri, our own equally erotic artist. Aldiss and Cagri have come together to make a uniquely arousing combination.
Fully illustrated with sixteen stunning drawings by Cagri this is one story you simply can't afford to miss!
THE BOOK
Barbary Revenge was for many years one of Allan Aldiss's most popular and best selling erotic books. However it is now virtually unobtainable and we are therefore now offering to our clients all from all over the world.
This is the story of what happened to Amanda Aston, a television interviewer, after she publicly denigrated on television two rival, but both leading, Middle Eastern dignitaries: the wealthy Prince Rashid and the important Sheik Turki.
Both separately swore to get their revenge on someone they regarded as a mere upstart of a woman, and an infidel at that. The fact that she was very attractive would make their revenge all the sweeter.
In Book One, knowing the strong feelings of the insulted but wealthy Arabs concerned, a modern Egyptian slave dealer has Amanda abducted. She is then bought by the Prince for his unusual and sumptuous harem. Horrified by what is in store for her, she escapes. But has she?  
Here in Book Two, she finds herself a galley slave of the Sheik she had also insulted – and being subjected to forced breeding. 
When the helicopter lands on the island, instead of being released, Amanda
is, to her horror, brutally stripped naked by burly negro servants, and bundle into a small iron cage on a trolley which is taken to a shed. Other cages also contain a chained and manacled woman, some slim and some big breasted. A wide metal collar engraved with Arabic numerals is fastened round Amanda's neck. Then whilst she held quite still by the negroes and by her new collar chains, an Arab tattoos the same numbers in large Arabic numerals onto her forearm, together with two large palm trees – the crest of the Montah Island Sporting Club.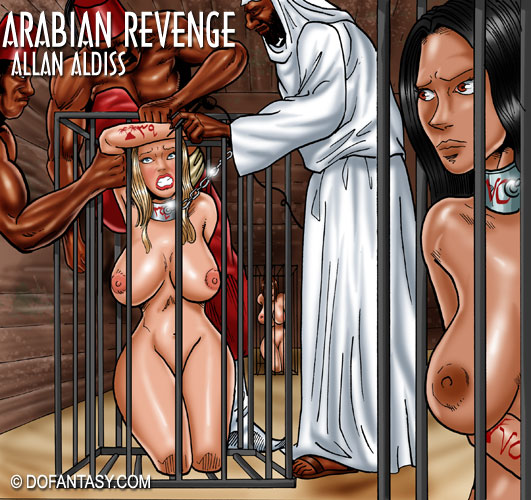 A new Allan Aldiss illustrated story that you can't afford to miss!