Use our On-Line 100% Secure EncryptedShopping Cart Ordering System. Simply browse
our site and Click the ADD TO SHOPPING CART buttons to place items in your Shopping Cart
[ HOME ] [ COMICS ] [ MOVIES ] [ NOVELS ] [ CD-ROM ] [ Order info ] [ Help ] [ ARTIST SITES ] [ SEARCH ]
[ Disclaimer ] [ CATALOGUE ] [ Copyright ]
WITCHHUNTERS #1 by DAMIAN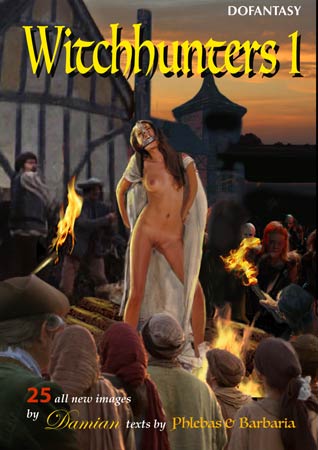 NEW IN PDF ELECTRONIC VERSION!
Adult Album by DAMIAN.
Shocking texts by PHLEBAS & BARBARIA
HIGH RESOLUTION PDF deluxe edition.
25 full color pages!!!
-COMPLETE, UNABRIDGED VERSION-
THESE SINISTER AND SADISTIC WITCH HUNTERS LUSTILY SEEK SALEM SLUTS TO PERSECUTE AND PORK IN ALL THEIR LOVELY HOLES!
INNOCENT GIRLS ARE ACCUSED AS WITCHES FOR FAILING TO SATISFY THEIR MENFOLK! THEY WILL BURN AT THE STAKE, BUT THEY WILL BE USED MOST VIOLENTLY FIRST...
IMPORTANT NOTICE - DISCLAIMER
All characters are 18 years old or older. This is an entirely fictional work based on cartoon characters for adult entertainment. It shows no real people or events. The characters are shown participating in CONSENSUAL role-play for their own personal satisfaction, simulating activities which involve sexual dominance and submission. No actual toons were harmed in the making of this comic.
The Salem Witch trials were a blot on the past of America. Seemingly swept up in a whirlwind frenzy of religious fervor and righteous panic, ordinary and reasonable people were suddenly turned into a xenophobic horde hell bent on cleansing their town from the dark powers of Satan and his evil, female minions. Unlucky women were put on show trial and forced to endure impossible torments in order to prove their innocence from witch craft. And when those women inevitably failed the townsfolkís impossible tests, they were quickly punished in all manner of sick and vile ways.
Some worked in the earnest but misguided desire to fulfill Godís wish to keep the town pure. Others simply saw the witch trials as a means of getting revenge upon girls who had wronged and humiliated them. Who knows what kind of dark heart lurks in the corners of powerful men?
The Salem Witch trials were a blot on the past of America. The curtain is pulled back from this horrifying tragedy to reveal the full depths of depravity and cruelty that womanfolk have ever known. Enter only if you dare, because you canít forget what youíve seen, and you wonít forget what you see in these appalling pages...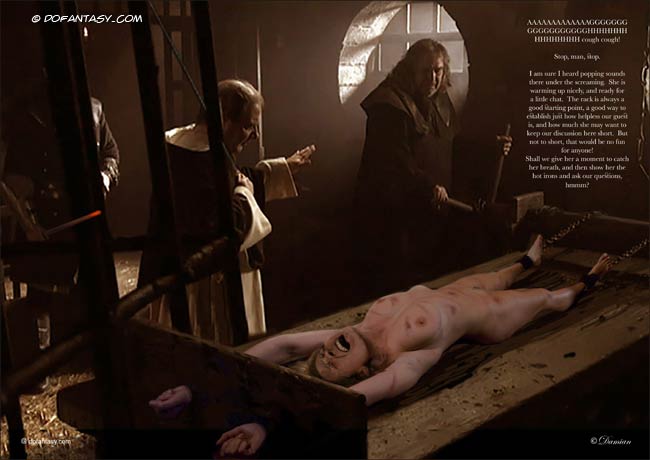 DAMIAN IS ONE OF THE GREATEST CREATORS OF HISTORICAL HORRORS IN THESE MASTERPIECES FROM THE PAST! FILLED WITH CRUEL AND SICKENING BONDAGE AND SADISM, YOU CANíT TURN AWAY FROM THE DISASTER AS IT UNFOLDS FROM ONE RICHLY ILLUSTRATED PAGE TO THE NEXT! GIRLS AND WOMEN WILL SUFFER FOR THEIR SUPPOSED SINS, AND THINGS WILL GET MUCH, MUCH WORSE BEFORE THE END! DONíT MISS THIS EXCITING ISSUE, BROUGHT TO YOU HERE EXCLUSIVELY AT DOFANTASY.COM!
THE BEST DAMIAN!