Use our On-Line 100% Secure Encrypted Shopping Cart Ordering System. Simply browse
our site and Click the ADD TO SHOPPING CART buttons to place items in your Shopping Cart
[ HOME ] [ COMICS ] [ MOVIES ] [ NOVELS ] [ CD-ROM ] [ Order info ] [ Help ] [ ARTIST SITES ] [ SEARCH ]
[ Disclaimer ] [ CATALOGUE ]
DAMIAN CRUCIFIXIONS II - DECADENCE
Adult Comic Album by DAMIAN HIGH RESOLUTION PDF deluxe edition
48 full color comic pages!!! -COMPLETE, UNABRIDGED VERSION-

Photography: MAKAR - Texts: Sandow
BOUND SLAVE GIRLS ON DISPLAY AND USED BY THEIR SADISTIC ROMAN MASTERS!
ROMAN FANTASY AT ITS BEST!
IMPERIAL DECADENCE REVEALED BEFORE YOUR EYES,
WITH NOTHING HELD BACK!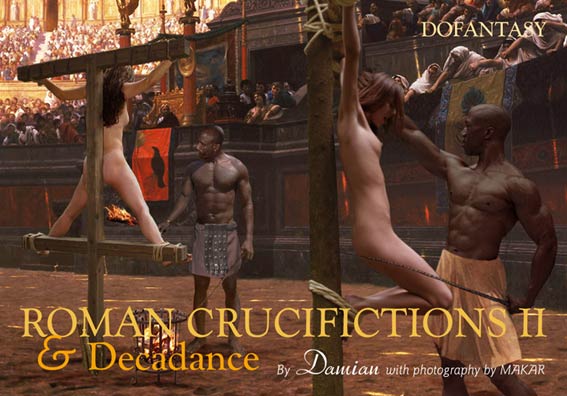 IMPORTANT NOTICE - DISCLAIMER
All characters are 18 years old or older. This is an entirely fictional work based on cartoon characters for adult entertainment. It shows no real people or events. The characters are shown participating in CONSENSUAL role-play for their own personal satisfaction, simulating activities which involve sexual dominance and submission. No actual toons were harmed in the making of this comic.
By popular demand, the artist Damian invites you to further explorations into the extreme practices of Roman crucifixion!
This brutal practice could only have been invented by the mighty Roman Empire, who dominated the world with their unique brand of cruelty for over 500 years. Not only did Imperial Rome control the civilized world, but they also controlled their slaves in the most shocking ways imaginable.
Power was the lifeblood of the Empire, and it flowed through every strata of Roman society. From the godlike Caesar and the Imperial Senate, all the way down to the humblest of slaves, power was used as a means of control and a weapon to inflict severe punishment.
The worst punishments were reserved for slave girls, who shook with fear whenever a new cross was erected in the city square....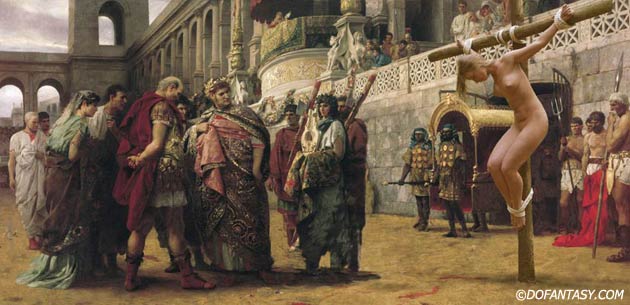 "Hold fast, kinsman! What temptation do you present over here? A Celtic beauty, unless my eyes deceive me?
Ah yes, that bronzed skin, smooth and firm. Hair like gold, and not just on her head! I'd wager that there's a downy
patch of gold between her sexy thighs! Is this yet another offering you bring me?"
"But of course, magnificent Caesar! When I said that I have anticipated your every desire, I wouldn't be so blind
as to forget the most important one! This lusty young woman was just taken from the northern territories.
Young, and untouched! Actually snatched from her mother's arms! She hasn't known the touch of a man before,
but she's ready to feel the fearsome pounding of an Emperor!"
"Ha! You've outdone yourself yet again! Take her to my quarters right away.
Don't take her off the cross, just yank the whole thing up and haul it away.
She'll remain lashed all the time. I have a few games in mind before having her chained to my bed...."
Slave girls were viewed as little more than property, a simple commodity to be bought and sold at auction. When purchased, slave girls were expected to cater to the most foul and repulsive demands of their new Masters. A reluctant slave was dealt with harshly, and a disobedient one would find herself hoisted up by strong ropes above a jeering mob…
There were countless ways the Holy Roman Empire filled its voracious hunger for young women to enslave. Helpless captives from the ever-raging border skirmishes were easily incorporated into the lowest tier of society, but many high-born beauties could find themselves on the auction block if their families fell into poverty. And in some circles, fathers and brothers were even known to sell off an excess daughter or two if the price was right.
Life for a beautiful slave girl was a relentless parade of humiliations and depravity. Rome never did anything by half-measures, and that includes tormenting slave girls! As the Empire grew maddened by decadence and jaded lusts, new and sinister forms of entertainment were devised. Horrific displays of barbarism, the likes of which the world had never seen before, played out daily in the Coliseum. That immortal stadium, the timeless testament to man's insatiable thirst for pain and blood, was constantly drenched in the tears from helpless slave girls.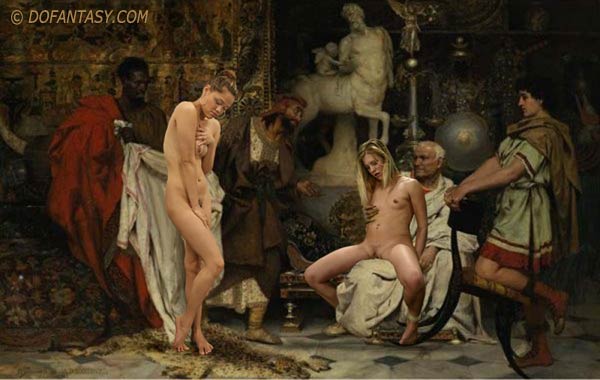 The sexiest women from across the Empire were brought to the Coliseum to entertain the howling masses. The lucky ones would escape the humiliating games, and return to lives of complete servitude to their brutal Masters. Unfortunate slaves didn't fare so well…
If you've ever been curious about what the life of a Roman slave girl was like, or ever wondered about the depths of Roman decadence… you won't want to miss this book!
The worst punishments were reserved for slave girls, who shook with fear whenever a new cross was erected in the city square.
THIS SPECIAL PUBLICATION CONTAINS MATERIAL YOU WON'T FIND ANYWHERE ELSE!
DAMIAN TEARS BACK THE PAGES OF TIME TO EXPOSE THE ROMAN EMPIRE AT THE HEIGHT OF ITS POWER.
CIVILIZATION AND SAVAGERY COMBINE INTO ASTOUNDING ARTWORK ON EVERY PAGE!
IF YOU'VE EVER BEEN CURIOUS ABOUT WHAT THE LIFE OF A ROMAN SLAVE GIRL WAS LIKE,
OR EVER WONDERED ABOUT THE DEPTHS OF ROMAN DECADENCE… YOU WON'T WANT TO MISS THIS BOOK!
OUT OF THIS WORLD, SUGGESTIVE IMAGES!
EVOCATIVE STORIES OF A CRUEL, ANCIENT WORLD
THAT WON'T LEAVE YOU INDIFFERENT!