Use our On-Line 100% Secure EncryptedShopping Cart Ordering System. Simply browse
our site and Click the ADD TO SHOPPING CART buttons to place items in your Shopping Cart
[ HOME ] [ COMICS ] [ MOVIES ] [ NOVELS ] [ CD-ROM ] [ Order info ] [ Help ] [ ARTIST SITES ] [ SEARCH ]
[ Disclaimer ] [ CATALOGUE ] [ Copyright ]
ROMAN CRUELTY & DECADENCE by DAMIAN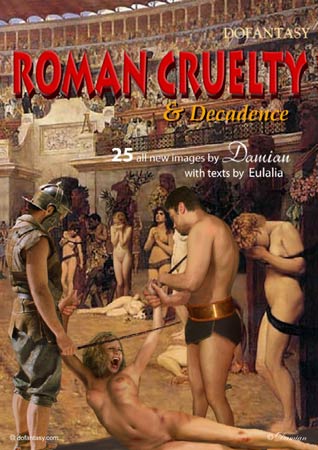 NEW IN PDF ELECTRONIC VERSION! Adult Album by DAMIAN. Shocking texts by EULALIA

HIGH RESOLUTION PDF deluxe edition.

25 full color pages!!!
-COMPLETE, UNABRIDGED VERSION-

DAMIAN RETURNS WITH ALL NEW ACTS OF SHOCKING, EXTREME, ROMAN CRUELTY AND DECADENCE!

YOU HAVENíT SEEN THE WORST THAT IMPERIAL ROME HAS TO OFFER! IF YOU THOUGHT HIS FIRST FEW ISSUES WERE BAD, YOU HAVENíT SEEN ANYTHING YET!

IMPORTANT NOTICE - DISCLAIMER
All characters are 18 years old or older. This is an entirely fictional work based on cartoon characters for adult entertainment. It shows no real people or events. The characters are shown participating in CONSENSUAL role-play for their own personal satisfaction, simulating activities which involve sexual dominance and submission. No actual toons were harmed in the making of this comic.

Rome... it took its inspiration from the vicious Spartans and built upon it. The early Romans were men of power, might, and monument. They conquered the world, built up to the heavens, and worshipped the gods with a rod of iron and a heart of cruelty. All who stood before them trembled before the might of the Roman Legions, and Romeís power spread to every corner of the known world... across the Mediterranean, deep into Europeís dark, forested heart, and eastward to the very edges of the Persian Empire.

But that was early Rome. As Rome reached the borders of the known world and exhausted its supply of gold and conquest, it grew fat and decadent. Centuries of warfare and bloodshed did not build a culture that knew art or gentleness. When it trampled across all it could, Rome needed another way to quench its blood-thirst and itís hunger for cruelty.

Rome grew bankrupt upon its decadent parties of savage sadism and shocking cruelty. Those entrenched in power had an ancient hunger that war could not satisfy.

Perhaps the womenfolk of the conquered would do...

Rome was collapsing under its own weight... and it would take many, pretty girls along with it. They would know pain and suffering before the end...

...but what an end it would be!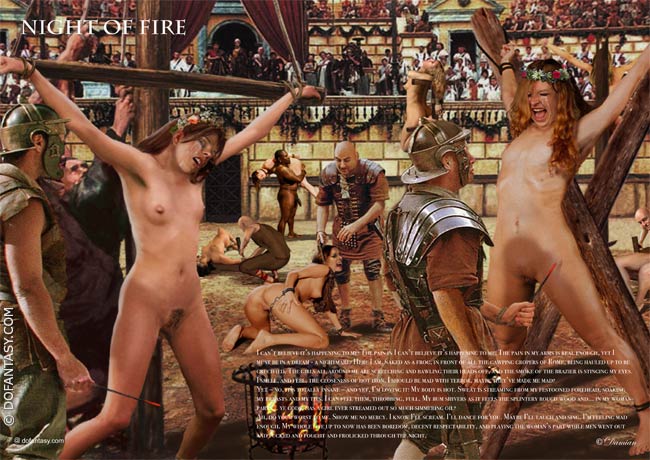 DAMIAN IS A WELL-KNOWN CREATOR OF AMAZING AND APALLING ARTWORK OF BONDAGE, SADISM, AND FEMALE PAIN! DAMIAN SPARES NO ONE IN THIS DISGUSTING AND HORRIFYING TABLEAU OF HISTORIC HEARTLESSNESS IN ROMEíS DARK UNDERBELLY! THIS INCREDIBLE COLLECTION OF ROMAN CRUELTY CANíT BE FOUND ANYWHERE ELSE! GET THIS ISSUE QUICKLY BEFORE ITíS BANNED FROM ALL WEBSITES FOR ITS DEPRAVED INDECENCY, ONLY HERE AT DOFANTSY.COM!!!
THE BEST DAMIAN!