Use our On-Line 100% Secure EncryptedShopping Cart Ordering System. Simply browse
our site and Click the ADD TO SHOPPING CART buttons to place items in your Shopping Cart
[ HOME ] [ COMICS ] [ MOVIES ] [ NOVELS ] [ CD-ROM ] [ Order info ] [ Help ] [ ARTIST SITES ] [ SEARCH ]
[ Disclaimer ] [ CATALOGUE ] [ Copyright ]
ROMAN CRUELTY & DECADENCE #2 by DAMIAN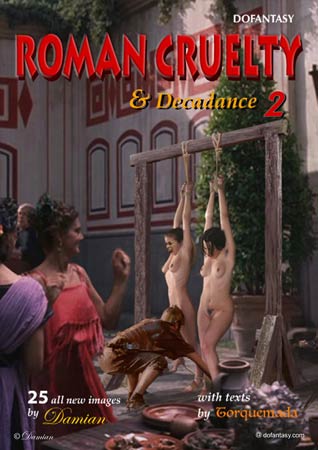 NEW IN PDF ELECTRONIC VERSION! Adult Album by DAMIAN. Shocking texts by TORQUEMADA

HIGH RESOLUTION PDF deluxe edition.

25 full color pages!!!
-COMPLETE, UNABRIDGED VERSION-

DAMIAN CONTINUES TO SHOCK WITH GRAPHIC AND TERRIFYING ACTS OF EXTREME, ROMAN CRUELTY AND DECADENCE!

YOU HAVENíT SEEN THE WORST THAT IMPERIAL ROME HAS TO OFFER! IF YOU THOUGHT HIS FIRST FEW ISSUES WERE BAD, YOU HAVENíT SEEN ANYTHING YET!

IMPORTANT NOTICE - DISCLAIMER
All characters are 18 years old or older. This is an entirely fictional work based on cartoon characters for adult entertainment. It shows no real people or events. The characters are shown participating in CONSENSUAL role-play for their own personal satisfaction, simulating activities which involve sexual dominance and submission. No actual toons were harmed in the making of this comic.

The Romans were once a powerful race of warriors who spanned almost the entirety of the known, Western world. Their empire stretched from Gaul and Britannia in the west to the edges of Persia and Egypt in the east. They were strong and powerful, and their Centurions were the greatest soldiers the world had ever known.

But with great power comes great decadence and depravity. While the soldiers conquered on the edges of the world, their spoils of war came home to feed the cruel and sadistic machine. The people were fat and wealthy and wanted more, more, more! They wanted to hear the girls scream louder, wanted to watch them bleed deeper, and wanted to wallow in the girlsí pain and misery! Even the Christian cultists, heretics who refused to worship the Emperor, were not spared from Roman wrath!

Rome fiddled while it burned the world as it sang a song of shouting and screams. In time, Roman cruelty would fade to a mere memory... but for those who suffered the most, the girls at the end of Roman sadism and torment, their last memory would be the most painful of all...
DAMIAN IS AN ACCOMPLISHED ARTIST OF AMAZING AND APALLING ARTWORKS FEATURING BARBAROUS BONDAGE, SADISM, AND FEMALE PAIN! DAMIAN SPARES NO ONE IN THIS DISGUSTING AND HORRIFYING FICTIONAL GLIMPSE INTO THE DARK RECESSES OF ROMAN EXCESSES! THIS INCREDIBLE COLLECTION OF ROMAN CRUELTY COULD ONLY COME FROM THE DARKEST PITS OF MADNESS AND HISTORY! YOU MUST GET THIS EXCITING ISSUE WHILE ITíS STILL HOT, HOT, HOT, EXCLUSIVELY HERE AT DOFANTASY.COM!!!
THE BEST DAMIAN!