Use our On-Line 100% Secure EncryptedShopping Cart Ordering System. Simply browse
our site and Click the ADD TO SHOPPING CART buttons to place items in your Shopping Cart
[ HOME ] [ COMICS ] [ MOVIES ] [ NOVELS ] [ CD-ROM ] [ Order info ] [ Help ] [ ARTIST SITES ] [ SEARCH ]
[ Disclaimer ] [ CATALOGUE ] [ Copyright ]
ROMAN CRUELTY & DECADENCE #3 by DAMIAN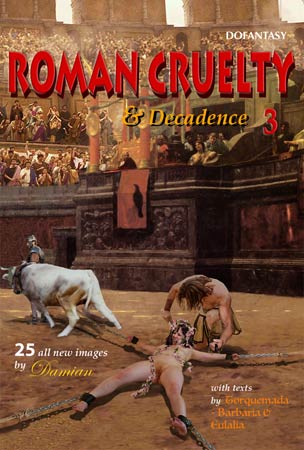 NEW IN PDF ELECTRONIC VERSION! Adult Album by DAMIAN. Shocking texts by TORQUEMADA

HIGH RESOLUTION PDF deluxe edition.

25 full color pages!!!
-COMPLETE, UNABRIDGED VERSION-

DAMIAN PRODUCES SOME OF HIS BEST WORK YET IN THIS EXCITING AND THRILLING CONTINUATION OF THE ROMAN CRUELTY SERIES!

THINGS GET WORSE FOR THE SLAVE GIRLS AND WAR CAPTIVES OF ROME! THESE PRETTY GIRLS WILL RECEIVE NO MERCY FROM THEIR ROMAN CONQUERORS!

IMPORTANT NOTICE - DISCLAIMER
All characters are 18 years old or older. This is an entirely fictional work based on cartoon characters for adult entertainment. It shows no real people or events. The characters are shown participating in CONSENSUAL role-play for their own personal satisfaction, simulating activities which involve sexual dominance and submission. No actual toons were harmed in the making of this comic.

The war continues for Rome, for there are always lands to be conquered, people to be subjugated, blood to be spilled, and women to take screaming and bleeding! If the world hoped for Rome to be satiated with Carthage, Persia, and Britannia, they thought wrong: the lust for these unbroken, defiant women only grew as the meat went through the grinder. The demand was never higher for lions' meat, for gladiator rewards, for Senator's "cock warmers", or for bodies to throw to the unruly and angry mob.

Rome soon came to see enemies everywhere, both from without and within: the Germanic tribes and "allies" of Rome were not spared, nor were the heretical Christian sects that continued to grow and fester in Rome's underbelly. Rome did not know kindness. But it did know cruelty, and it would apply all it knew to every girl and female it could get its decadent hands on, before the end…

Soon, every reveler and warrior, from the highest of emperors to the lowliest of gutter beggars would feed upon this ever growing tide of human sadism and depravity. Soon, all corners of the empire would rot, and the womenfolk would suffer the worst!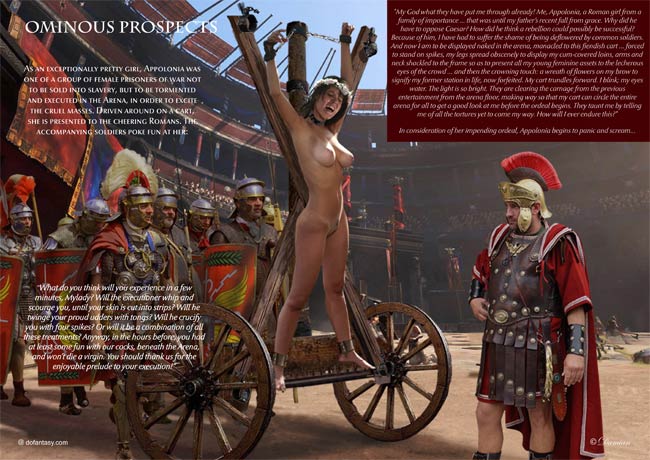 DAMIAN EXPANDS HIS EROTIC COLLECTION OF EXTREME AND SHOCKING ROMAN CRUELTY WITH ANOTHER EXCITING ISSUE! THERE IS SOME SERIOUSLY CRAZY STUFF WITHIN THESE PAGES, AND IT IS NOT FOR THE FAINT OF HEART! YOU DON'T WANT TO MISS THIS LATEST TALE OF ROMAN SADISM AND DEPRAVITY, BROUGHT TO YOU HERE EXCLUSIVELY AT DOFANTASY.COM!
THE BEST DAMIAN!