"When they began to rip off her clothing, she whimpered and fought in vain to hang onto the shreds of cloth. To the crowd, it appeared that she was trying to hold onto the last vestige of modesty. But Fulvia knew the ritual of crucifixion, and her mind screamed when I'm naked they will nail me to the cross.
And then she was naked, and the calloused hands of the soldiers gripped her soft flesh and forced her down onto the waiting timber..."
In the Roman world where cruelty, torture and agonizing death were entertainment, and where those condemned to die could be burned, impaled, boiled in oil, or torn apart by wild beasts, the cross was universally known as the very worst punishment of all. And the Romans made no allowances as to sex, crucifying women as readily as men.
Nailing the naked victim to the cross was only the beginning of the slow torture that could go on for days. All modesty was soon forgotten as she writhed and struggled desperately before the crowd in search of any relief from the searing agony of the nails in her wrists and feet and the pointed cornu between her legs. Fighting even to take her next breath, she filled her lungs so that she could scream, moan, or plead in vain for the mercy of a soldier's spear to end her suffering. She was naked and completely helpless before the burning sun, the biting insects and tortures that were limited only by the imagination of the executioner.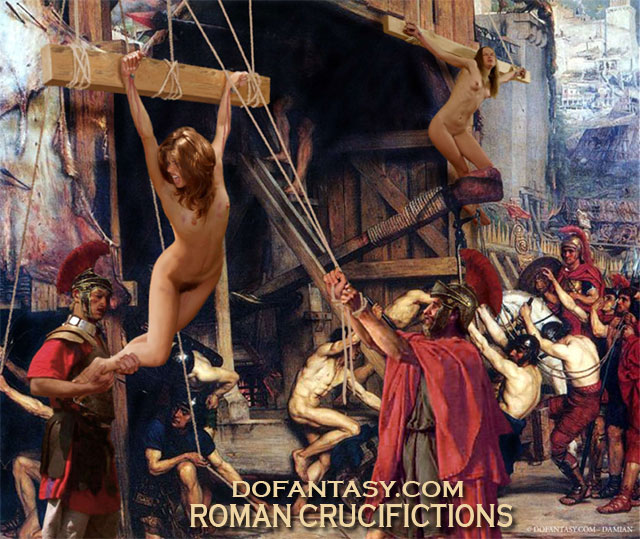 Take a voyage into the ancient Roman world and view erotic scenes of beautiful, naked women on public display as they sweat and struggle in agony on the cross. "Crucifictions" is a collection of forty artistic renderings of women suffering on the cross, each accompanied by the story of why she deserved this punishment – or why she didn't. Christian martyrs, Jewish rebels, conquered Gauls, slave girls and criminals, "Crucifictions" vividly portrays the horror and erotic fascination of the executions of ancient Rome through Damian's artwork, based on Makkar's photography and joined with stories by Jedakk.
A COLLECTOR'S ITEM!