Use our On-Line 100% Secure EncryptedShopping Cart Ordering System. Simply browse
our site and Click the ADD TO SHOPPING CART buttons to place items in your Shopping Cart
[ HOME ] [ COMICS ] [ MOVIES ] [ NOVELS ] [ CD-ROM ] [ Order info ] [ Help ] [ ARTIST SITES ] [ SEARCH ]
[ Disclaimer ] [ CATALOGUE ] [ Copyright ]
SOLD TO SLAVERY IN AN ORIENTAL WORLD #1 by DAMIAN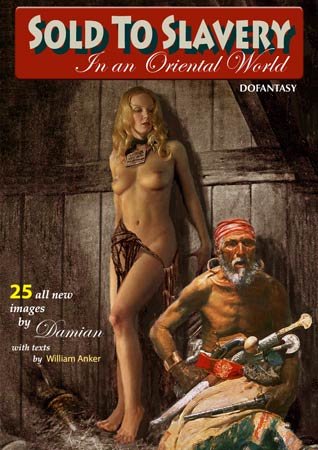 NEW IN PDF ELECTRONIC VERSION! Adult Album by DAMIAN. Shocking texts by William Anker
HIGH RESOLUTION PDF deluxe edition.
25 full color pages!!!
-COMPLETE, UNABRIDGED VERSION-
AN EXOTIC, ORIENTAL WORLD RULED BY ARCHAIC LAWS OF HONOR AND CASTE IS AN AWFUL PLACE FOR PAMPERED PRINCESS PUSSY AND CUCKOLD NOBLEMEN!
THIS EXCITING AND AMAZING ISSUE IS FILLED TO THE BRIM WITH CRUELTY AND MALICE TOWARD SLAVES OF ALL KINDS. THE MEN PAY WITH THEIR JEWELS, BUT THE WOMEN PAY WORST OF ALL WHEN THEY ARE FORCED TO SERVE THEIR NEW, CRUEL MASTERS FROM ARABIA AND BEYOND!
IMPORTANT NOTICE - DISCLAIMER
All characters are 18 years old or older. This is an entirely fictional work based on cartoon characters for adult entertainment. It shows no real people or events. The characters are shown participating in CONSENSUAL role-play for their own personal satisfaction, simulating activities which involve sexual dominance and submission. No actual toons were harmed in the making of this comic.
Damian returns us to an age of barbarism and superstition in this latest issue of white slavery and submission! Barbary pirates, vicious and hungry Mongol riders, and Arab slavers and princelings fill this menagerie of the demented and the perverse! A journey that starts at sea moves overland as the great khanate sends its prized possessions south to the hot deserts of opulent, Arabian sheiks where the real terror can begin.
Things look bad for both men and women, but the women especially are the ones who will suffer worst. After all, they have tight and virgin holes that can't say no to a nice, thick rod. And they scream so pretty, too. These pampered beauties will be treated like objects and sold alongside carpets and camels, and like carpets and camels, the buyers will want to check out the goods too. It's all fun and games until the end and this issue's shocking conclusion!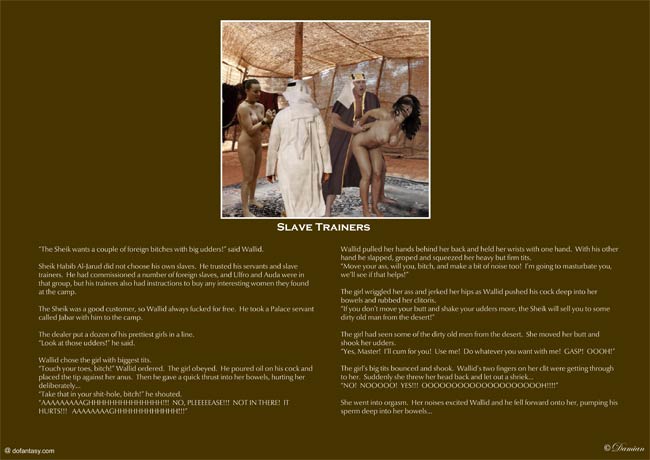 DAMIAN'S TWISTED IMAGINATION IS OVERFLOWING WITH INSANE ADVENTURE IN THIS LATEST ISSUE OF MEDIEVAL MADNESS AND SHOCKING, SEXUAL SLAVERY! THE MARCH IS HARD, BUT THE TRAINING AND THE "RIDING" IS HARDER STILL! IN THIS EXOTIC, EASTERN WORLD OF THE ARABIAN ORIENT, NOTHING IS OFF LIMITS AND NOTHING IS SAFE! YOU DON'T WANT TO MISS THIS THRILLING NEW ISSUE, BROUGHT TO YOU BY THE AMAZING DAMIAN EXCLUSIVELY AT DOFANTASY.COM!
THE BEST DAMIAN!