Use our On-Line 100% Secure EncryptedShopping Cart Ordering System. Simply browse
our site and Click the ADD TO SHOPPING CART buttons to place items in your Shopping Cart
[ Disclaimer ] [ CATALOGUE ] [ Copyright ]
WITCH HUNTERS #5 by DAMIAN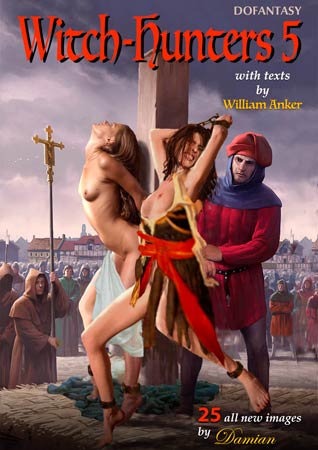 NEW IN PDF ELECTRONIC VERSION!
Adult Album by DAMIAN.
Shocking texts by WILLIAM ANKER
HIGH RESOLUTION PDF deluxe edition.
25 full color pages!!!
-COMPLETE, UNABRIDGED VERSION-
THINGS GET WORSE AND WORSE FOR THESE WITCH WHORES AS INVENTED CRIMES AND TRUMPED UP CHARGES CASCADE DOWN FROM ABOVE!

THESE HELPLESS HOTTIES HAVE NO CHANCE AND NO CHOICE BUT TO SERVE AND OBEY THESE PERVERTED PRIESTS AND GROSS GUARDS, FOR THE CHARRED STAKE AWAITS THOSE WHO FIGHT FOR THEIR FREEDOM!
IMPORTANT NOTICE - DISCLAIMER
All characters are 18 years old or older. This is an entirely fictional work based on cartoon characters for adult entertainment. It shows no real people or events. The characters are shown participating in CONSENSUAL role-play for their own personal satisfaction, simulating activities which involve sexual dominance and submission. No actual toons were harmed in the making of this comic.
Even as the Middle Ages crested into the "Age of Enlightenment" things were only good for the strong and the powerful. Things were very different for the weak, helpless, and beautiful. Those haughty naughties who flouted and frustrated the nobility or the priesthood could always be brought low. Those who defied the conventions of "godly society" and "righteous men" could find themselves stripped naked, their bouncing breasts exposed and their pink pussies opened by the cruelest and most violent of metal devices, rusted from the juices and stains of those who had come before. If one waited long enough, one could hear the echoing wails and screams of girls who had gone through the dungeons doors before… or maybe that was just the screams of those still trapped inside!
When the "righteousness" of the accuser is all that's required to bring these beautiful girls down into the deepest, darkest dungeons, there is nothing to stop these perverted priests and snickering sadists from having their way with these tight, young women! These girls will be forced to reveal and revel in their own "perversions" under threat of whip, chain, or worse… The "good" and obedient girls will be the lucky ones as they serve the rest of their miserable lives in the dank dungeons. Those who continue to disobey will be made a public example of and brought to the charred stake. Those girls will be made to pay for their "crimes…" whether they were guilty of them or not!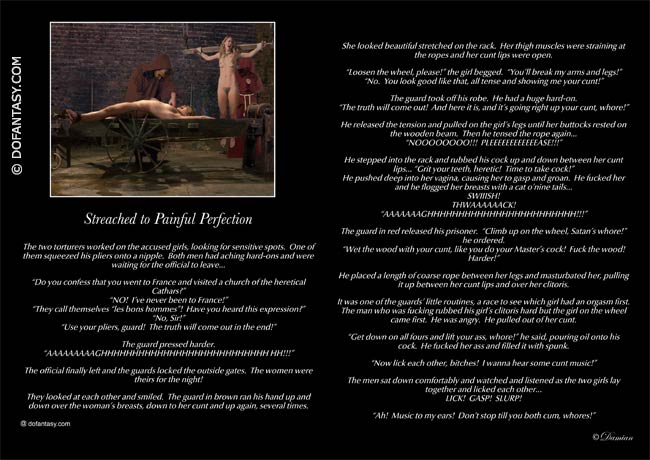 DAMIAN'S TWISTED AND TERRIFYING TALES OF WITCH HUNTER TORMENT CONTINUE UNABATED! WHEN WILL THE MADNESS STOP? WHO WILL BRING REASON AND JUSTICE TO THIS INSANE ASYLUM OF VICIOUS VICARS AND LUSTY LORDS? IS THERE NO END TO THE CRUELTY OF WICKED MEN? THESE POOR GIRLS WILL SERVE AND SUFFER, BUT EVEN THAT MIGHT NOT BE ENOUGH, FOR THE FONT OF FILTHY FORNICATORS IS UNENDING, AND THE DESIRE FOR TIGHT, YOUNG, VIRGIN WOMEN IS UNQUENCHABLE!
YOU'D BEST STEER CLEAR OF THIS SHOCKING ISSUE IF YOU CAN'T BEAR TO WITNESS FEMALE PAIN AND HUMILATION, BUT FOR THOSE SELECT FEW WHO ARE BRAVE ENOUGH, THIS EXCITING AND EXPLOSIVE EXTRAVAGANZA MIGHT JUST HAVE WHAT YOU SEEK… ONLY HERE AT DOFANTASY.COM!!
THE BEST DAMIAN!