Use our On-Line 100% Secure EncryptedShopping Cart Ordering System. Simply browse
our site and Click the ADD TO SHOPPING CART buttons to place items in your Shopping Cart
[ Disclaimer ] [ CATALOGUE ] [ Copyright ]
WITCH HUNTERS #8 by DAMIAN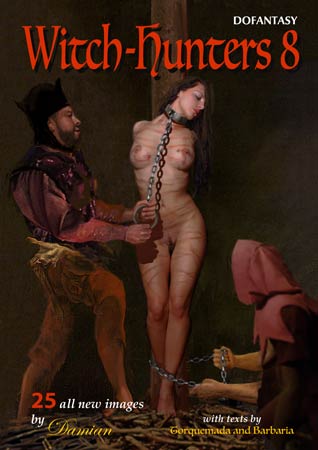 NEW IN PDF ELECTRONIC VERSION!
Adult Album by DAMIAN. Shocking texts by BARBARIA & TORQUEMADA. HIGH RESOLUTION PDF deluxe edition. 25 full color pages!!!
-COMPLETE, UNABRIDGED VERSION-
THE SPANISH INQUISITION IS ONE OF THE MOST FEARED THROUGHOUT THE ENTIRETY OF HISTORY, DREADED FOR THEIR MERCILESS BRUTALITY. THEY SHOW NO MERCY TO HELPLESS GIRLS OR HELPLESS WITCHES, NO MATTER HOW MUCH THEY SCREAM!

THESE BEAUTIFUL WOMEN, HIGHBORN OR LOW, WILL BE STRIPPED OF ALL THEIR DIGNITY AND DECENCY AS THE INQUISITORS SEARCH FOR THE MARK OF THE DEVIL… OR JUST NICE, TIGHT, BUSTY FEMALES TO TAKE!


IMPORTANT NOTICE - DISCLAIMER
All characters are 18 years old or older.
This is an entirely fictional work based on
cartoon characters for adult entertainment.
It shows no real people or events.
The characters are shown participating in
CONSENSUAL role-play for their own
personal satisfaction, simulating activities
which involve sexual dominance and
submission. No actual toons were harmed
in the making of this comic.
in this dark and superstitious time, the Spanish Inquisition was one of the deadliest and most feared of all the Catholic forces trying to cleanse the world of Protestants and heretics, threats to the Catholic hegemony of the Christian world. It was not enough to just find witches, heretics, female perverts, and girls who enjoyed sodomy and the devil's member… they had to be made to pay! It was bad enough to be found by the Inquisition… but it was worse to be in their dim, dank, and dreary dungeons deep in the depths of the Earth… Little did the girls know that they would be dragged straight to hell before the end on only the most unbelievably cruel devices that mankind has ever devised!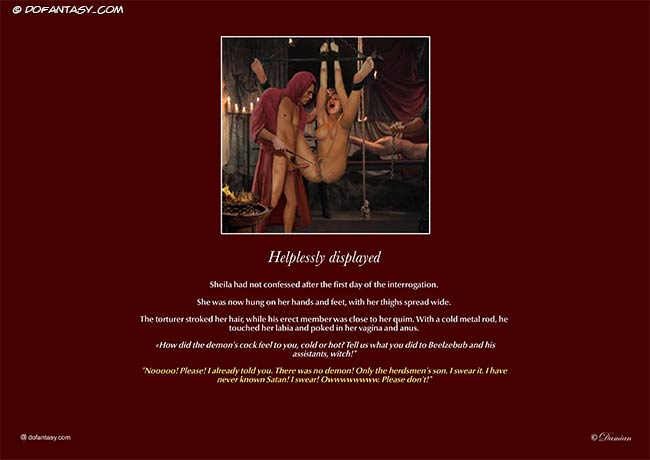 These pages are full of things that you wouldn't believe were actually used on human beings! But the inquisition knew no mercy, especially for suspected witches, heretics, and female sodomites! These girls will suffer in shocking ways before they're finally given mercy… at the end of a torch on the stake!

DAMIAN DRAWS FROM THE DARKEST TIME IN HUMAN HISTORY WITH THESE HISTORICAL IMAGES RENDERED IN BRIGHT AND COLORFUL DETAIL! YOU WON'T BELIEVE WHAT CRUELTY HUMANS HAVE INFLICTED ON THE WEAK AND THE HELPLESS! THESE "WITCHES" WILL SUFFER A WORSE FATE THAN ANYONE DESERVES! THESE SHOCKING SCENES OF HISTORICAL BONDAGE AND SADISM ARE TOO MUCH FOR SOME! GET THIS ISSUE WHILE YOU CAN… BEFORE IT'S TAKEN DOWN FOR INDECENCY, HERE EXCLUSIVELY AT DOFANTASY.COM!
THE BEST DAMIAN!