This is the story of the beautiful young Flavia. She is not a slave, but a Roman patrician, just eighteen years old...
Flavia's parents have died in mysterious circumstances, and now Flavia has been summoned by her cousin Claudius, Governor of Cyprus. Claudius is thirty years older than her.
Flavia goes to the Palace with her boyfriend, the famous centurion Cornelius. As soon as she sets foots in the Palace she is arrested, put in chains, and taken away.
She spends the night shut up in a dark dungeon. In the morning, soldiers strip her naked and take her to the Governor…
Then the real nightmare begins for this lovely young woman...
Claudius is a heartless sadist. He wants Flavia to be his sexual slave. Not satisfied with this, the tyrannical Governor sends her to his stables where she is trained to be a pony girl, one of the team of slaves that pull his chariot around the arena. After an exhausting journey through the desert chained to a horses mane, Flavia arrives in Patmos, home of an infamous Roman Circus.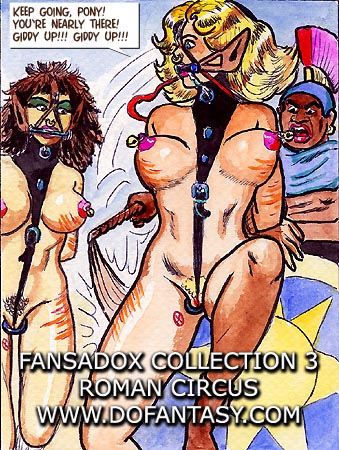 There is no time to lose. The race is on Sunday. Flavia is ringed, branded, decorated with fine trappings and trained as a pony. There is no limit to the cruelty of the overseers...
Sunday arrives. The streets fill with excited, chattering people. A line of lovely female slaves, all of them stripped totally naked except for their trappings, stamp nervously at the starting line, causing their breasts to quiver in the sunlight. The riders sit in their chariots, holding the girls on a short rein...
The Governor goes over to his cousin and whispers in her ear. "I have bet a very large sum of money on you, slave! If you do not win, you will die on the cross..."
The race is horribly cruel. The ponies pull the heavy chariots and the riders whip them without mercy...
Flavia runs to the limits of her strength and pulls ahead of the others. The finishing line is in sight when a rival pony trips her up and she falls to the ground.
The Governor springs up from his seat. His fists are clenched.
Flavia's fate is decided in that instant...