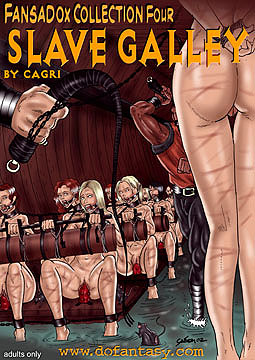 New in English!!!
SLAVE GALLEY
Adult Comic Album by CAGRI
HIGH RESOLUTION PDF deluxe edition
42 full comic pages by CAGRI
EXCEPTIONAL ART!
IMPORTANT NOTICE:
All characters are 18 years old or older.
All action is simulated and involves
no real people.
The authors/publishers do not condone
violence of any kind.
These are completely fictional comics
for adult entertainment.
Two lines of slaves, rowing under the whip, are chained to the bilge of the galley. Two female slaves per oar are rowing till they drop with exhaustion…
There is panic in their eyes as they struggle to keep up with the relentless rhythm of the drum. They are naked, their buttocks straining against the hard wooden benches…
The slaves do exhausting twenty hours shifts. Then they are fed or punished at the whim of the overseers…
The galley is a microcosm of horror and suffering for the prisoners, especially for those chained to the cruel punishment bench at the prow. These two are the favourites of the master of the ship, but there is little honour in being a favourite. The punishment bench has wooden phalluses set into it that penetrate their young vaginas and anuses…
They all fear this bench and they all fear the plank along which unfortunate slaves who cannot row fast enough are thrown to the sharks…
They also fear the main mast, to which they are tied and flogged, sometimes to death…
And they fear the captain's cabin and the cage where he keeps his favourite.
The slave galley is an orgy of violence and enforced sex…
In ENGLISH. Available electronically in PDF format. See bottom of page