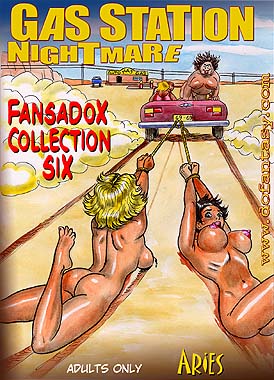 New in English!!!
GAS STATION NIGHTMARE
Adult Comic Album by ARIES
HIGH RESOLUTION PDF deluxe edition
45 full comic pages by ARIES
IMPORTANT NOTICE:
All characters are 18 years old or older.
All action is simulated and involves
no real people.
The authors/publishers do not condone
violence of any kind.
These are completely fictional comics
for adult entertainment.
Cindy and her sister Louise were heading for the city, looking for the big time. They decided to stop at an isolated gas station. They were soon to discover that it was a bad career move...
It was the opportunity mom and her son Joss had been dreaming of...
Cindy, the blonde sister, wakes up to find herself cuffed and chained by the neck to a cage. The blindfold prevents her from seeing the gloomy basement, but not from smelling the foul stink of the place. The hours tick by, very slowly... Suddenly, a door creaks and she hears footsteps. The voice seems familiar...
"Yoo-hoo! Wakey, wakey, how's my blonde thatch keepin', eh, nice and oily?"
Her sister Louise is in the veranda and can see perfectly. She definitely does not like what she sees... She has been standing on tiptoe for over an hour now, viciously bound and gagged. The old woman from the gas station has been busy working on her, working on her whole body and all its intimate nooks and crannies, humiliating her and torturing her sexually...
"…dear me, seven cums in an hour and a half... you're a hot piece alright... if I was you I'd quit all that rockin' and rollin' and calm down. You'll have a heart attack... Want some more sparks to help you calm down, do you, my dear?"
Gas Station Nightmare is a highly erotic tale of two city girls who have only known life in the fast lane. They fall into the hands of two loners, solitary people living in the middle of nowhere, who vent all their bitterness and sexual frustration on the girls...
Gas Station Nightmare is one of the best comics in this collection, both for its exciting plot and for the magnificent artwork by Aries. It is a gripping, minutely detailed chronicle of the sexual humiliation and abuse heaped on the sisters by their sadistic and totally unprincipled kidnappers. There are no rules in the desert. They do what they like to the girls' lovely bodies... Our feeling is that Gas Station Nightmare may well prove to be a classic, a rare erotic masterpiece...
In ENGLISH. Available electronically in PDF format. See bottom of page