Use our On-Line 100% Secure EncryptedShopping Cart Ordering System. Simply browse
our site and Click the ADD TO SHOPPING CART buttons to place items in your Shopping Cart
[ HOME ] [ COMICS ] [ MOVIES ] [ NOVELS ] [ CD-ROM ] [ Order info ] [ Help ] [ ARTIST SITES ] [ SEARCH ]
[ Disclaimer ] [ CATALOGUE ] [ Copyright ]
FANSADOX COLLECTION 115
AFRICAN CHAIN GANG - TEMPLETON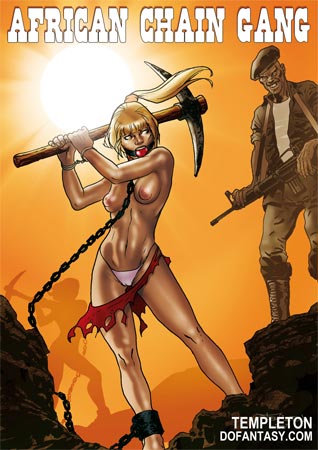 AFRICAN CHAIN GANG
NEW IN PDF ELECTRONIC VERSION!
Adult Comic Album by
TEMPLETON
HIGH RESOLUTION PDF deluxe edition
45 full color comic pages by
TEMPLETON
-COMPLETE, UNABRIDGED VERSION-
A young UN voluntary worker is detained
on a train in Central Africa and charged with
prostitution. She's send to General
Biongo's Prison Camp for Women.
SHE'S SENT TO HELL IN EARTH...
IMPORTANT NOTICE:
All characters are 18 years old or older.
All action is simulated and no
actual people are involved in it.
The authors/publishers do not condone
any kind of violence.
These comics are completely fiction
and for adult entertainment.
Sara, a young UN voluntary worker, travels on the Katangasi Espress to join her team in Central Africa.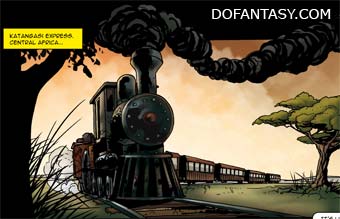 She's not the only woman on the train, but certainly is the only white. Her beauty, her way of dressing and being the only westerner on the train arouse curiosity among the travelers. Curiosity and other things...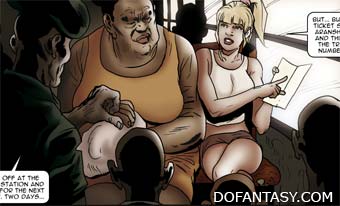 Suddenly the police appear and detain the girl. She's charged with prostitution which is illegal in this country. Sara is taken with old local prostitutes to General Biongo's Prison Camp for Women. In the truck she's the only young woman, she's the only one that is not a prostitute, the only one that travels shackled and again she's the only foreigner...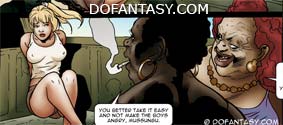 General Biongo's Prison Camp is not a holiday resort... Warden Totongo rules the place with a total disregard for the most elemental human rights. He has a free hand with the inmates...
Sara will forever remember her first encounter with the huge Totongo, a crazed giant with the brains of a snake who's only aim in life is to brutalize his prisoners...


Sara is ordered to strip standing over two stools in front of the mad warden. Then she's thoroughly searched. If she's not a whore as the girl claims, she's a drug smuggler, says Totongo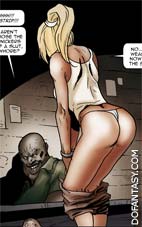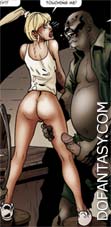 Naked, chained and severely gagged, the girl is thrown into the punishment hole, the place where the foreign captives are kept...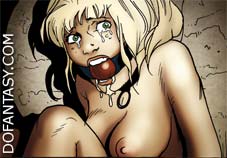 That same night, Sara is made to dress provocatively for an intimate dinner with the Warden. The young volunteer is trembling all over.... she knows it's going to be the longest and most awful night of her life...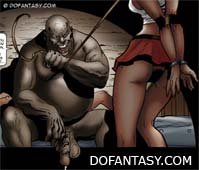 The next morning Sara is introduced to the camp's routine...
Forced labor...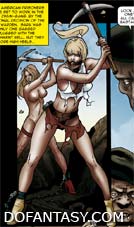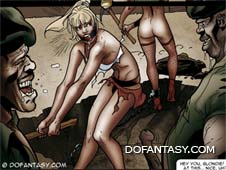 ...inhuman punishments, and extreme humiliation....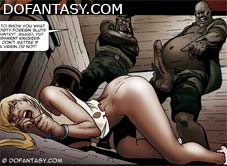 The life of this young woman becomes a nightmare of horror, panic and deep humiliation...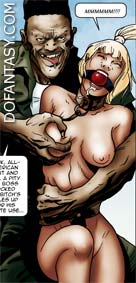 DON'T MISS THIS GREAT
NEW TEMPLETON!
A WHITE GIRL DISAPPEARS
IN A 3rd WORLD COUNTRY
SHE'S AT THE MERCY OF
RUTHLESS ASSASSINS
AND A MILITARY THAT
HATES HER KIND...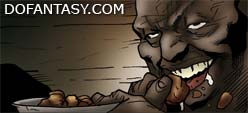 A NEW, HOT BDSM STORY!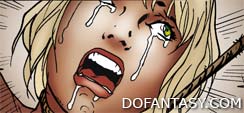 VISIT TEMPLETON SITE FOR A COMPLETE
LIST OF TEMPLETON COMICS AND OFFERS