Use our On-Line 100% Secure Encrypted Shopping Cart Ordering System. Simply browse
our site and Click the ADD TO SHOPPING CART buttons to place items in your Shopping Cart
[ HOME ] [ COMICS ] [ MOVIES ] [ NOVELS ] [ CD-ROM ] [ Order info ] [ Help ] [ ARTIST SITES ] [ SEARCH ]
[ Disclaimer ] [ CATALOGUE ] [ Copyright ]
FANSADOX COLLECTION 137
CIRCUS ARMAGEDDON - ROBERTS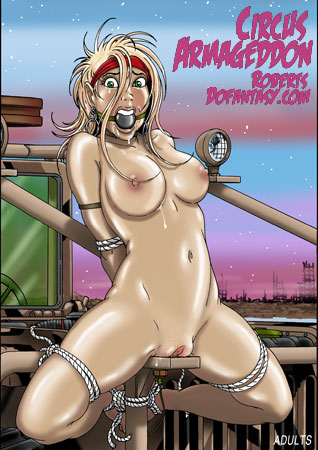 CIRCUS ARMAGEDDON
NEW IN PDF ELECTRONIC VERSION!
Adult Comic Album by
ROBERTS
HIGH RESOLUTION PDF deluxe edition
43 full color comic pages by
ROBERTS
-COMPLETE, UNABRIDGED VERSION-
3 GIRLS CAPTURED IN THE
DESERT, STRIPPED NAKED AND
DRAGGED OFF TO BE SOLD...
LOVELY GIRLS
CAPTIVES IN AN
AFTERMATH WORLD!
IMPORTANT NOTICE - DISCLAIMER
All characters are 18 years old or older.
This is an entirely fictional work based on
cartoon characters for adult entertainment.
It shows no real people or events.
The characters are shown participating in
CONSENSUAL role-play for their own
personal satisfaction, simulating activities
which involve sexual dominance and
submission.
...And one morning, as humanity had been warned for many many years, it happened. It all came to an end.
No one remembers why. A mistake maybe, or a disagreement between Presidents, or a horrible malfunction in the computers. It doesn't matter.
100,000 years of human civilization, gone in a global nuclear fireball. A 20 minute orgy of Hell and Death sent the whole world back into darkness.
What survived of humanity, what remained of the once great civilizations of Earth, now lived as animals. Tribes. Half naked savages, thrown back to hunting to eat. Some rejected all technology choosing to live out in the wild, close to Nature, and return to the pure ways of an ancient time. These were beautiful people, healthy gorgeous young women, civilized men, all living on the land without machines, or guns, or electronic gadgets, or corruption. Peacefully.
But others held onto their machines. Roving nomads of madmen reverted back to nightmarish post-apocalyptic savages. The motorbike and off-road truck became their horses, guns their only real tools… they live by attacking the peaceful tribes, stealing whatever they need. Food. Water. And SLAVES. They prey upon the pretty girls of the tribes, taking them as slaves...
Among the ruins of a great city, these nomadic monsters have created a central slave market; a great hellish Circus of flesh, of drugs and guns and helpless girls kept in bound naked slavery… to be bought and sold like cattle. Once a great Market, a Shopping Mall, now it is the most feared and horrible place a young girl could imagine... Circus Armageddon.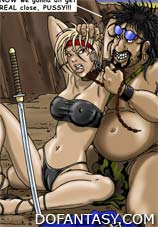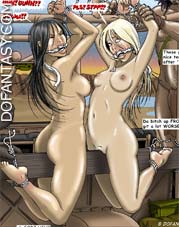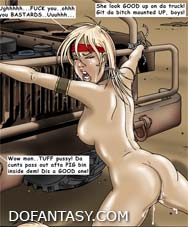 SLAVERY IN AN AFTERMATH WORLD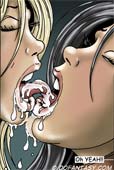 NON-STOP ACTION
GREAT FICTION THRILLING PLOT
THE LATEST, GREATEST ROBERTS COMIC!
CHECK ROBERTS SITE FOR MORE ROBERTS COMICS