Use our On-Line 100% Secure EncryptedShopping Cart Ordering System. Simply browse
our site and Click the ADD TO SHOPPING CART buttons to place items in your Shopping Cart
[ HOME ] [ COMICS ] [ MOVIES ] [ NOVELS ] [ CD-ROM ] [ Order info ] [ Help ] [ ARTIST SITES ] [ SEARCH ]
[ Disclaimer ] [ CATALOGUE ] [ Copyright ]
FANSADOX COLLECTION 142
SIBERIAN MADHOUSE - TEMPLETON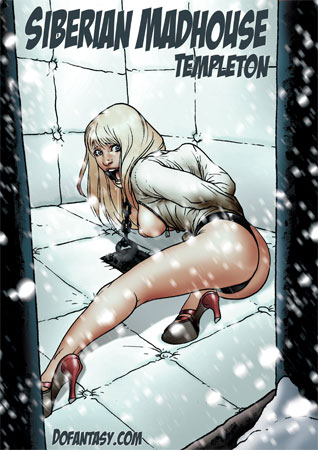 SIBERIAN MADHOUSE
NEW IN PDF ELECTRONIC VERSION!
Adult Comic Album by TEMPLETON
HIGH RESOLUTION PDF deluxe edition
45 full color comic pages by
TEMPLETON
-COMPLETE, UNABRIDGED VERSION-
HOT RUSSIAN CELEBRITY
AGED 18 SENT TO A RUTHLESS
SIBERIAN MENTAL HOSPITAL
BY HER STEP-FAMILY!
IMPORTANT NOTICE - DISCLAIMER
All characters are 18 years old or older.
This is an entirely fictional work based on
cartoon characters for adult entertainment.
It shows no real people or events.
The characters are shown participating in
CONSENSUAL role-play for their own
personal satisfaction, simulating activities
which involve sexual dominance and
submission. No actual toons were harmed in the making of this comic.
Irina is the only daughter of Russian tycoon Vladimir Pugachow, who owns most of the media, a majority share in the petrol business and almost all the hospitals across the country.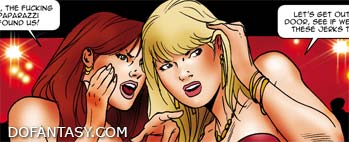 Just turned 18, Irina goes partying every night while her old father is dying of a terminal cancer in one of his many hospitals.
The truth is, Irina is an incredibly beautiful young lady, blessed with the hottest body a man could ever dream of. And needless to say, she is a media celebrity sought after by all Moscow's paparazzi, most of whom are on her father's payroll.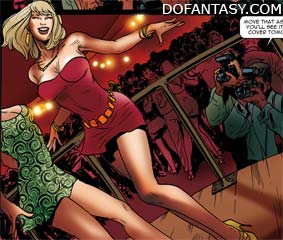 But life is not all fun for Irina. Her dying father has just married Tatania Kavidenco, a mature and good-looking widow. Tatania is the mother of two sons, described by Irina as dirty bastards with a headful of cum for brains. The widow and her sons plot together to get their hands on old Vladimir's money. However, when the old man dies he leaves his fortune to his beloved daughter.
Tatania moves fast and organizes a media campaign to discredit Irina, alleging she has mental problems caused by drug abuse. She offers her young stepdaughter the chance to marry her elder son Boris, a proposition that Irina rejects. Her ugly, sex-obsessed stepbrother just makes her stomach turn...
Furious at this public rejection of her son, Tatania makes arrangements to have young Irina shut up in a mental hospital in the remote Siberian Artic. It is a sinister and pitiless place where the inmates are treated with ferocious cruelty…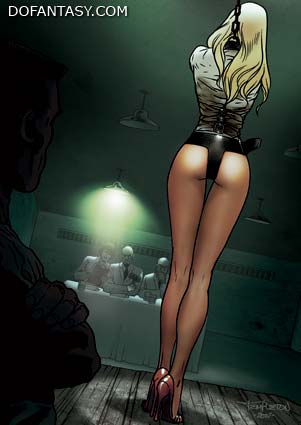 There the young Irina, who is the only good-looking female inmate, discovers hell on earth.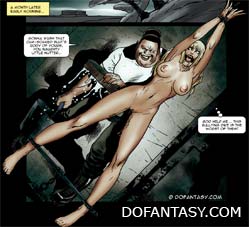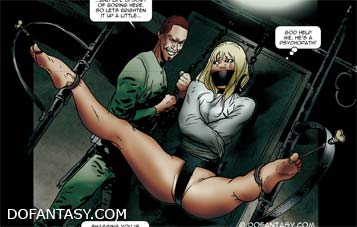 The diagnosis of her condition is schizophrenia, with dangerous psychotic episodes. The treatment requires that she be restrained at all times to prevent her from attacking anybody. The doctors also prescribe electro shock twice a day, with cold showers every two hours to calm her down and lots of sexual therapy to help her achieve a satisfactory social life in her new surroundings...
Threatened by surgical lobotomy, Irina submits to the advances by the wardens, doctors, fellow inmates and even her newly-married husband who visits her once a month...
The pampered young heiress of a Russian tycoon, now gagged and straight-jacketed
in a cold bare cell, is in a crude madhouse at the mercy of the crazed wardens!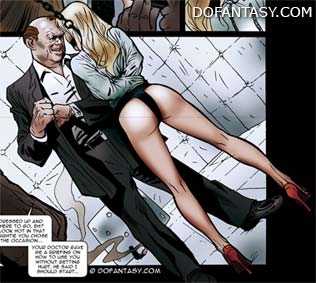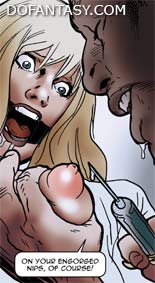 HOT RUSSIAN CELEBRITY AGED 18 SENT TO A RUTHLESS
SIBERIAN MENTAL HOSPITAL BY HER STEP-FAMILY!
VISIT TEMPLETON SITE FOR A COMPLETE
LIST OF TEMPLETON COMICS AND OFFERS