Use our On-Line 100% Secure EncryptedShopping Cart Ordering System. Simply browse
our site and Click the ADD TO SHOPPING CART buttons to place items in your Shopping Cart
[ HOME ] [ COMICS ] [ MOVIES ] [ NOVELS ] [ CD-ROM ] [ Order info ] [ Help ] [ ARTIST SITES ] [ SEARCH ]
[ Disclaimer ] [ CATALOGUE ] [ Copyright ]
FANSADOX COLLECTION 303
JUNTA'S REINSERTATION PLAN - TEMPLETON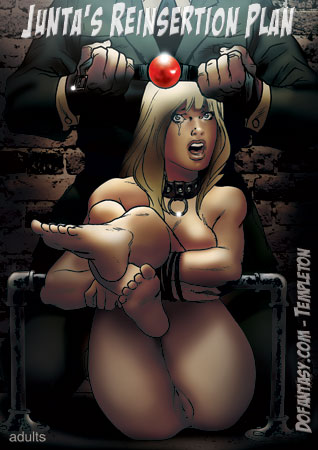 NEW IN PDF ELECTRONIC VERSION!
Adult Comic Album by TEMPLETON
HIGH RESOLUTION PDF deluxe edition
49 full color comic pages by TEMPLETON
-COMPLETE, UNABRIDGED VERSION-
LIVING HELL FOR A YOUNG
UNIVERSITY STUDENT!
SARAH, FALSELY CONVICTED AS
REVOLUTIONARY BY THE JUNTA,
IS ADOPTED ON PAROLE BY A
HIGH RANKING OFFICER.
IMPORTANT NOTICE - DISCLAIMER
All characters are 18 years old or older.
This is an entirely fictional work based on
cartoon characters for adult entertainment.
It shows no real people or events.
The characters are shown participating in
CONSENSUAL role-play for their own personal satisfaction, simulating activities which involve sexual dominance and submission.
No actual toons were harmed in the making
of this comic.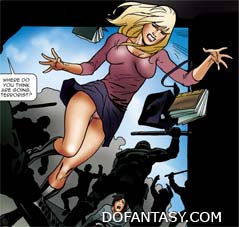 After a police assault at the University a group of young girls are among the detainees. They have done nothing wrong, but as one of the military said "You were getting through to my dick, whore... that's wrong, ain't it?
The Junta's repression is so hard that the prisons are full. The military themselves start to consider some sort of parole system to take the pressure off the gaols.
Finally they decide to go ahead…
"The Junta, in a gesture of extreme kindness, has decided to give young terrorist detainees a second chance on the grounds of diminished intellectual and moral responsibility. All female detainees between 18 and 21 are eligible for the re-education program. Selected prisoners will be adopted by families who have distinguished themselves for their Christian and Patriotic values. High-ranking members of the armed forces will be given priority as re-educators. This country needs mothers to give birth to patriots who in due course will fight insurgence and defend moral values. Young female prisoners will make an important contribution to this program of moral re-armament."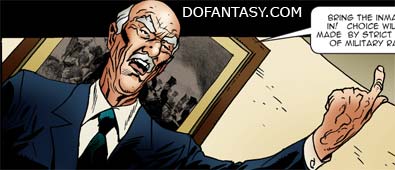 It turned out, however, that the adoptive fathers had rather different reasons of their own for participating in the program...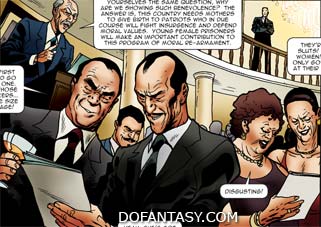 "If I had first choice, I'd go for that one. Look at those fat knockers... Incredible size for her age!"
"Yeah, she's got a slut's face too, great to slap around..."
"What d'you think of this one, Matilde? She'll make the perfect sister for Miguel. That blonde hair will add a touch of class to the family..."
"Good choice, Iniesta. Pity you got first pick. I'll take this one. Not a blonde, but she looks as if she would benefit from having a warm, loving family!"
So beautiful young Sarah meets her new family, the Iniestas. The father and his son Miguel, an 18-year old like Sarah herself, are very happy with the new addition to the family. And so are Matilde, the mother, and Rosario, the butch lesbian maid.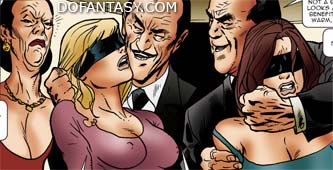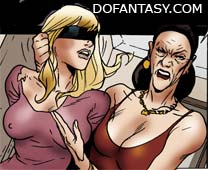 Upon arrival at her new house, blindfolded and shackled, Sarah is locked in her room, a cage the basement...
"Lock her up. No dinner today. And don't remove the shackles or the blindfold, it'll give her the chance to adjust her attitude..." Orders the stern mother.

In the middle of the night Sarah receives a visit from her new father...
"A father's duties go beyond feeding and providing shelter. He has to provide education and discipline, of course, but a modern father also has to ensure that his daughters receive a thorough sexual education..."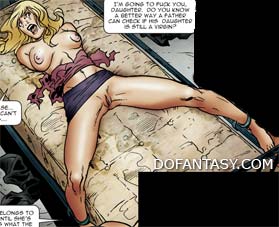 In the following days, Sarah will meet her new brother Miguel…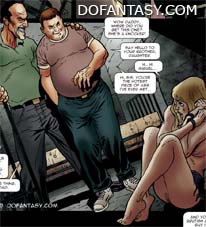 "Wow dad, these buttocks are made of the same stuff as the tits! Can I shag her now?"

"Not yet son, first both of you need to take some sex lessons. You need to learn how to make a woman cum... and your sister's gotta learn how to fuck and please men with her holes."
Sarah will never forget those first sex lessons…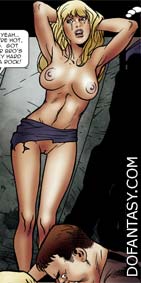 The mother, Matilde, has her own take on this situation. She isn't too pleased when she lies awake at night listening to the activities of the men of the house… The way she sees it, there's only one culprit: her new daughter. She blames it all on Sarah and her sluttish, cockteasing ways and she's determined to teach her daughter the right way....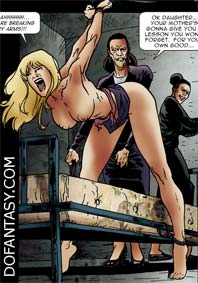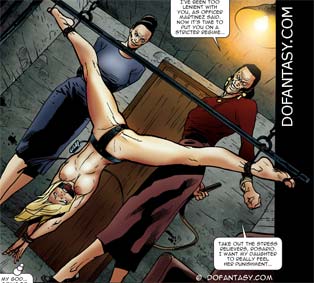 The paternalistic Junta sends inspectors to check up on how well Sarah is integrating into her new family…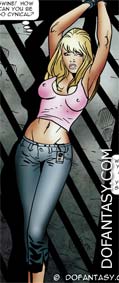 The outcome of the visit can't be worst for the girl....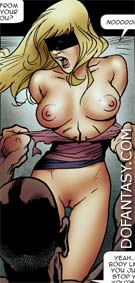 THE LEGAL SYSTEM THREW HER INTO THE HANDS
OF A SCARY, PERVERTED FAMILY…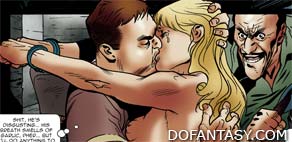 SARAH, FALSELY CONVICTED AS REVOLUTIONARY
BY THE JUNTA, IS ADOPTED ON PAROLE BY
A HIGH RANKING OFFICER
LIVING HELL FOR A YOUNG UNIVERSITY STUDENT!
SARAH, FALSELY CONVICTED AS REVOLUTIONARY BY THE JUNTA,
IS ADOPTED ON PAROLE BY A HIGH RANKING OFFICER!
VISIT TEMPLETON SITE FOR A COMPLETE
LIST OF TEMPLETON COMICS AND OFFERS