Use our On-Line 100% Secure EncryptedShopping Cart Ordering System. Simply browse
our site and Click the ADD TO SHOPPING CART buttons to place items in your Shopping Cart
[ HOME ] [ COMICS ] [ MOVIES ] [ NOVELS ] [ CD-ROM ] [ Order info ] [ Help ] [ ARTIST SITES ] [ SEARCH ]
[ Disclaimer ] [ CATALOGUE ] [ Copyright ]
FANSADOX COLLECTION 161
BIRTHDAY GIFT - ERENISCH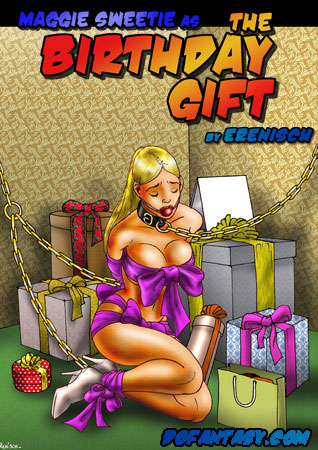 NEW IN PDF ELECTRONIC VERSION!
Adult Comic Album by
ERENISCH
HIGH RESOLUTION PDF deluxe edition
52 full color comic pages by
ERENISCH
-COMPLETE, UNABRIDGED VERSION-
A BEAUTIFUL YOUNG GIRL IS
DELIVERED TO HER NEIGHBORS'
SON AS HIS 18th BIRTHDAY GIFT!
The dorky guy in the school is now
the owner of the beauty queen Maggie, his long time lusted
classmate and neighbor...
IMPORTANT NOTICE - DISCLAIMER
All characters are 18 years old or older.
This is an entirely fictional work based on
cartoon characters for adult entertainment.
It shows no real people or events.
The characters are shown participating in
CONSENSUAL role-play for their own
personal satisfaction, simulating activities
which involve sexual dominance and
submission. No actual toons were harmed in the making of this comic.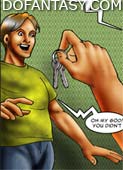 In the year 2022 many countries pass the "compulsory female slavery law" allowing the trading and sexual use of nubile women over 18 years of age. When a girl reaches slavery age, she can be bought, sold and hired like any other property.
Maggie, a beautiful small-town girl, finds out that every girl has a price when her uncle decides to sell the 18-year-old to her neighbors as a birthday gift for their adolescent son, Peter.
Until the day she's sold, Maggie and Peter go to the same school and attend the same classes. Peter lusts after Maggie for years, but she simply ignores his existence.
He's dorky kid and no girl ever says a word to him. Everybody at his school has his but him!
But things change on Peter's 18th birthday when his father gives him a set of keys.
The exultant boy rushes for the backyard, thinking his parents have bought him a new car. Instead of a car, he finds Maggie, the object of his fantasies, severely chained and superbly gift-wrapped.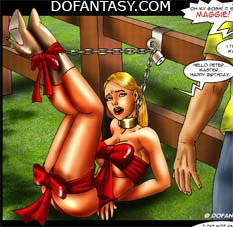 Peter can't believe his good luck. A sudden rush of power courses through his body. He roughly yanks Maggie to her feet and drags her to his room. There he makes her kneel between his legs at attention, where he explains to the desperate girl what he has in store for her..
She's no longer Maggie the cockteaser, but rather Cumbunny, his slave.
The girl can't hold her tears. She was the popular and carefree beauty queen at school just this morning. Now she's on her knees, bound naked in front of the school dork!
Some hours later, Peter's parents appear in the room to deepen Maggie's humiliation even further. Mother is most eager to teach his son's gift what a girl must know to fully satisfy a young, fit but inexperienced man like her son...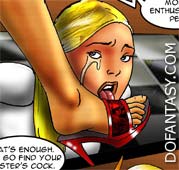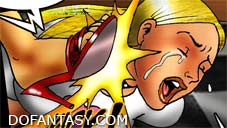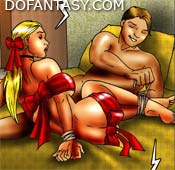 After an awful weekend, Peter decides to take her to school. The dumb kid everybody laughed at enters the classroom in triumph, his beautiful prize in tow.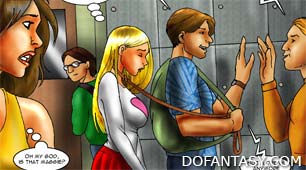 Maggie can't imagine a more shameful fate, but far worse awaits her. Peter makes her undress for everybody and lewdly show off every part of her incredibly hot body...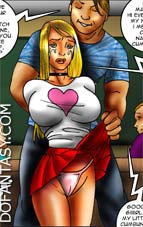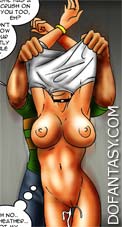 He makes her walk the school naked and tied so all can see his new property. Now a proud stud on campus, Peter stages an after-class party with his new slave as the main attraction.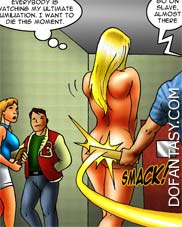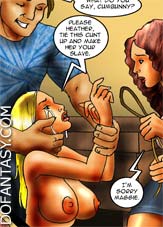 At home, Maggie shares her captivity with the Anderson twins, two young lovelies her age who are the slaves of Peter's parents.
Maggie's life Peter's slave is pure misery.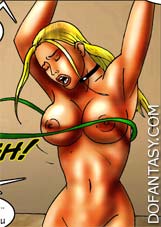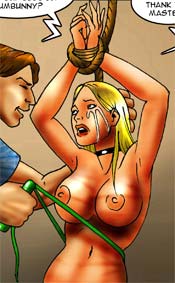 2022: WOMEN OVER 18 MEN'S SLAVES BY LAW!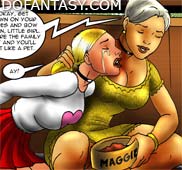 A BEAUTIFUL YOUNG GIRL IS DELIVERED TO HER NEIGHBORS' SON
AS HIS 18th BIRTHDAY GIFT!
DON'T MISS THE 2nd PART OF THIS STORY: BIRTHDAY GIFT PART 2
DON'T MISS THE 3rd PART OF THIS STORY: BIRTHDAY GIFT PART 3 - DETENTION
DON'T MISS THE 4th PART OF THIS STORY: BIRTHDAY GIFT PART 4 - HOMEWORK
DON'T MISS THE 5th PART OF THIS STORY: BIRTHDAY GIFT PART 5 - TEACHERS PET
DON'T MISS THE 6th PART OF THIS STORY: BIRTHDAY GIFT PART 6 - FAMILY REUNION
DON'T MISS THE 7th PART OF THIS STORY: BIRTHDAY GIFT PART 7 - THE EXCHANGE
DON'T MISS THE 8th PART OF THIS STORY: BIRTHDAY GIFT - 8 - THE FAVORITE
DON'T MISS THE 9th PART OF THIS STORY: BIRTHDAY GIFT PART9 - VENGEANCE
**** BUY THE 9 COMICS AND GET 15% DISCOUNT! ****
VISIT
ERENISCH SITE
FOR A COMPLETE LIST OF ERENISCH COMICS AND OFFERS