Use our On-Line 100% Secure EncryptedShopping Cart Ordering System. Simply browse
our site and Click the ADD TO SHOPPING CART buttons to place items in your Shopping Cart
[ HOME ] [ COMICS ] [ MOVIES ] [ NOVELS ] [ CD-ROM ] [ Order info ] [ Help ] [ ARTIST SITES ] [ SEARCH ]
[ Disclaimer ] [ CATALOGUE ] [ Copyright ]
FANSADOX COLLECTION 163
ESCAPE 2 - CAGRI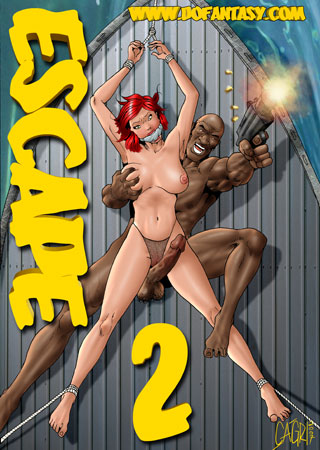 ESCAPE PART II
NEW IN PDF ELECTRONIC VERSION!
Adult Comic Album by CAGRI
HIGH RESOLUTION PDF deluxe edition
43 full color comic pages by CAGRI
-COMPLETE, UNABRIDGED VERSION-
THREE STUNNING WOMEN AT THE PEAK
OF THEIR CAREERS RENTED TO THE FILTHIEST AFRICAN BROTHELS BY
FOUR FUGITIVE CRIMINALS!
IMPORTANT NOTICE - DISCLAIMER
All characters are 18 years old or older.
This is an entirely fictional work based on
cartoon characters for adult entertainment.
It shows no real people or events.
The characters are shown participating in
CONSENSUAL role-play for their own personal satisfaction, simulating activities which involve sexual dominance and submission.
No actual toons were harmed in the making
of this comic.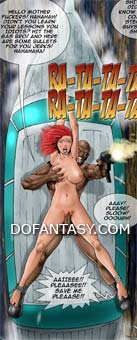 The escape of four mean fugitives continues. Wilder, meaner and sicker this time...
The thugs take three lovely hostages with them: famous evening news reporter Nicky Berry, country music star Dolly Perkins and government inspector Jane Lane...
FBI chief Alan Paterson leads the search party. He has good reason to be mad, because Jane Lane is his wife!
As the FBI closes the circle around the gang of escapees, they decide to flee the country. They go to Africa taking the hostages with them.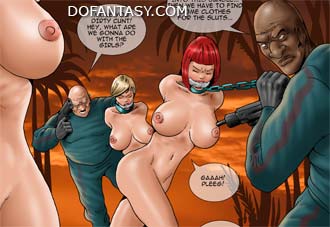 The four perverted convicts with their beautiful hostages are now in a container ship packed with young white slave girls collected in the US and Europe. They are on their way to African slave markets to be sold to rich dictators, corrupt military and despotic clan leaders.
But the FBI is determined to catch the sick bastards and the man-hunt moves to the black continent...
The fugitives need money to continue their escape and decide to rent their hostages to the filthiest and meanest brothels in Africa, coast to coast...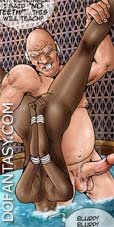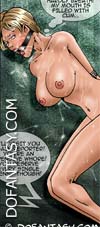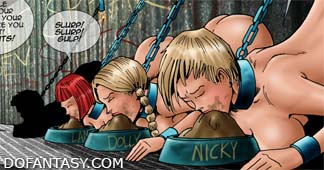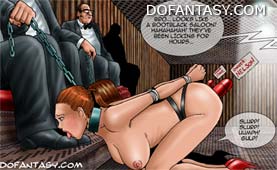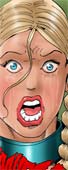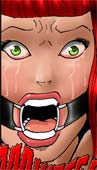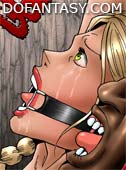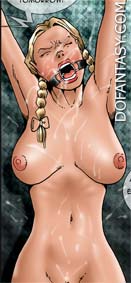 A STAR SINGER, A TOP REPORTER AND A CLASSY
INSPECTOR LOCKED IN A CONTAINER SHIP ON
THEIR WAY TO THE AFRICAN SLAVE MARKET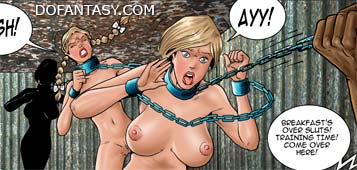 A NEW ACTION PACKED COMIC BY GREAT
STORYTELLER CAGRI
EXCLUSIVE TO THIS SITE!
THE THRILLING SEQUEL TO BEST SELLER 'ESCAPE'. ALSO IN THIS COLLECTION!
[ CAGRI SITE ] [ HOME ]