Use our On-Line 100% Secure Encrypted Shopping Cart Ordering System. Simply browse
our site and Click the ADD TO SHOPPING CART buttons to place items in your Shopping Cart
[ HOME ] [ COMICS ] [ MOVIES ] [ NOVELS ] [ CD-ROM ] [ Order info ] [ Help ] [ ARTIST SITES ] [ SEARCH ]
[ Disclaimer ] [ CATALOGUE ]
FANSADOX COLLECTION 174
GALACTIC ZOO - MONTAL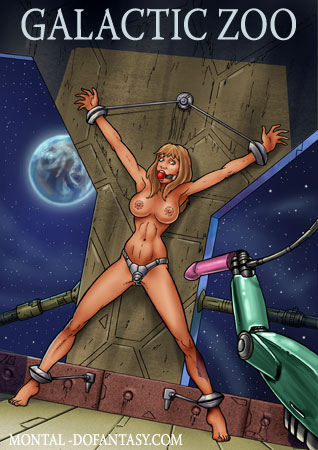 GALACTIC ZOO
NEW IN PDF ELECTRONIC VERSION!
Adult Comic Album by MONTAL
HIGH RESOLUTION PDF deluxe edition
42 full color comic pages by MONTAL
-COMPLETE, UNABRIDGED VERSION-
ALIENS COLLECTING HUMANS
FOR RESEARCH AND FOR THEIR
FAMOUS GALACTIC ZOO!
KIM IS A PERFECT SPECIMEN OF
YOUNG FEMALE HUMAN
TO STUDY AND EXHIBIT...

IMPORTANT NOTICE - DISCLAIMER
All characters are 18 years old or older.
This is an entirely fictional work based on
cartoon characters for adult entertainment.
It shows no real people or events.
The characters are shown participating in
CONSENSUAL role-play for their own personal satisfaction, simulating activities which involve sexual dominance and submission.
No actual toons were harmed in the making
of this comic.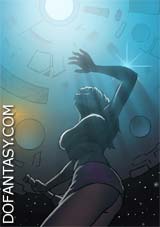 Kim is driving to a party when the engine suddenly stops. It's late and the road is deserted.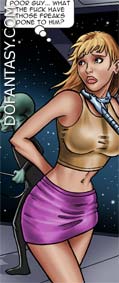 All of a sudden an eerie light comes down from the starry sky, blinding her.
To her astonishment, an inexplicable but irresistible force pulls her up towards the light. Above her head, an unidentified flying object hovers in a strange silence…
The UFO is from Desertia, an arid planet on the confines of the Galaxy. The spaceship is patrolling the Milky Way, collecting different species for research and also for its famous Galactic Zoo.
From the very first moment, the crew realize that Kim is a great catch. The girl is a perfect specimen of a young human female, ideal to study and to exhibit in the Zoo.
In the name of science, the crew decide to conduct their own research on human coupling. Kim is locked in a glass cage, her movements are severely restricted, and she is offered to a previously-collected male for sex. There is great interest in this mating. The Desertians grow humans on farms and use them as house pets, but no one has ever witnessed the coupling of wild, non-farm humans before...

The experiment is extremely humiliating for the lovely young girl. She is mated with a complete stranger for the amusement and pleasure of a crew of leering, lust-crazed aliens.
Just after landing, Kim is taken straight to the Galactic Zoo where she is locked up in a barred cage with a couple of wild human males who have been alone together in the Zoo for years...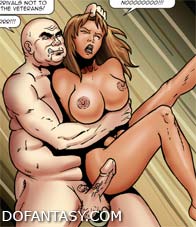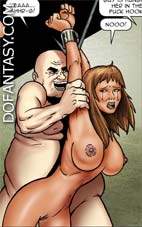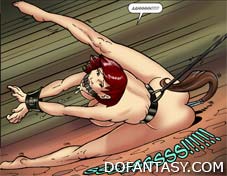 Kim is the first wild female they have seen since they were caught… and as every new arrival, she's severely restrained not to harm the veterans. It's the Zoo policy...
Life in the cage is sheer hell for young Kim.
Soon the Human Cage becomes the main attraction in the Zoo. Until Kim's arrival it was just another boring cage. The males spent most of their time sleeping and only fed at night. Now there is non-stop wild action from dawn to sunset and into the night too…
Desertian scientists suspect that the unusual sexual activity displayed by the wild male humans is the cause of Earth's overpopulation and decline.
Young human females are in fashion on Desertia, where the farm-grown beauties are obliged to crawl on all fours on a waist belt and are led on a leash like dogs. They are big and potentially dangerous animals so their wrists are uncomfortably and severely restrained, a tail is inserted to calm them down and a saliva-inducing ring-gag is fitted to avoid any biting.
Female humans provide many different kinds of satisfaction to their owners. It is not all shoe-licking and tail-shaking for candies…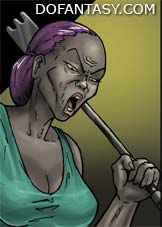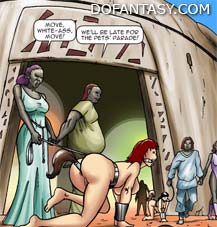 It is Sunday on Desertia and families go to the Zoo. Many of them are taking their human pets to the Pet Show.
Visitors hurry straight to the human cage to see the animals' rough sexual behavior. Many of them want their pets to learn what the wild female does to her male counterparts…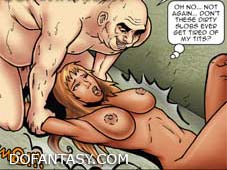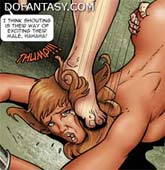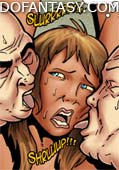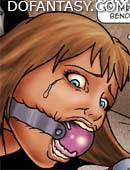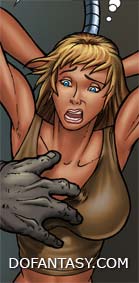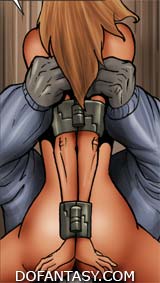 ALIENS COLLECTING HUMANS
FOR RESEARCH AND FOR THEIR
FAMOUS GALACTIC ZOO!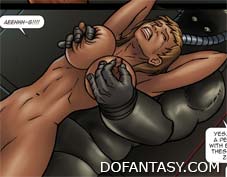 KIM IS A PERFECT SPECIMEN OF
YOUNG FEMALE HUMAN TO
STUDY AND EXHIBIT...