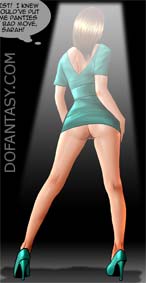 cotland Yard detective Sarah Walker is investigating missing young models, collecting all the information she can from their families and friends.
She discovers that all the girls have something in common: they were offered an audition for a well-paid modeling job by a certain Jenkins Modeling Agency. But after a thorough investigation of the Agency, Scotland Yard are unable to find any leads.
The investigation seems to be at a dead end when Sarah makes a suggestion. She volunteers to go to an audition. Sarah is an incredibly hot and beautiful young lady who should have no difficulty being accepted.
Sarah's boss agrees on one condition: the agent must embed in her vagina a micro GPS transmitter. This will not be detected in a normal body search.
The audition proves to be very humiliating for the young agent. She is asked to undress and show the Agency staff her hot, naked body.
In the end, Sarah and three other stunning girls are accepted. But this is only the first step.
To get the job, the lovely girls will have to attend a shooting session in Europe, in Jenkins Castle…
A private jet takes the candidates to the remote castle. The place is luxurious and looks cool to the excited girls. None of them has ever been in such a magnificent place.
But suddenly things take a nasty turn...
At dinner the would-be models are drugged. To their horror, they wake up naked and chained in front of their personal slave trainer.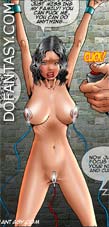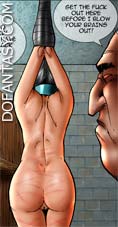 They learn that they are not going to be Top Models but Top Slaves, that they are now in the hands of Jenkins Slave Operation, that they will be trained as slaves and that they will be auctioned off to rich perverts for a miserable life of servitude.
Sarah's training is more horrendous than she feared…
The GPS transmitter seems not to be working as nobody has come from Scotland Yard to rescue her...
She and her lovely colleagues are broken in, trained and finally tested for their salve proficiency.
Auction day arrives and still there is no news from Scotland Yard…
Walking the catwalk, naked and in chains, Sarah realizes that her boss among the bidders!