Use our On-Line 100% Secure EncryptedShopping Cart Ordering System. Simply browse
our site and Click the ADD TO SHOPPING CART buttons to place items in your Shopping Cart
[ HOME ] [ COMICS ] [ MOVIES ] [ NOVELS ] [ CD-ROM ] [ Order info ] [ Help ] [ ARTIST SITES ] [ SEARCH ]
[ Disclaimer ] [ CATALOGUE ] [ Copyright ]
FANSADOX COLLECTION 184
BIRTHDAY GIFT PART 3: DETENTION - ERENISCH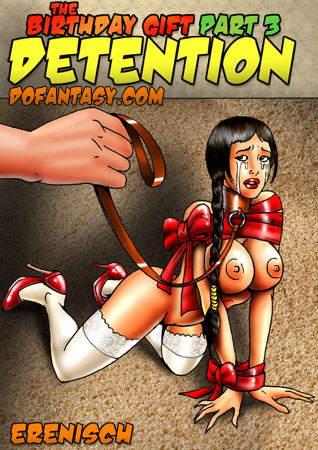 NEW IN PDF ELECTRONIC VERSION!
Adult Comic Album by ERENISCH
HIGH RESOLUTION PDF deluxe edition
55 full color comic pages by ERENISCH
-COMPLETE, UNABRIDGED VERSION-
WHEN A GIRL REACHES SLAVERY AGE, SHE
CAN BE BOUGHT, SOLD AND RENTED. SHE BECOMES HER OWNER'S PROPERTY!
One of the prettiest young girls in our small town: Margaret Sweetie (18) was sold to her schoolmate Peter Stevenson as a slave last Friday. Her new slave name is Cumbuunny.
IMPORTANT NOTICE - DISCLAIMER
All characters are 18 years old or older.
This is an entirely fictional work based on
cartoon characters for adult entertainment.
It shows no real people or events.
The characters are shown participating in
CONSENSUAL role-play for their own personal satisfaction, simulating activities which involve sexual dominance and submission.
No actual toons were harmed in the making
of this comic.
In the year 2022 many countries pass the 'Compulsory Female Slavery Law' that permits the sexual use and sale of nubile women over 18 years of age... When a girl reaches slavery age, she can be bought, sold and hired as personal property…
Attractive young girls become lucrative investments for their parents. Many families with financial problems sell their daughters to slavetraders and private citizens. Often the buyer is a lusting neighbor, as in poor Maggie's case.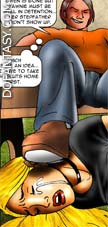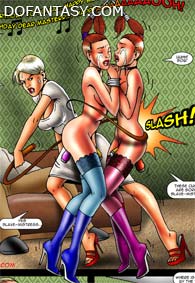 _________________
FROM THE LOCAL NEWS
Sorry guys! Bad news!
One of the prettiest young girls in town, Margaret Sweetie (18), Maggie to her friends, was sold to her schoolmate Peter Stevenson as a slave last Friday. Her young owner stated that her new slave name will be Cumbunny.
_________________
Weeks later, Peter manages to acquire his lusted-after Sherry, another gorgeous classmate and a former friend of Maggie's. Sherry, now Slutkitten, is a selfish rich beauty who has been sold to Peter's father after a family financial crisis.
As slaves, Slutkitten and Cumbunny now devote their lives to satisfying the whims and perversions of 18-year old Peter.
Formerly the unattainable stuff of Peter's sexual fantasies, the girls are now his slaves in real life. The resentful and lust-crazed now boy has his fun and gets his revenge by deeply humiliating the girls.
The nights are a hell for the girls but the mornings are even worse…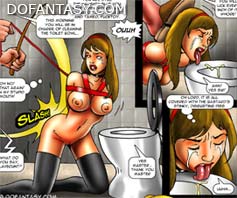 The time of the day these two sexy young slaves dread most is school time. Peter and other students are proud to take their slaves to school to show them off, to lend them to their friends and to parade them naked in public.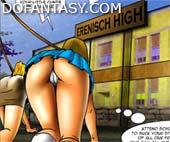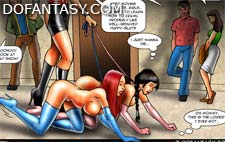 School has suddenly become more fun for the young male perverts and their depraved teachers...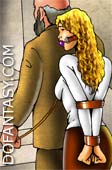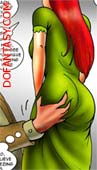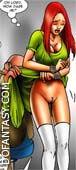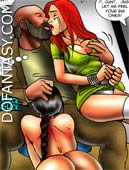 There's still a bunch of free young beauties waiting to be enslaved… some of them proud and arrogant, confident they'll never become slaves because of their parents' wealth…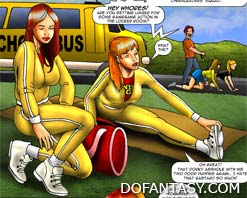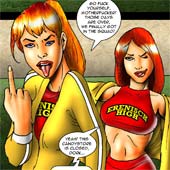 But life has its twists and turns…
Under the newly passed law, young girls who disrespect or disobey males, or break rules, or misbehave in any way are punished severely. Girls whose parents are deemed incompetent at disciplining their daughters can be appropriated by the authorities, and can be sold into slavery even without the consent of their guardians.
Two beautiful girls with little knowledge of the new regulations become the latest victims of this harsh legislation, and find themselves in a horrendous situation...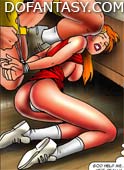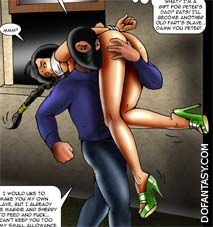 INTRODUCING in PART 3! ... Gwendoline, Tawnie, Claire, and Regina (Gwendoline's mother)
EXTREMELY HOT GIRL-NEXT-DOOR, HUMILIATION COMIC!!!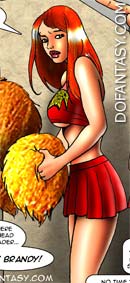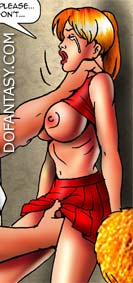 55 FULL COLOR PAGES!
DON'T MISS THE 1st PART OF THIS STORY: BIRTHDAY GIFT PART 1
DON'T MISS THE 2nd PART OF THIS STORY: BIRTHDAY GIFT PART 2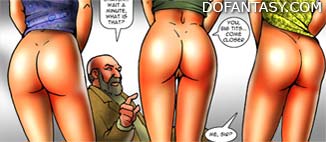 DON'T MISS THE 4th PART OF THIS STORY: BIRTHDAY GIFT PART 4 - HOMEWORK
DON'T MISS THE 5th PART OF THIS STORY: BIRTHDAY GIFT PART 5 - TEACHERS PET
DON'T MISS THE 6th PART OF THIS STORY: BIRTHDAY GIFT PART 6 - FAMILY REUNION
DON'T MISS THE 7th PART OF THIS STORY: BIRTHDAY GIFT PART 7 - THE EXCHANGE
DON'T MISS THE 8th PART OF THIS STORY: BIRTHDAY GIFT - 8 - THE FAVORITE
DON'T MISS THE 9th PART OF THIS STORY: BIRTHDAY GIFT PART9 - VENGEANCE
**** BUY THE 9 COMICS AND GET 15% DISCOUNT! ****
VISIT
ERENISCH SITE
FOR A COMPLETE LIST OF ERENISCH COMICS AND OFFERS