Use our On-Line 100% Secure EncryptedShopping Cart Ordering System. Simply browse
our site and Click the ADD TO SHOPPING CART buttons to place items in your Shopping Cart
[ HOME ] [ COMICS ] [ MOVIES ] [ NOVELS ] [ CD-ROM ] [ Order info ] [ Help ] [ ARTIST SITES ] [ SEARCH ]
[ Disclaimer ] [ CATALOGUE ] [ Copyright ]
FANSADOX COLLECTION 188
MISSYING - LESBI K LEIH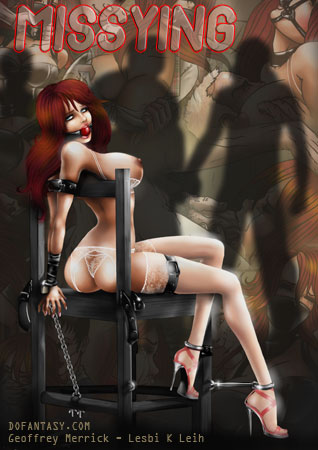 NEW IN PDF ELECTRONIC VERSION!
Adult Comic Album by LESBI K LEIH, story by GEOFFREY MERRICK.
HIGH RESOLUTION PDF deluxe edition
47 full color comic.
-COMPLETE, UNABRIDGED VERSION-
CAPTIVE OF HER
NEIGHBORS NEXT DOOR...
A MASTERPIECE OF
BONDAGE AND IMPRISONMENT!
STORY BY
GEOFFREY MERRICK!
IMPORTANT NOTICE - DISCLAIMER
All characters are 18 years old or older.
This is an entirely fictional work based on
cartoon characters for adult entertainment.
It shows no real people or events.
The characters are shown participating in
CONSENSUAL role-play for their own
personal satisfaction, simulating activities
which involve sexual dominance and
submission. No actual toons were harmed in the making of this comic.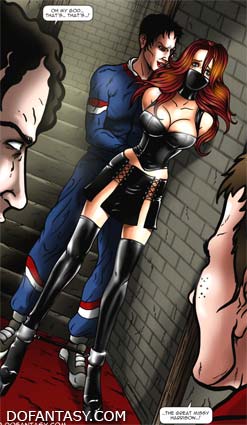 Bright, friendly, achingly pretty, 18 year old, green-eyed, redheaded high school cheerleader Melissa Harrison (5'4", 34D/23/34) believed in the golden rule, paying it forward, doing charity work, and saving herself for true love.
Only one problem. Gail Drake, her mom's best friend, had promised her three mean, perverted sons that they could have the beautiful young girl if they behaved.
So one sunny afternoon, Gail Drake attacks Missy Harrison in her house, keeping her bound and gagged in her own cellar until late that night, all the while keeping in touch with her best friend and talking about her daughter's strange disappearance…!
But if Missy thought that was bad, it's nothing compared to what happens when Gail gets the bound and gagged redhead back to the Drake house, where a basement prison — complete with every imaginable gag, shackle, costume, cruel shoe — and her three nasty sons, await.
From then on, it's a nightmare of humiliation and depravity for the lovely girl as she discovers that the youngest son is obsessed with breasts, the middle boy loves young fleshy lips, and the eldest is all about the rest!
MISSYNG is a masterpiece of bondage, imprisonment, and slavery as the three evil Drake sons learn their mother's hard-taught lessons: keep her sexy, keep her captive, keep her quiet and keep her secret!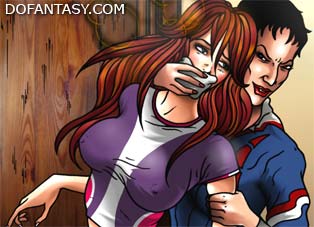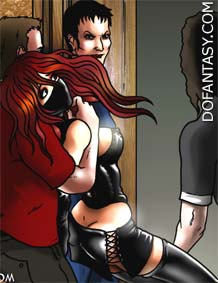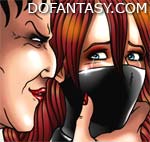 SEX CAPTIVE OF HER NEIGHBORS NEXT DOOR...
A MASTERPIECE OF BONDAGE AND IMPRISONMENT!
STORY BY GEOFFREY MERRICK!