James and Miriam, a newly-married young couple, move to a pleasant residential district.
Miriam's beauty soon attracts the attention of the other residents, in particular their neighbor Mr. Stevenson, a retired judge.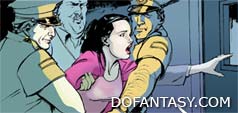 On the couple's first night in the apartment the police suddenly burst in, interrupting their love-making.
The officials detain James on terrorism charges.
Miriam cannot believe what is happening. She's been with James since they were teenagers and she's quite sure that the charges are a mistake.
Not knowing what to do, she asks the old judge next door for advise and help.
The man plays the "good uncle" role and tells the girl to go to bed and not to worry. Nothing can be done until morning, he says.
Next day, the judge takes the girl to the high security prison where her husband is being held.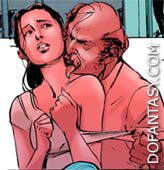 Miriam cannot believe her eyes. The interrogators are beating and abusing the naked man.
When Miriam turns to the Judge to complain, she sees his lustful, leering gaze fixed on her.
The man tells the disoriented girl that her husband is in an extremely delicate situation. she will need good friends in the police and justice department to sort this out. A well-connected retired judge, he suggests, could be of great help...
The price for his services is Miriam's complete sexual submission…
The desperate girl hesitates, but the ear-piercing screams of her lover soon convince her. The judge inspires only physical repugnance in her, but she agrees to his demands. She supposes that he will be satisfied with a quick lay...
How wrong she is!
The judge is an accomplished sexual pervert who will soon turn the girl's life into a hellish nightmare of physical and mental degradation and deep humiliation…