Use our On-Line 100% Secure EncryptedShopping Cart Ordering System. Simply browse
our site and Click the ADD TO SHOPPING CART buttons to place items in your Shopping Cart
[ HOME ] [ COMICS ] [ MOVIES ] [ NOVELS ] [ CD-ROM ] [ Order info ] [ Help ] [ ARTIST SITES ] [ SEARCH ]
[ Disclaimer ] [ CATALOGUE ] [ Copyright ]
FANSADOX COLLECTION 193
MISSING HIKERS - MONTAL
NEW IN PDF ELECTRONIC VERSION!
Adult Comic Album by DE MONTAL
HIGH RESOLUTION PDF deluxe edition
42 full color comic pages.
-COMPLETE, UNABRIDGED VERSION-

TWO HIKING GIRLS MISSING
AT A REMOTE LAKE
THEY HAVE BEEN DETAINED
BY CRAZY CAPTAIN HARRY'S
MORAL SQUAD. THE CHARGES:
PROSTITUTION AND LESBIANISM....

IMPORTANT NOTICE - DISCLAIMER
All characters are 18 years old or older.
This is an entirely fictional work based on
cartoon characters for adult entertainment.
It shows no real people or events.
The characters are shown participating in
CONSENSUAL role-play for their own
personal satisfaction, simulating activities
which involve sexual dominance and
submission. No actual toons were harmed
in the making of this comic.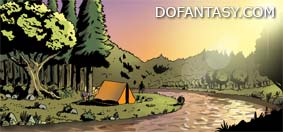 Anne and Sarah decide to go hiking one weekend. They drive to a small village which is easy hiking distance from an isolated, idyllic, remote lake.
When night falls they set up camp. They feel relaxed and very happy to be so far away from everything and everybody. They joke at night about being in such a lonely place…
'Gonna zip up the tent, we don't want anybody coming in, do we?'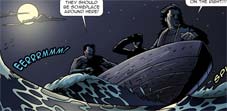 'Mosquitoes or guys? If it's a couple of handsome football players knocking at the door I'm unzipping everything, believe me!'
'Yes, sure... but won't be that lucky, this place is so isolated...'
'It's a wonderful night, but I would appreciate a good, deep, relaxing session of lovemaking to help me get to sleep...'
'The problem is, how d'you call a cab to get rid of them afterwards? Ha ha!'
'You're right, but still... Oh shit, we're getting into that dirty talk again! Good night!'
Unknown to the girls, they are going to have company for the night… and for longer too!
A speed boat is a approaching with three guys in it. They are Captain Harly's so-called "Moral Squad". Their self-imposed mission is to keep the area clear of socially undesirable women!
The three crazy men attack the sleeping beauties with military precision and unnecessary force. They then detain them on charges of prostitution and lesbianism.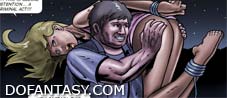 The girls can't believe what it is happening. Who are those crazy guys? Two of the men are clearly retards and the other one, the Captain, is a genuine raving lunatic!
The Moral Squad take the frightened prisoners to their hidden base camp in a remote area near the lake. Nobody else has been there for years...
The girls are dumped in a hole and locked in an iron-barred cell and thoroughly interrogated...

The questions are dirty, intimate… and extremely humiliating for the girls. Yet they have no choice but to answer them.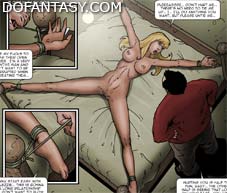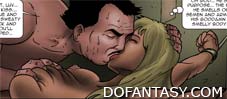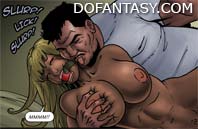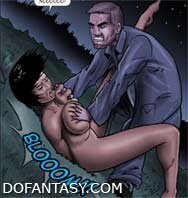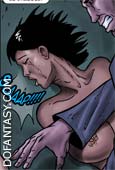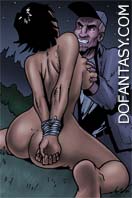 After a seemingly endless night the questioning finally ends and the prisoners are tried in a kangaroo court...
They're found guilty of prostitution and lesbian activities by the 'military' court. What else were they doing alone by the lake at night?
The sentence is even more absurd:
'I, Captain Harris, sentence you bitches to be confined naked in a reform camp where you will receive treatment for your lesbianism and you will no longer fuck for money. You'll fuck for free! Needless to say, this is the reform camp and the members of this Squad are your personal coaches. We take full moral responsibility for you…'
Life for the two happy and liberal girls takes a sharp U turn...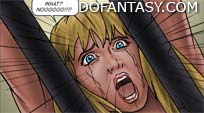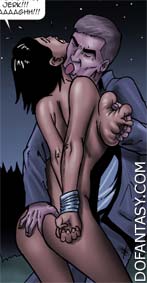 TWO HIKING GIRLS MISSING
AT A REMOTE LAKE, VICTIMS OF A
CRAZY MORAL SQUAD.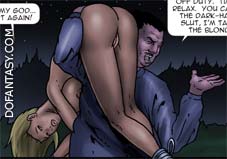 THRILLING PLOT,
HOT ACTION, VERY SEXY GIRLS...
DON'T MISS THIS GREAT COMIC BY MONTAL