Use our On-Line 100% Secure EncryptedShopping Cart Ordering System. Simply browse
our site and Click the ADD TO SHOPPING CART buttons to place items in your Shopping Cart
[ HOME ] [ COMICS ] [ MOVIES ] [ NOVELS ] [ CD-ROM ] [ Order info ] [ Help ] [ ARTIST SITES ] [ SEARCH ]
[ Disclaimer ] [ CATALOGUE ] [ Copyright ]
FANSADOX COLLECTION 197
THE 4TH WIFE - TEMPLETON
NEW IN PDF ELECTRONIC VERSION!

Adult Comic Album by TEMPLETON
HIGH RESOLUTION PDF deluxe edition
48 full color comic.
-COMPLETE, UNABRIDGED VERSION-
WEST AFRICA: A BEAUTIFUL UN LAWYER IS BLACKMAILED INTO MARRYING A LOCAL ATTORNEY
AND BECOMES HIS 4th WIFE...
THE SINISTER MIDDLE-AGED
BASTARD LURES THE STRIKINGLY BEAUTIFUL WOMAN AND HER
18-YEAR OLD DAUGHTER INTO
A HORRENDOUS SEX-TRAP...
IMPORTANT NOTICE - DISCLAIMER
All characters are 18 years old or older.
This is an entirely fictional work based on
cartoon characters for adult entertainment.
It shows no real people or events.
The characters are shown participating in
CONSENSUAL role-play for their own
personal satisfaction, simulating activities
which involve sexual dominance and
submission. No actual toons were harmed in the making of this comic.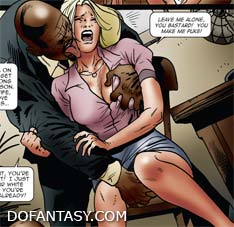 Ms Jolie Watson, a strikingly beautiful and brilliant UN lawyer, falls into a trap set by an obscure colleague, attorney Mr Abdula…
"As a UN lawyer, you must be aware that if I proceed with this case, you're done. The usual penalty is death row. However... taking into account the fact that you're such a beautiful woman, they might decide to imprison you for life. You'll be locked in one of our crowded jails, men and women sharing the same cell. Women normally only last a few weeks..."
Jolie can't believe what the old bastard is saying…
"Enough of that nonsense, Mr. Abdula! You know all these papers are false. This is a scam and I wanna know what's going on here. My UN salary is no big deal, so if we're talking blackmail, I'm not worth it!"
With a leering grin, he reveals his true intentions. He wants the lovely American to become his 4th wife…
"Look at it positively, Ms Watson... as my most recent wife, you'll get more fucking than the rest! I may be old, but my dick is huge and I'm a very experienced stud... my women just can't stop cumming when I shag them..."
"Oh my God, what are you saying? You're disgusting!"
"It's a good deal on both sides. You get fucked all day long and you avoid prison. I get a blonde wife, which will improve my social status..."
One year later, Jolie's 18-year old daughter Jenny comes to visit her mother and meet her stepfather's family. Jolie tried to dissuade her daughter from visiting, but Jenny wanted to see her mother very badly. She is at the airport now, wearing tight jeans and a revealing T-shirt. Everybody is staring at her…
"Where are the women in this fucking country? I can only see sex maniacs!" the girl thinks.
Finally she discovers her mother under a severe, black burka. She is with her husband Mr Abdula, a massive middle-aged man who stands looking at the girl with a hostile and lustful grin…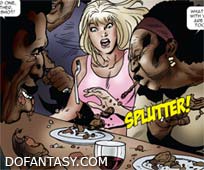 That night Jenny meets her step-family at dinner: two older wives and two sons, a couple of disgusting jerks who upset the young girl with their offensive comments…
"Hey sis, they say you blondes go crazy over black cock in the States, is it true?"
"I heard you blondies have two clitties, one in the pisser, another in the crapper!"
"In this country we're good at pussy licking. Look at this fat tongue. Ever been licked by a tongue like that, sis?"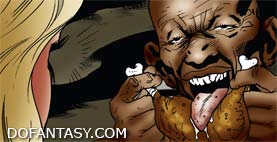 The rage is building up in the girl minute by minute… and the old women are even more disgusting than their sons… Suddenly a shackled beauty clad in a scanty harem dress appears in the dining room. She is wearing rings in her nipples!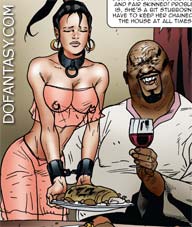 Jenny can't believe it. Her stepfather explains the situation to the shocked girl…
"She's a good piece of ass, don't you think, daughter? And fair-skinned! Problem is, she's a bit stubborn. I have to keep her chained in the house at all times and beat her every now and then... Name's Tight Ass, she's my 3rd wife. She's a wonderful assfuck!"
The older wife explains the rules to the now outraged American girl…
"This is family life around here, daughter. Two old wives to rule the house and two young ones to fuck raw!"
The girl can restrain herself no longer…
"Don't call me daughter again! And I'm not this old scumbag's daughter either! Where the fuck is my mom? I'm here to visit her, not you!"
At that moment Ms Jolie Watson, the former UN lawyer, appears clad in obscene harem clothes. Her name is not Ms Jolie Watson anymore but White Trash… and to her daughter's horror, her back is crisscrossed with whipmarks!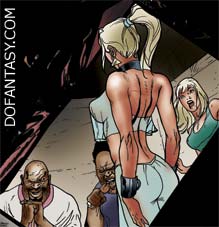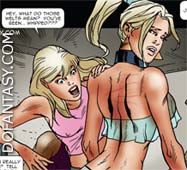 The furious Jenny cannot stand it anymore. She walks out of the dining room, infuriated.
That night, her mother tells her about the trap she fell in, and how she had been forced to submit to countless humiliations and mistreatment by the crazy family.
Appalled, but determined to save her mother, Jenny swears she'll do whatever is necessary to get the man and his family behind bars.
Next day, Jenny leaves for the airport. Her stepfather takes her…
On the way, the old man tells the girl that he has fall in love with her. Unfortunately, he cannot take her as his wife. The law allows a maximum of four. He would be stoned in the market place if he took a 5th…
"But the law says nothing against porking infidel whores. It would be nice having you and your mother chained to the same bed..."
Needleless to say, the American girl never makes it to the airport...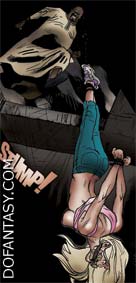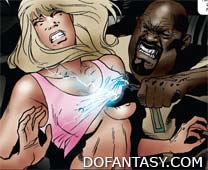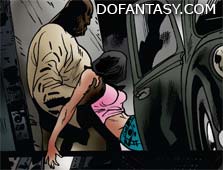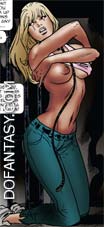 Instead, the old man takes her to a dirty basement and locks her in a tiny dog cage. No one will ever suspect a young blonde is being held there…
"You are a feisty, big mouthed, big-titted infidel! Gonna change your attitude, your beliefs and your faith... Nothing of what you were doing, saying, thinking or believing is valid anymore. Your life takes a tight U turn this evening. Jennifer Watson is over... you're Jasmine, the lovely daughter I never had! And your nickname's Splitass..."
The life of the young American blonde suddenly turns into an awful nightmare of humiliation and exploitation as her stepfather's plaything…
And things get worse and worse…
"Ok, Splitass, lets get down to business. You're a new woman now, one of our kind. And like every new born child, you need to be educated. As your stepfather I shall personally take care of your education..."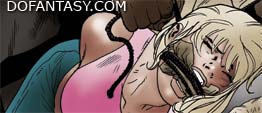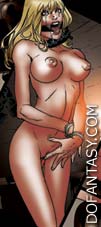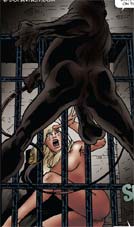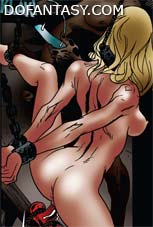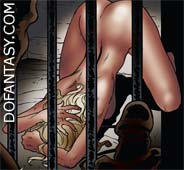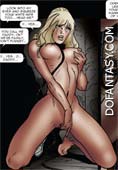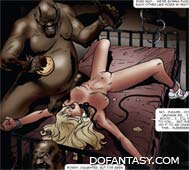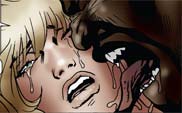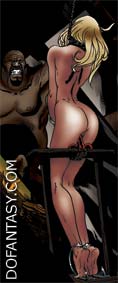 WEST AFRICA: A BEAUTIFUL UN
LAWYER IS BLACKMAILED INTO MARRYING
A LOCAL ATTORNEY AND
BECOMES HIS 4TH WIFE...

THE SINISTER MIDDLE-AGED
BASTARD LURES THE STRIKINGLY
BEAUTIFUL WOMAN AND HER
18-YEAR OLD DAUGHTER INTO
A HORRENDOUS SEX-TRAP...
INCREDIBLE HOT COMIC!!!

VISIT TEMPLETON SITE FOR A COMPLETE
LIST OF TEMPLETON COMICS AND OFFERS