There are many private detectives in New York City specialized in "cheating partners". Rick Hammer is one of them. Some wonder why Rick Hammer is so damn expensive to hire. There are many reasons, but briefly, he guarantees his client a divorce without alimony. The money Rick charges is much less than any likely alimony!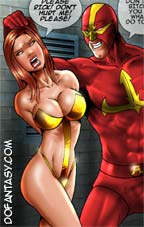 His clients, middle age well-off businessmen married to much younger good looking women, are well aware of that. On the minor suspicion, they can sit back and wait; they know that if their young wives cheat on them, Rick Hammer will find out even if they're fucking their partners in Antarctica!
But not every husband is satisfied with an easy divorce. Some want their ex-wives' life to be a living hell. At that point AVENGER steps in!
AVENGER is a superhero who's specialized in catching, breaking and enslaving the slutty ex-wives…
Yes! Rick hammer has a night job!
He's AVENGER…
And his clients pay a fortune just to see their ex-wives naked and with a dog leash round their necks.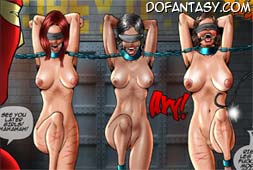 AVENGER is not a kind guy like Rick Hammer. He doesn't do AVENGER for the money, he just likes punishing and playing with arrogant bitches!
If cops paid a visit to AVENGER's secret base, half of the NYPD "Missing Women List" would be wiped clean!
AVENGER's secret base is in Gasuk, Alaska. Only Rick Hammer and his staff know the location of the base, which is made up of dozens of prison cells, an auction room, correction chambers and staff quarters.

The girls, most of them are models, find themselves in cold cells waiting to be bought by rich pervs or reality BDSM movie producers. It's not the luxurious life style they dreamt of when the married their cheated husbands!
Rich bastards travel thousands of miles by helicopter just to spend one night with one of these lost celebs or to buy one of them at auction.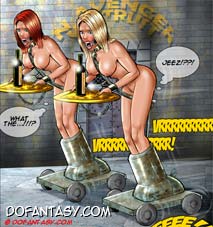 Two loyal employees are responsible for the Gasuk base and the staff. They're both professional slave trainers. They're good at it because they love their jobs: Miss Peggy Wilkins, age 65, and Senor Eduardo Mendez, age 43.
Back in New York City, Rick hammer's about to solve a big problem that's getting more annoying each day that New York Times journalist Pam Widmore's getting close to unveiling the secret identity of AVENGER…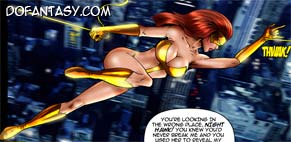 As Rick Hammer, beautiful Pam Widmore has two identities. At night, the hot young reporter turns on NIGHT HAWK, AVENGER's most hated superhero enemy!