Use our On-Line 100% Secure EncryptedShopping Cart Ordering System. Simply browse
our site and Click the ADD TO SHOPPING CART buttons to place items in your Shopping Cart
[ HOME ] [ COMICS ] [ MOVIES ] [ NOVELS ] [ CD-ROM ] [ Order info ] [ Help ] [ ARTIST SITES ] [ SEARCH ]
[ Disclaimer ] [ CATALOGUE ] [ Copyright ]
FANSADOX COLLECTION 213
DESERT SLAVES - MONTAL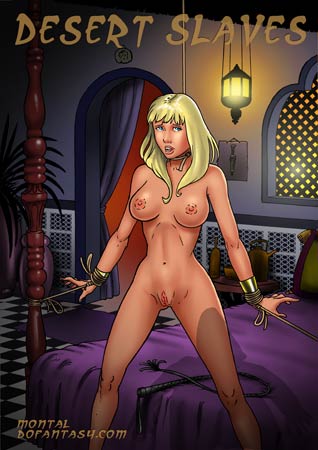 NEW IN PDF ELECTRONIC VERSION!
Adult Comic Album by MONTAL
HIGH RESOLUTION PDF deluxe edition
42 full color comic pages.
-COMPLETE, UNABRIDGED VERSION-
A VENGEFUL HUSBAND SELLS
HIS YOUNG WIFE AND SEXY
STEPDAUGHTER TO SLAVE
TRADERS IN NORTH AFRICA!
A HOT, THRILLING STORY
OF SEX AND REVENGE!
IMPORTANT NOTICE - DISCLAIMER
All characters are 18 years old or older.
This is an entirely fictional work based on
cartoon characters for adult entertainment.
It shows no real people or events.
The characters are shown participating in
CONSENSUAL role-play for their own
personal satisfaction, simulating activities
which involve sexual dominance and
submission. No actual toons were harmed
in the making of this comic.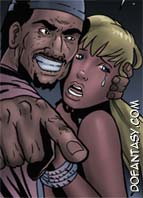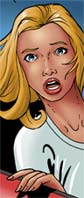 Arnold Whitehouse is traveling in North Africa on a business, bringing his young wife Elisabeth and his stepdaughter Olivia with him.
Things between the couple have gotten worse and worse since they married two months ago.
His expectations have been disappointed over and over.
After she's denied him sex for so long, he now believes that the scornful Elisabeth and her daughter are only interested in him for his money.
To make matters worse, Young Olivia goes back and forth between bitching at him and teasing him 24/7.
Feeling harassed and rejected, Arnold has tried to get a divorce from Elisabeth, but her lawyer demands a fortune in return for Arnold's freedom.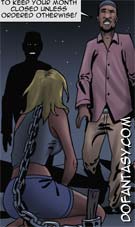 Bitter and desperate, Arnold contacts a local thug in Tangier, offering him the two woman at a bargain price under the condition that they disappear forever.
That morning, Arnold invites Elizabeth and Olivia to go shopping at a mall in the city.
They begin a long trip from the idyllic coastal resort where they're staying through the burning desert.
After hours of driving over the sands, the girls become suspicious. Their fears become reality when the SUV stops by a small caravan consisting of two sinister Tuaregs, two camels and two naked black girls... chained!

Arnold abandons his frightened wife and step-daughter to the mercies of the slavers, wishing them a happy fucking holiday, knowing what fate awaits them.
The two American woman trek chained through the desert under the blazing sun to the oasis of Benali-Alfashar, site of a monthly slave auction.
The journey is horrifically exhausting and humiliating for mother and daughter, walking on the slippery sand in the scorching heat, driven on by the ever-present whip.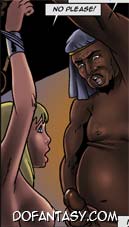 At night, they're chained together in shame at the beck and call of the two sadistic Tuareg.
Finally the slave caravan reaches the flesh market.
The two American women are the center of leering, cruelly excited attention. The last time white women were sold on the auction block was before WWII!
Displayed and degraded in front of the jeering punters, mother and daughter are sold together to a middleman.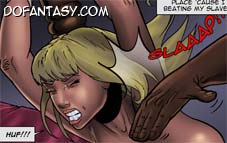 Unknown to them, they've been purchased by a cruel misogynist Emir!
Together in their chains, the two women enter the palace of the powerful man who bought them never to leave it again.
The Emir and his first wife, a sadistic black beauty, give the two new slaves a hellish welcome...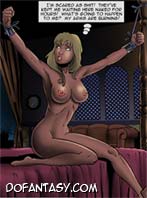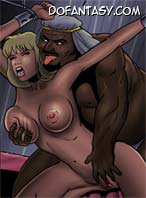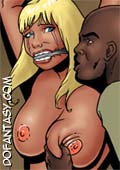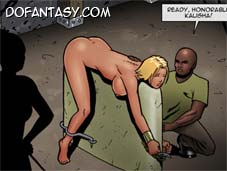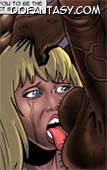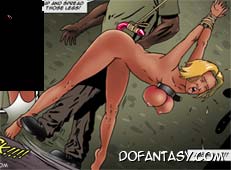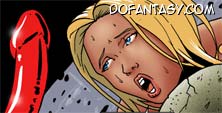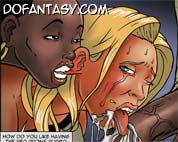 MOTHER AND DAUGHTER SOLD AS SLAVES TO A DEMANDING
MASTER IN THE HEART OF THE SAHARA DESERT!

DIABOLICAL PLOT, HOT,
UNRELENTING ACTION, ULTRA-SEXY GIRLS...
DON'T MISS THIS GREAT COMIC BY MONTAL