Use our On-Line 100% Secure EncryptedShopping Cart Ordering System. Simply browse
our site and Click the ADD TO SHOPPING CART buttons to place items in your Shopping Cart
[ HOME ] [ COMICS ] [ MOVIES ] [ NOVELS ] [ CD-ROM ] [ Order info ] [ Help ] [ ARTIST SITES ] [ SEARCH ]
[ Disclaimer ] [ CATALOGUE ] [ Copyright ]
FANSADOX COLLECTION 215
RUTHLESS BIKER - TEMPLETON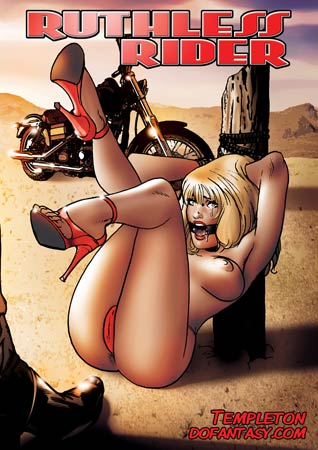 NEW IN PDF ELECTRONIC VERSION!
Adult Comic Album by TEMPLETON
HIGH RESOLUTION PDF deluxe edition
44 full color comic.
-COMPLETE, UNABRIDGED VERSION-
A YOUNG COUPLE TRAVELING
IN A MOTOR HOME GETS
ASSAULTED BY A RUTHLESS BIKER...
SLAVES OF A BIKER GANG!
A NIGHTMARE OF SHAME
AND TERROR
THE BEST TEMPLETON!!!
IMPORTANT NOTICE - DISCLAIMER
All characters are 18 years old or older.
This is an entirely fictional work based on
cartoon characters for adult entertainment.
It shows no real people or events.
The characters are shown participating in
CONSENSUAL role-play for their own
personal satisfaction, simulating activities
which involve sexual dominance and
submission. No actual toons were harmed in the making of this comic.
Donna and Bill are on their honeymoon trip. They're young and they donít have much money. The most they can afford is a trip thru the desert in an old motor home.
In a way, traveling in the desert is the perfect vacation for the newly-weds. They'll be all alone, which is exactly what they have in mind! They're deeply in love and they spend the day teasing each other and indulging in tender love-making....
But at the gas station, a twisted turn of destiny leads them to Joss, a mean, rough biker...
Donna confronts him from the very beginning. It's the young coupleís first mistake....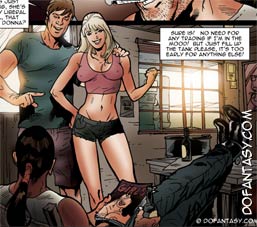 "Look, honey! The guyís reading a porno mag. He should get himself
a good strong Amazon to ride him, like me! HAHAHAHA!!!"
says Donna, thinking she can't be heard. She's wrong!
"Youíre right, Hottie. I ainít got no cunt to pork today...
Maybe your friend and I can do some trading,
this mag for your cute ass... what díya say?
Later, while Bill is filling the tank, Donna meets Joss alone...
"Get back to your porn, jerk, and quit looking at my ass!"
"Sooner or later Iím gonna fuck you raw, whore.
But not before I smash those fat tits of yours to fucking pulp!"
Before the couple leave, Joss changes his tone and asks Bill to give him a ride to Desert Town in the motor home.
Bill accepts the apologies and invites him on board. Donna is unhappy about it, but Joss jumps up onto the seat. That's the couple second mistake...
He sits very close to her and puts his arm round her shoulders. There's not much room on the seat and Donna has to put up with the guyís stinking armpits and crotch...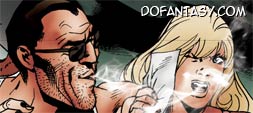 To make thinks even more tense, Joss starts smoking pot and talking dirty. Donna is on the verge of exploding, but Bill seems to find the biker's way of speaking quite cool.
He does not seem to see any danger in the rough bikerís menacing attitude towards Donna... and when he does realize whatís going on, it's too late.
Because Joss has a gun...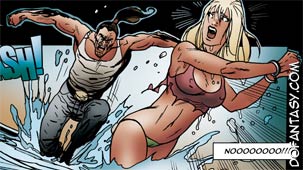 He starts shooting and the couple freeze in horror at the sheer violence that Joss is displaying...
With the gun pointing at her, Donna shackles Bill's wrists at the back and then shackles his ankles together. Bill gets a tremendous kick in the genitals that leaves him in no doubt about Jossís intentions...
Joss then shackles Donna's wrists at the back...
"Gottcha, Hottie! Now youíre all mine..."
What follows is an awful horror story of terror and humiliation for the young couple.
Bill travels chained up in the garbage container of the motor home while Donna drives.
Joss sits back, enjoying the spectacle of the terrified, sweating girl driving in shackles.
She is almost naked and he cannot take his eyes off her. He teases her, he molests her, he frightens her, and he uncovers one of her lovely breasts...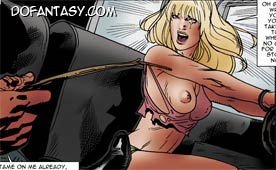 "Youíre looking gorgeous this morning, Hottie.
Youíve got that relaxed look only a well-fucked whore
has and you have to thank me for it..."
That night, Joss and Donna party... in front of the panic-stricken, shackled Bill.
Donna feels totally humiliated...
"You got yourself quite a woman, boy. That ainít fair...
She and Iíve been getting to know each other better since yesterday,
did you hear the shouting and the noise from the garbage container?
Look... you just squeeze her twat and you get your hand soaking wet!
Yeah, this bitch is a real slutÖ you only gotta look at
her shaved pussy to see it! Itís self-oiling, man!"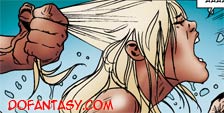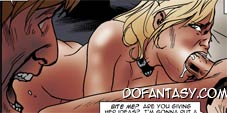 Donna has no choice. Sheís shackled and Joss has a gun.
Reluctantly, she does everything the perverted biker orders her to do.
And she does it in front of Bill, her lover, her newly-wed husband, the man of her life!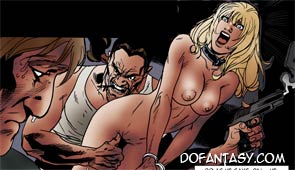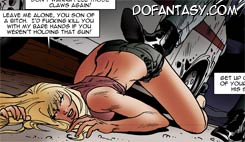 Jossís twisted cruelty knows no limits. He takes even more pleasure humiliating and debasing the girl in front of her husband than he does in taking advantage of her stunning beauty...
Donna is in deep trouble. The perverted biker is getting more and more demanding and she is punished if she disobeys or disappoints him in any way. Bill, locked up with the garbage, hears everything...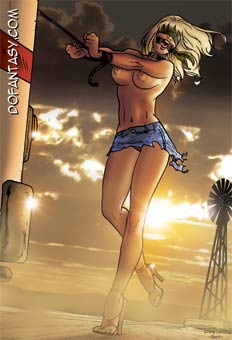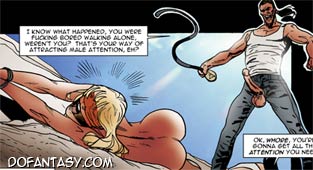 The trip seems endless to Donna. Days pass and they donít seem to be going anywhere in particular. She gets more and more worried as each awful day passes. She wonders in despair what the end of this nightmare will be. She fears the worst...
And something even worse than she imagines is about to happenÖ
The young couple end up as the slaves of Joss's biker gang, a gang of sex-crazed men and women...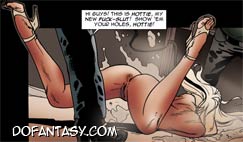 "Look guys what I found!"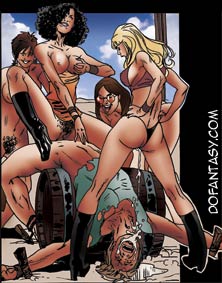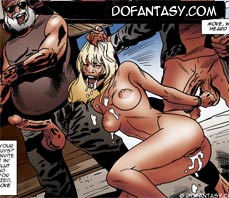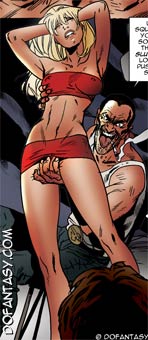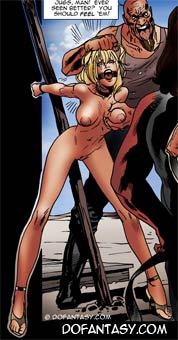 A YOUNG COUPLE TRAVELING
IN A MOTOR HOME GETS
ASSAULTED BY A
RUTHLESS BIKER...
SLAVES OF A BIKER GANG!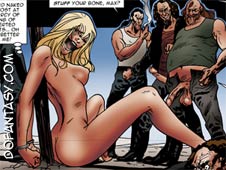 A NIGHTMARE OF
SHAME AND TERROR
INCREDIBLE HOT COMIC!!!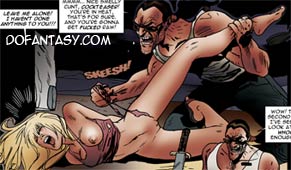 VISIT TEMPLETON SITE FOR A COMPLETE
LIST OF TEMPLETON COMICS AND OFFERS