Use our On-Line 100% Secure EncryptedShopping Cart Ordering System. Simply browse
our site and Click the ADD TO SHOPPING CART buttons to place items in your Shopping Cart
[ HOME ] [ COMICS ] [ MOVIES ] [ NOVELS ] [ CD-ROM ] [ Order info ] [ Help ] [ ARTIST SITES ] [ SEARCH ]
[ Disclaimer ] [ CATALOGUE ] [ Copyright ]
FANSADOX COLLECTION 223
MOBSTER'S VENDETTA - TEMPLETON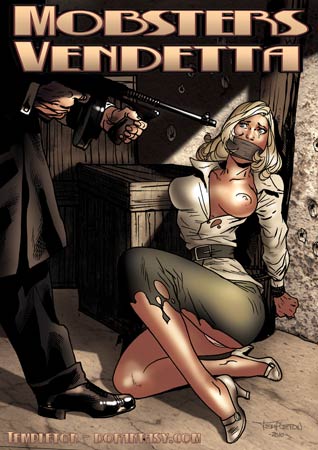 NEW IN PDF ELECTRONIC VERSION!
HIGH RESOLUTION PDF deluxe edition
42 full color comic pages by TEMPLETON
-COMPLETE, UNABRIDGED VERSION-
VISIT THE DOLLS' DEN, A SMOKE
CLOUDED HELL OF PERVERSION AND
HUMILIATION FOR THE YOUNG, BEAUTIFUL
WOMEN HELD THERE...
HEATHER, YOUNG AND HOT, IS DON VITO'S
SLAVE. HER INTIMATE STORY, DETAILING
HER DREADFUL LIFE AT THE CRUDE, CRUEL
HANDS OF HER CAPTORS, WILL AROUSE
AND HOLD YOU SPELLBOUND.
IMPORTANT NOTICE - DISCLAIMER
All characters are 18 years old or older.
This is an entirely fictional work based on
cartoon characters for adult entertainment.
It shows no real people or events.
The characters are shown participating in
CONSENSUAL role-play for their own personal satisfaction, simulating activities which involve sexual dominance and submission. No actual toons were harmed in the making of this comic.
READ THE DISCLAIMER PAGES IN THE COMIC
BEAUTIFUL WOMEN VICTIMS OF A BLOOD-STAINED MOBSTERS WAR!
Chicago – 1927. One of the most crime ridden periods in U.S. history. Out-of-control gangsters provide whatever a man wants... whiskey, poker, cunts… most especially cunts. All colors, all sizes, lush, ripe tits, some with huge, hard nipples and or little rosebud ones… hot pussies to be filled and busted. Beautiful young women to use and abuse in every way imaginable...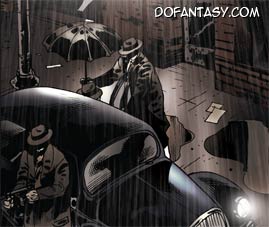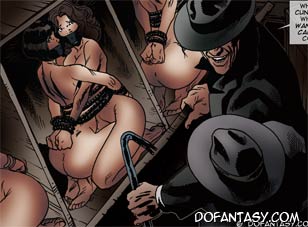 Heather is a beautiful 24-year-old under the 'protection' of Don Vinzenzo Castiglioni, a vicious, depraved psycho who delights in making poor Heather perform sadistic, perverted acts for him… and his friends.
Heather tells her dreadful story in such a crude and intimate way that you won't be able to stop reading...
"Since the day the beast killed my father, I had been his fuck-doll, his sex slave… Tonight the old bastard made me dress like a whore, but I was happy just to put some clothes on and get out of the depressing room where he kept me chained to that horrible bed… He called me Dolly, Cunt, Fuck-meat, Whore, Slut…!! I was nothing but his trophy whore to show off!"
Don Vinzenzo takes his Dolly to the Dolls' Den, a smoke clouded place of perversion and humiliation for the young, beautiful women held there, constantly subjected to every conceivable sex act...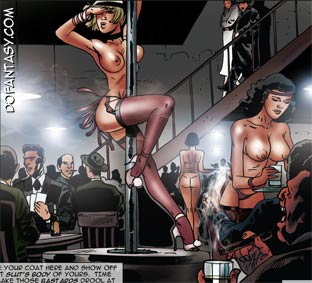 The Doll's Den imports women from all over the country, the more innocent and pure, the better. Top dollar is charged for top merchandise...
"Half a dozen hot cunts snatched from all over the country.
The sort of stuff that makes a man forget about his bills!
We can charge 5 bucks for 10 minutes for such hot merchandise.
That's 30 bucks an hour... Which adds up to 600 per day per cunt!"

"That was the first time I met don Vito, an old S.O.B. even more disgusting than Corleone. He was the old jerk who changed my already miserable life for the worse… much worse!

Don Vito immediately ogled me with those drunken, lascivious eyes I now fear so much... Feeling his touch made me shiver all over, with fear and revulsion...."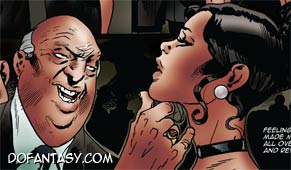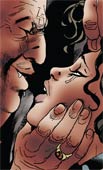 "A hot tart! A beauty, indeed. Does she fuck as good as she looks?"

"Yeah… the little bitch's improving fast, I'm a good teacher… hard burden, you know? We practice 7 over 7 three times a day; early morning, siesta time and bed time. Sometimes in the middle of the night, too, if I wake up. She was a bit difficult at the beginning; she tried to run away a couple of times. Had to brand her to make sure everyone knows who owns her tight ass… Look at the top of that smooth thigh, 'V' like Vinzenzo. She's very proud to wear it..
aren't you, Dolly?"
There is something for everyone at the Doll's Den: dildos, whips, restraints, tight, hot virgin asses and incredible tits… just made to jerk off on. No girl unfortunate enough to enter the Doll's Den is safe from the lecherous hands and foul perversions of the patrons.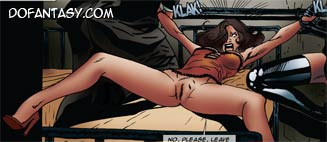 "No please, leave me alone! This is sick!!!"
The girls' lives become an unending, waking nightmare as they are plunged into this house of exploitation. Dolly and Susan are ordered to perform for Don Vinzenzo and his sick, perverted friends.
"How'd you like to shag that bitch, Dolly?"
After two months of relentless nightmare I knew the right answer…
"I… I'd be d… delighted, Honey…"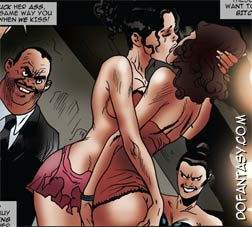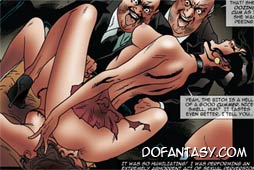 Susan was trembling all over, her body was warm. Fear, and the humiliation she knew was coming, made her breasts slick with sweat… Our tongues met, we were both moaning. It was a forced, disgusting, unnatural act…
The horrible night seemed to never end. After the
humiliating buggering downstairs, we went to Don Vito's office.
I had to lick the pig's limp dick and balls clean for hours,
until he got rock hard again…
Don Vinzenzo and his brother-in-law, Don Vito, decide to erase rival Don Salvatore's gangs from the streets.
Given their never-ending drive for new women to degrade and humiliate, they decide to mix business with pleasure. They will introduce Don Salvatore's new, young wife Elisabeth Stone and even younger, innocent virgin daughter, to the perversions of the Doll's Den… on a permanent basis.
Elisabeth was a well-known and much sought after Hollywood star of 28. Don Salvatore blackmailed her into marrying him. She had no other option: it was either a wedding ring or her parents and sisters would be killed. The young actress knew the old creep wasn't joking… her brother, Tim, had been sadistically castrated and then left to die right in front of her eyes…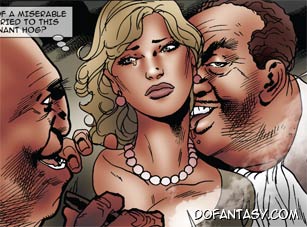 "I can only congratulate you for such a hot wife, Don Salvatore…"
"You like the cunt, eh? Great jugs on her, don't ya think? I may be an old fart,
but I fuck this cunt twice a day, pussy and crap hole… I love to hear her screaming
like a banshee… Oh man, she makes such a hot fuck! C'mon, bitch, tell the man
what a good fucker your teddy bear here is…"
"My husband is a great lover, sir. He… he's a very
powerful man and makes me a ve... very happy wife… sniff…"
Elizabeth, is taken at gunpoint from a public restaurant ...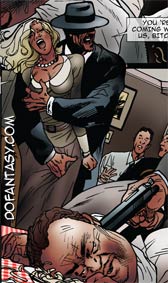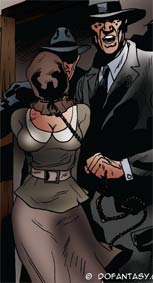 His daughter, sweet innocent Linda, also falls prey to the depraved duo's disreputable plans...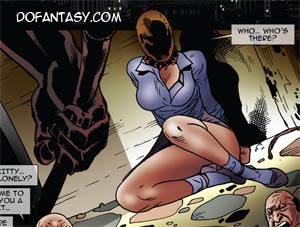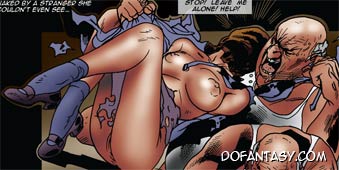 The women become the personal toys of Don Vito, whose bizarre appetites are even more grotesque, degrading and humiliating than Don Vinzenzo's...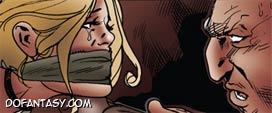 "Rule number one, bitch! You do as you're told and
keep a smile on your fucking whore's face, got it?
Your life as a pampered, stuck up star is over!
You're now just another one of my pets, understand?
Now, let's see how you manage to put all this fuck-meat to
work… Here you are, screw yourself crazy with this dildoe
until you cum right in front of my eyes!"

Oh god… this is disgusting… how can someone
be so dirty, so repugnant?
The girls' lives became a kaleidoscope of debasement...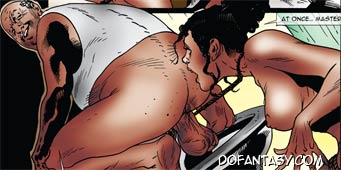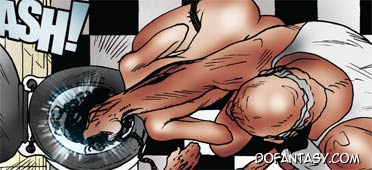 Linda quickly learns what happens if she attempts to defy Don Vito...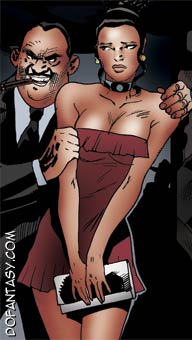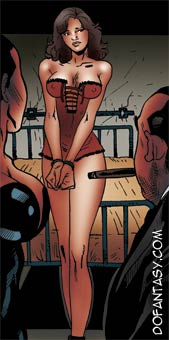 DON'T MISS THE LATEST GRAPHIC
COMIC BY DOFANTASY!

THIS ONE WILL MORE THAN SATISFY YOUR DARKEST FANTASIES.

GREAT ART, GREAT STORY TELLING, GREAT CHARACTERS.
BEAUTIFUL WOMEN VICTIMS OF
A BLOOD STAINED MOBSTERS WAR!
VISIT THE DOLLS' DEN, A SMOKE
CLOUDED HELL OF PERVERSION AND
HUMILIATION FOR THE YOUNG, BEAUTIFUL WOMEN HELD THERE...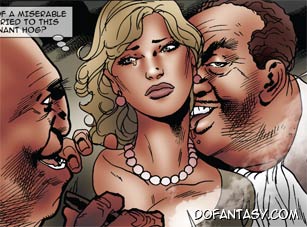 VISIT TEMPLETON SITE FOR A COMPLETE
LIST OF TEMPLETON COMICS AND OFFERS