Use our On-Line 100% Secure EncryptedShopping Cart Ordering System. Simply browse
our site and Click the ADD TO SHOPPING CART buttons to place items in your Shopping Cart
[ HOME ] [ COMICS ] [ MOVIES ] [ NOVELS ] [ CD-ROM ] [ Order info ] [ Help ] [ ARTIST SITES ] [ SEARCH ]
[ Disclaimer ] [ CATALOGUE ] [ Copyright ]
FANSADOX COLLECTION 228
SLUTS IN TRAINING 1 - ERENISCH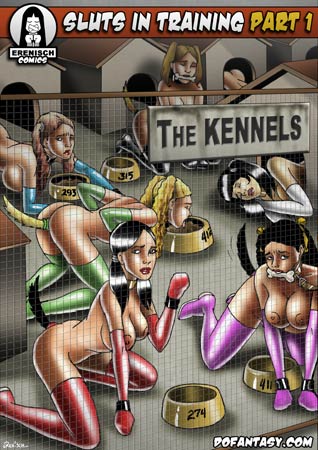 NEW IN PDF ELECTRONIC VERSION!
Adult Comic Album by ERENISCH
HIGH RESOLUTION PDF deluxe edition
52 full color comic pages by ERENISCH
-COMPLETE, UNABRIDGED VERSION-
WHEN A GIRL REACHES SLAVERY AGE,
SHE CAN BE BOUGHT, SOLD AND RENTED.
SHE BECOMES HER OWNER'S PROPERTY!
THERE IS A HUGE MARKET OUT THERE:
MEN NEED OBEDIENT PET GIRLS HIGHLY
SKILLED IN THE ARTS OF PLEASURE!
52 COLOR PAGES!!!
IMPORTANT NOTICE - DISCLAIMER
All characters are 18 years old or older.
This is an entirely fictional work based on
cartoon characters for adult entertainment.
It shows no real people or events.
The characters are shown participating in
CONSENSUAL role-play for their own personal satisfaction, simulating activities which involve
sexual dominance and submission.
No actual toons were harmed in the making
of this comic.
The year is 2022... Many countries have passed the 'Compulsory Female Slavery Law' that legalizes the sexual use and trade of nubile women over 18 years of age.

When a girl reaches slavery age, she can be bought and sold, hired and whored, and be used in every imaginable way. She becomes her owner's personal property.

A woman can buy her own freedom for a short period of time by paying a huge sum of money to the Bureau of Female Affairs.
If a female fails to pay her 'freedom money', her body ends up on the market, and she becomes available for enslavement by private persons.

Sexually attractive females are no longer safe anywhere.
Even the lucky few who are temporarily immune from enslavement feel the oppression of the new male-dominated social order.

Under the new masculine hierarchy, the females of the population are indoctrinated to obey the new order unquestioningly, and they need to be trained properly...

Men need obedient slaves and loyal pets highly skilled in the arts of pleasure.
_________________
IN THIS COMIC
Miss Kimberly Muttson, a celebrity reporter working for the local TV station, is hoping to keep her freedom a little longer by doing her job well. She will soon find out that an attractive young girl has no way of escaping her destiny, regardless of her best efforts...
Today, Kimberly's boss gives her a new assignment: "This is about a new company... They train defiant women and turn them into obedient puppies. Pet girls are all the rage these days, you know?"
Reluctantly, the young reporter takes the assignment. It's either that or lose her job, which would result in her being unable to earn her freedom fees...
On the spot, she learns how girls are captured for the new company's kennels: caught in the middle of the street using a stick and a lasso...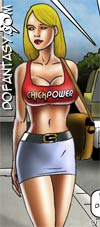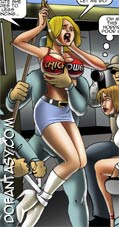 "Sometimes people want us to catch and train specific women for them.
Their girlfriends, coworkers... But mostly they give us general specifications
like hair color, height, or cup size. We use the Bureau of Female
Affairs database. We enter the specifications the client
gives us and the BFA database tells us the best women
nearby who are available for capture."
Horrified, Kimberly visits the company kennels were the captured girls are processed and turned into lovely naked puppies...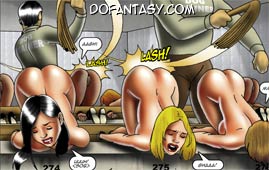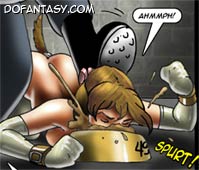 She witnesses their inhuman and dehumanizing training...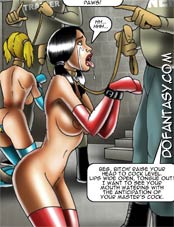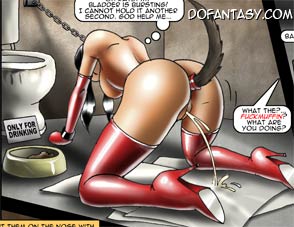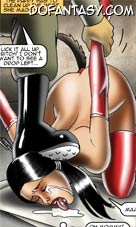 How they wait to be sold in their holding pet cages...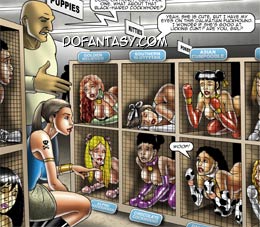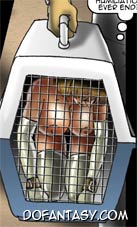 "Come on honey, just pick one. What about that black-haired Cockwhore?"
"Yeah, dad, she is cute, but I have my eyes on this Dalmatian Fuckhound.
I wonder if she's good at licking cunt? Are you, puppy?"
She waits to interview an eminent vet in a dreadful and humiliating waiting room full of men holding their kneeling pet girls on a lash...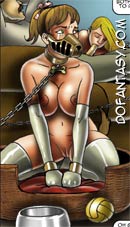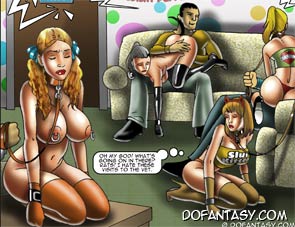 "Twinkle here has a bad cold. She can barely suck my cock twice a day...
I don't know what I'm going to do with her if the vet can't find a quick fix!"
"Such a shame... I brought Cumbunny and Slutkitten for their
monthly check-ups. They have some wear and
tear around their fuckholes."
She witnesses the shameful experience of a girl of being examined like a dog...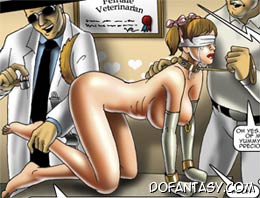 You're so lucky, Mr Kitts. She's such a beautiful dog!
Pretty face, big tits, round little butt, long, slender legs
and shapely little feet...
The streets are full of poor creatures walked by they owners on all fours, lashed like a dogs. Some are dressed...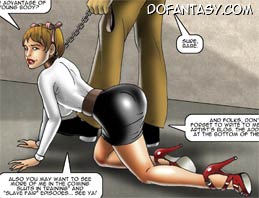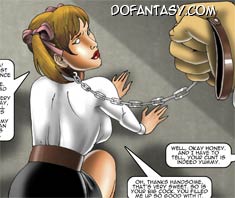 ...others are stark naked. To their further humiliation, they're made to meet other pet girls or play odd games...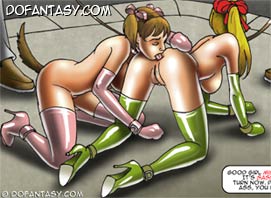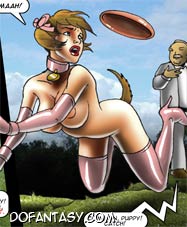 C'mon Miss Yummycunt, sniff Sassytramp's craphole
and lick it clean! She's just dropped a big one... HAHAHAHA!
Kimberly soon finds out that even girls whose freedom fees have been paid are not safe from captivity. She falls into a clever trap and begins to learn firsthand everything a girl needs to know to become a well-trained puppy…





WHEN A GIRL REACHES SLAVERY AGE,
SHE CAN BE BOUGHT, SOLD AND RENTED.
SHE BECOMES HER OWNER'S PROPERTY!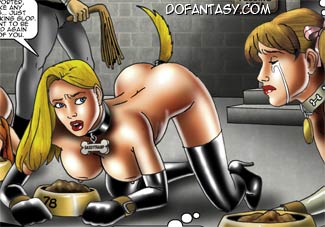 THERE IS A HUGE MARKET OUT THERE:
MEN NEED OBEDIENT PET GIRLS HIGHLY
SKILLED IN THE ARTS OF PLEASURE!
DON'T MISS SLUTS IN TRAINING PART 2 - THE STABLES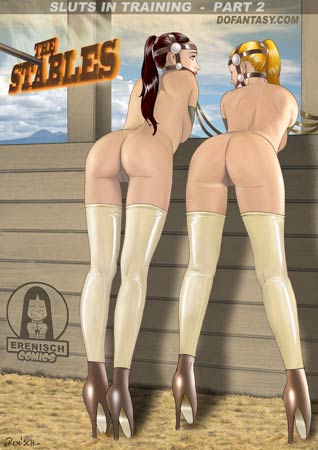 PREVIOUS COMICS BY ERENISCH

VISIT ERENISCH SITE FOR A COMPLETE LIST OF ERENISCH COMICS AND OFFERS