Use our On-Line 100% Secure EncryptedShopping Cart Ordering System. Simply browse
our site and Click the ADD TO SHOPPING CART buttons to place items in your Shopping Cart
[ HOME ] [ COMICS ] [ MOVIES ] [ NOVELS ] [ CD-ROM ] [ Order info ] [ Help ] [ ARTIST SITES ] [ SEARCH ]
[ Disclaimer ] [ CATALOGUE ] [ Copyright ]
FANSADOX COLLECTION 239
HENTAI BAND HORROR ORGY - LESBI K LEIH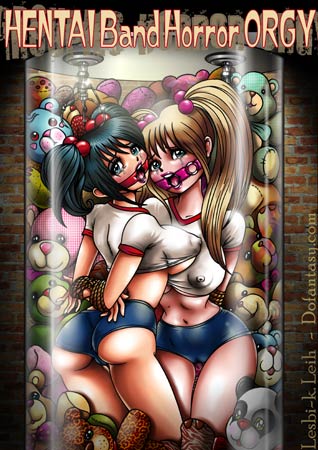 NEW IN PDF ELECTRONIC VERSION!
HIGH RESOLUTION PDF deluxe edition
46 full color comic.
-COMPLETE, UNABRIDGED VERSION-
UNLIMITED ADORATION TURNS
MUSIC IDOLS INTO SEXUAL PREDATORS!
SEXY GROUPIES THE SEX SLAVES
OF A TWISTED HENTAI BAND!
FIRST DOFANTASY.COM
HENTAI COMIC & BEST BDSM
MANGA COMIC EVER!!!
IMPORTANT NOTICE - DISCLAIMER
All characters are 18 years old or older.
This is an entirely fictional work based on
cartoon characters for adult entertainment.
It shows no real people or events.
The characters are shown participating in
CONSENSUAL role-play for their own
personal satisfaction, simulating activities
which involve sexual dominance and
submission. No actual toons were harmed in the making of this comic.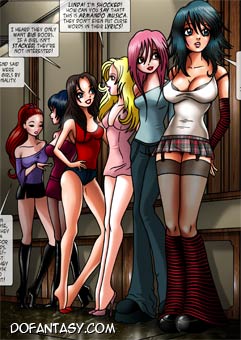 Once word goes out on the street that the band is looking for a couple of gorgeous babes to tag along on their tour, there is no shortage of hot chicks ready and willing to volunteer.
The ones finally chosen are delighted.
But the innocent, eager young women have no idea that the trip will quickly devolve from a dream tour with their music idols to days – and nights – of utterly, abominable horror...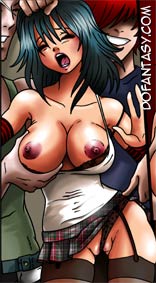 "Once we find another cunt like this one, my plans for a sex romp from New York to Los Angeles will come together. I'm thinking of calling it the 'Sex, Sluts and Salsa' tour... HAHAHAHA!"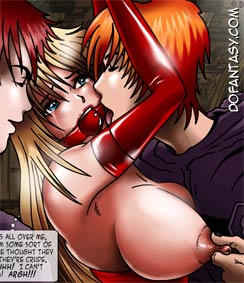 Linda is very hot. And very sexy. And very, very innocent… at least she starts out that way.
And who could resist a combination like that?
The band wastes no time sampling everything Linda has to offer… and taking what she doesn't offer… Over-riding her protests and ignoring her pleas to stop...
"Hey, bitch, stop fighting. This is what you wanted, isn't it… to be a part of the band! HAHAHAHA!"
Quite an introduction into her role for the next 6 weeks and for the rest of her life...
From New York City to Chicago and finally to Hollywood, California, the boys in the band spend their free time thinking up -and then acting out- ever more deviant games to play with their gorgeous young playthings.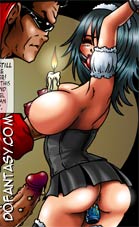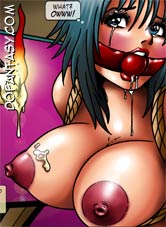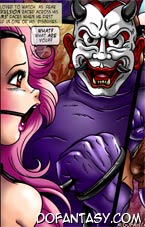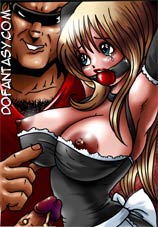 Finally, the tour comes to an end in Hollywood. But, is it really the end?.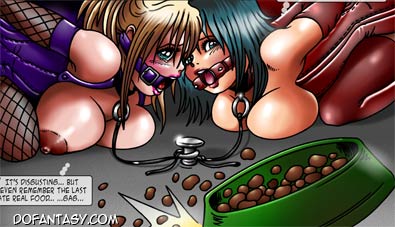 Just because the boys tire of their now very-well used sex toys, doesn't mean there aren't plenty more where they came from. And how does one get rid of unwanted toys?
Like all kids do, either trade them…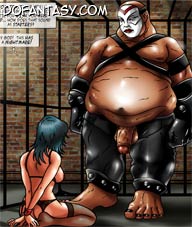 ...or hang them up with all the other toys they've outgrown.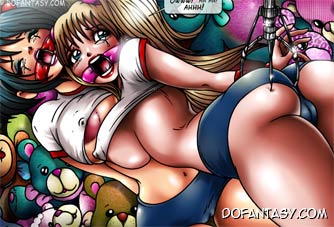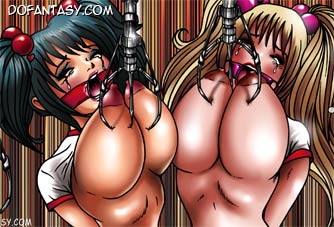 Join the tour and travel along with the band to enjoy every deviant twist and sexual perversity these young men can devise.

They have way too much time on their hands... But all their inventiveness will increase your pleasure as you devour each hot, steamy page of this latest Manga-style comic from Lesbi-k Leih and DOFANTASY.COM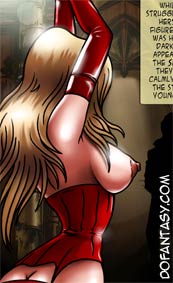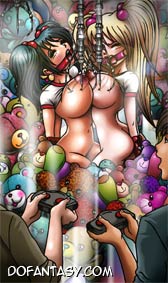 HOT HENTAI - MANGA BY
DOFANTASY.COM
NOT TO MISS!!!

SEXY GROUPIES THE SEX SLAVES
OF A TWISTED HENTAI BAND!

UNLIMITED ADORATION TURNS
MUSIC IDOLS INTO

SEXUAL
PREDATORS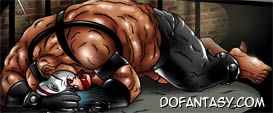 "The masked monster was beyond Linda's wildest nightmares."