South Osseria. The rebel troops of general Kinsky control the small country. Several days of bloody fighting are finally over. The streets are full of putrefying corpses and the city is in ruins.
Nobody knows where the ousted president Tchenko is hiding, or if he's even still alive.
Not so lucky is Irina Tchenko, the former president's gorgeous wife. Stunningly beautiful, the unlucky woman has been captured by a rebel official and is held in a security post in a rundown, bombed building. Nobody but her captor knows of her whereabouts…
The streets are deserted. Frightened citizens huddle for protection in their war-torn houses. No one is around to hear the woman's terrified screams.

The man is especially rough to her. He's questioning the ex first lady about her husband and the rest of her family, her beautiful two young daughters…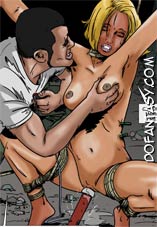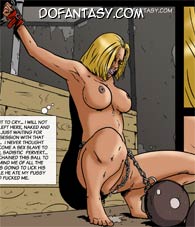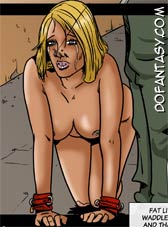 "It's payback time for all the shit your husband's forced on our
poor country and payback for you, too, for all the jewelry and
furs you bought while the people starved!"
Irina is on her knees, naked, desperately crying, enduring a rough session of sexual humiliation and pain …. She's the most desired woman in the country and also the most hated. She's an unwelcome foreigner, a former Russian top model who married Tchenko for money and social status. Now she's just the naked prey of a sexually starved pervert…
After days of dreadful questioning the desperate woman learns that her daughters have been captured. All the pain and humiliation she has endured has been useless….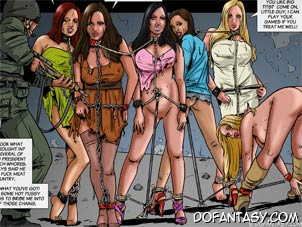 "Well, well, look what the patrol brought in? Looks like
several of that bastard president Tchenko's bitch whores.
Rumors always said he had the best fuck meat in the country."
Irina is transferred to and high security military prison. The precise definition of hell on earth…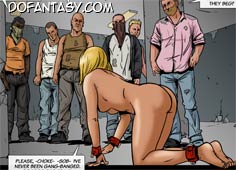 "Who are these men? You won't pretend I....?
Oh no please... Don't. Let them!"
The rebel regime starts to rule the country with iron grip. The ex-president Tchenko's supporters are imprisoned and quickly executed with no trial.
The morals have changed and the loyalist women are now just westerner whores to punish and reeducate into the new ethics.
The vicious sessions are broadcasted for all to see. Watching the former ruling class whores being punished should raise the fragile country's self-esteem… The program's name is 'Loyalist sluts in Action'...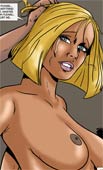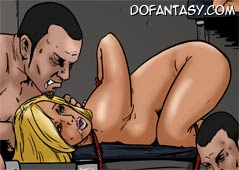 "Look at the camera, whore… the country is watching you!
Time to show the audience what I've been teaching to you…"
Far from declining, the audience increases every day… Despite international outcry at the spectacle, 'Loyalist Sluts in Action' now has its own channel and broadcasts 24 hours a day, 7 days a week.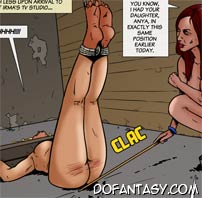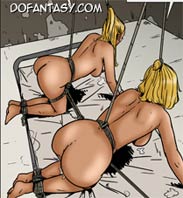 Needleless to say, Irina Tchenko and her lovely daughters are the most popular stars of the show….