Taken from safety and driven into a desert hell. A young woman loses everything. Her family, friends and now her freedom! Can Belen escape before she becomes another sad statistic? Just another woman lost in the deserts of Conchacabana?
Belen has a powerful family, but itís not by her choosing. Her father is the local strong man, and people who cross him have a nasty tendency to disappear. His lust for power runs almost as deep as his desire to conquer women. Wives, tourists visiting the country, women imprisoned under suspicious circumstancesÖ all are fair game for his entertainment.
For Belen, she has had enough of her father to last a lifetime. Strong willed from birth, Belen is determined to make her future without interference from her powerful family. But she soon learns that when her father makes enemies, she can easily become a pawn in their violent games.
A routine job to show some locals around town turns into a nightmare ride for the young woman. The woman she was expecting to drive was one of her fatherís many victims, and has become twisted into a woman driven for revenge.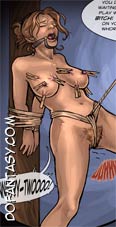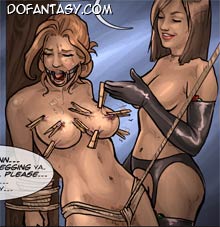 "A hot little cunt like yours needs
more and more when it gets going.
Itís just a question of habit..."
Belen has never known hardship, but her fatherís strong will runs hot through her blood. Can she withstand the cruel games of her keepers long enough to find a way out of their trap. Or will she vanish like a mirage in the desert, never to be seen again?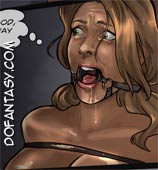 "Heís drunk! Oh God,
just keep him away from me!"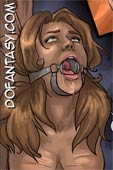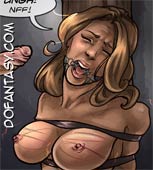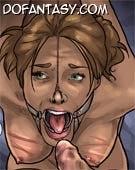 "Now keep those big, blue eyes open..."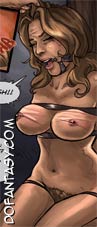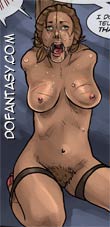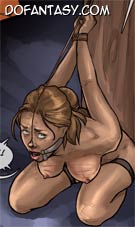 "What did you expect, bitch? A training session lying in a hammock
under a palm tree? Now stick that pink tongue out of your mouth
before I lose my patience with you!"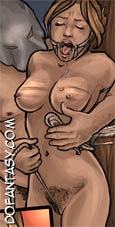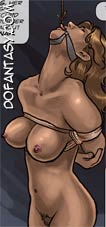 "Iím gonna have to work on that lithe tongue of yours.
Itís too damn small for what I want to use it for!
Iíll stretch it good, make it twice as long as it is now.
Itíll hardly fit in your mouth then!
Youíll speak like a tongue-tied retard! Ha Ha!!!"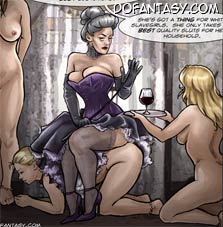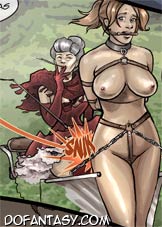 "The other offer is from Sra Montijo.
Sheís got a thing for white slavegirls.
She only takes the best quality sluts for her household."


_____________________________________________________________________
This story has it all! Each page offers exotic thrills that you canít find any where else!
A brand new chapter in the HOSTAGE series takes you further than youíd
ever have thought possible. This comic teams with exciting characters and will
take you to places youíll never forget!