Use our On-Line 100% Secure Encrypted Shopping Cart Ordering System. Simply browse
our site and Click the ADD TO SHOPPING CART buttons to place items in your Shopping Cart
[ HOME ] [ COMICS ] [ MOVIES ] [ NOVELS ] [ CD-ROM ] [ Order info ] [ Help ] [ ARTIST SITES ] [ SEARCH ]
[ Disclaimer ] [ CATALOGUE ] [ Copyright ]
FANSADOX COLLECTION 263
SWAN LAKE RAPTORS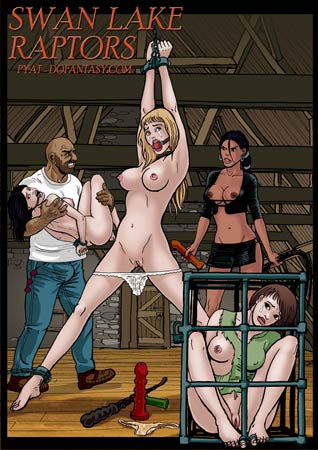 NEW IN PDF ELECTRONIC VERSION!
Adult Comic Album by PYAT.
HIGH RESOLUTION PDF deluxe edition
42 full color comic pages!!!
-COMPLETE, UNABRIDGED VERSION-

A CRUEL STORY OF LOATHING
AND WHITE SLAVERY!

GRACEFUL DANCERS FLOCK FROM ALL OVER
EUROPE TO ENROLL AT THE WORLD FAMOUS
ACADEMY OF DANCE. BUT THE SAME TEACHERS
WHO HAVE BEEN ENTRUSTED WITH TEACHING
YOUNG WOMEN THE CLASSIC ART OF BALLET
HAVE A HIDDEN AGENDA.

IMPORTANT NOTICE - DISCLAIMER
All characters are 18 years old or older.
This is an entirely fictional work based on
cartoon characters for adult entertainment.
It shows no real people or events.
The characters are shown participating in
CONSENSUAL role-play for their own
personal satisfaction, simulating activities
which involve sexual dominance and
submission. No actual toons were harmed
in the making of this comic.

A SPINE CHILLING STORY OF LOATHING AND WHITE SLAVERY!

THESE RUTHLESS MOBSTERS PRACTICE THEIR TWISTED IDEAS OF DISCIPLINE, AND PREPARE
THEIR STUDENTS FOR A BIZARRE LIFETIME PERFORMANCE THEY CAN'T REFUSE!

Perched on the rolling banks of the picturesque Danube , the National Academy of Dance is a tribute to physical excellence and beauty. For generations the Academy has turned out the world's most gifted ballerinas and dancers.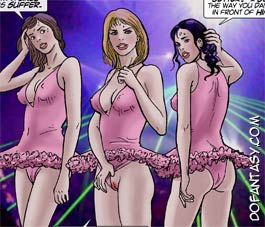 Slender, innocent young women dream of enrolling in its prestigious curriculum, and none would hesitate to place their very lives in the hands of the Academy's instructors.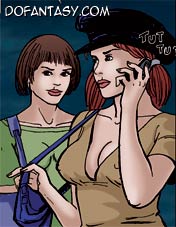 The Academy is a legendary school for girls, and its students are expected to keep themselves chaste and pure as they study.
For three roommates, leading wholesome lives isn't a problem. With every waking minute devoted to exercise and study, they don't have time for boyfriends!
The young women do everything together; practice, eat and sleep.
But the rare moments they have to themselves are enough to lead even the most innocent young woman astray.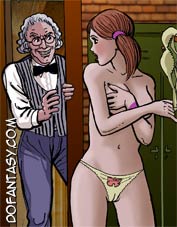 A fiery mane of red curls crowns Gwen's head, which tells everyone for miles of her playful and passionate nature.
Not only is she the youngest of the roommates, she's also the least experienced with boys. Quick to smile, she also has the habit of letting her mouth get ahead of her; a habit which can land her in very hot water!

When her dance instructor makes a clumsy pass at the vibrant redhead, she shoots him down cold with a cutting rejection and a quick kick to the groin!
Tanya is the curvaceous leader of the pack, and her bold nature makes her a favorite of her friends and teachers alike.
When she hears about the teacher's creepy come-on to her friend, she wonders if maybe there's a better way to have some naughty fun.
Maybe that friendly, exotic woman she's been chatting to online would have some ideas….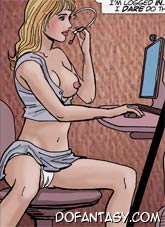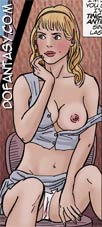 ...but when a spurned teacher decides to start playing rough, there is hell to pay!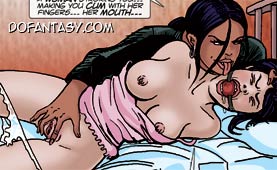 Nothing can prepare these talented dancers for the ordeal they're about to be plunged into.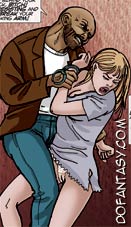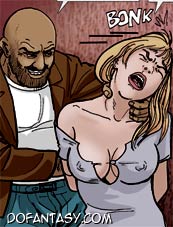 Morgana, the friendly woman Tanya was chatting with over Fakebook has a secret agenda, and a secret business!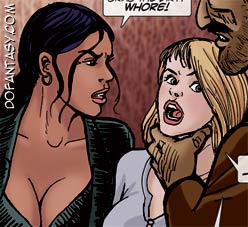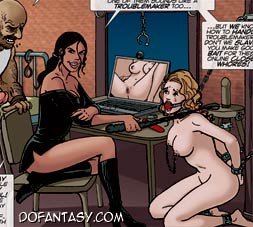 A criminal organization is preying on beautiful upper-class European girls to sell on the international slave market, and our heroines fit that profile perfectly....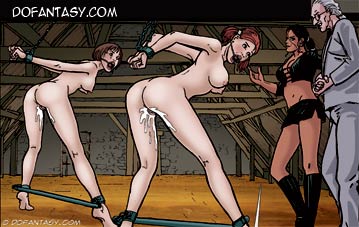 EVEN THE LEGENDARY SWAN LAKE HAS ITS BIRDS OF PREY; THE SWAN LAKE RAPTORS!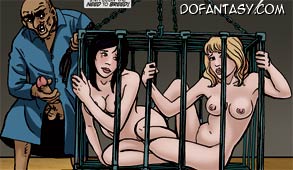 SET IN THE EXCITING LOCATION OF A DANCING SCHOOL
FOR EAGER YOUNG WOMEN, SWAN LAKE RAPTORS IS PACKED WITH VIBRANT
ARTWORK AND A STORY THAT WILL BLOW YOU AWAY!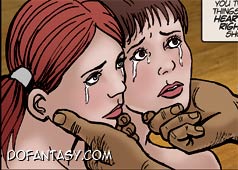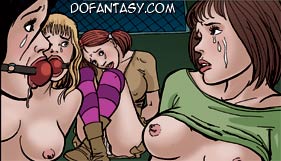 PYAT'S INCREDIBLE ATTENTION TO DETAIL IN HIS ARTWORK AND THE EXTREMELY
BEAUTIFUL FACES OF HIS HEROINES HAS MADE HIM A WORLD-CLASS ARTIST,
AND A FAVORITE OF DOFANTASY READERS.
AN EXCEPTIONAL COMIC FROM AN EXTREMELY GIFTED ARTIST!