Use our On-Line 100% Secure EncryptedShopping Cart Ordering System. Simply browse
our site and Click the ADD TO SHOPPING CART buttons to place items in your Shopping Cart
[ HOME ] [ COMICS ] [ MOVIES ] [ NOVELS ] [ CD-ROM ] [ Order info ] [ Help ] [ ARTIST SITES ] [ SEARCH ]
[ Disclaimer ] [ CATALOGUE ] [ Copyright ]
FANSADOX COLLECTION 296
THE BASEMENT - TED OWEN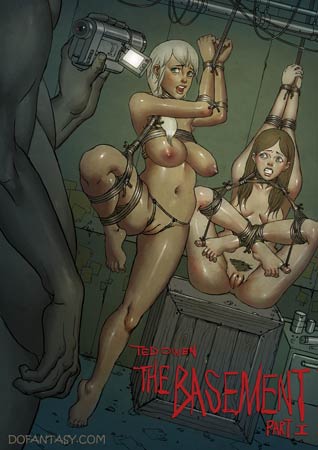 NEW IN PDF ELECTRONIC VERSION!
Adult Comic Album by TED OWEN.
Dialogs by SANDOW
HIGH RESOLUTION PDF deluxe edition
43 full color comic pages!!!
-COMPLETE, UNABRIDGED VERSION-
A SMALL COMMUNITY IS SHAKEN TO ITS CORE WHEN TWO BEAUTIFUL SISTERS VANISH INTO THE HANDS OF A SADISTIC MANIAC WITH AN APPETITE FOR EXTREME PERVERSION!
OWEN HAS CREATED A WORK THAT
CREATES A NEW DEFINITION FOR
EXTREME GRAPHIC ACTION!
IMPORTANT NOTICE - DISCLAIMER
All characters are 18 years old or older.
This is an entirely fictional work based on
cartoon characters for adult entertainment.
It shows no real people or events.
The characters are shown participating in
CONSENSUAL role-play for their own
personal satisfaction, simulating activities
which involve sexual dominance and
submission. No actual toons were harmed
in the making of this comic.
ARIEL AND CHELSEA NEVER THOUGHT IT COULD HAPPEN TO THEM. THE INNOCENT YOUNG
WOMEN ARE SUDDENLY THE LEAD STORY ON THE NEWS. THEY KNOW THAT THEIR NIGHTMARE
HAS JUST BEGUN, AND TIME IS QUICKLY RUNNING OUT!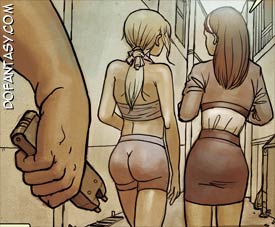 Ariel and Chelsea never imagined they'd appear on the nightly news, at least not like this! Ariel, the pretty brunette daughter of one of Andersons leading citizens, always daydreamed about being a news anchor. She often pictured herself confidently reading the stories of the day behind the news desk, smiling for the camera. Now her picture is on every channel as the town searches for any trace of her and her beautiful blonde sister.
_________________________________
Chelsea struggled to stay on top of the obese man's body. Her slender legs squeezed his hips as he bucked beneath her. She gave a gasp of panic as she felt herself starting to slide off of him again, and threw her weight forward to keep her balance. He was such a fat slob! No wonder he had to resort to extremes to get a woman! He was disgusting, and not just because he waddled when he walked or the rolls of fat which covered his gut. He seldom bathed, and his breath smelled vile. But worst of all was his temper which flared up at every opportunity.
She felt a jolt of panic as she started to topple off of his quivering bulk...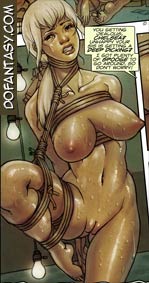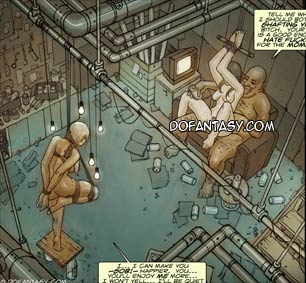 "I know pain gets your gash slick and juicy. When I chew on those plump udders,
you're gonna scream and cream!"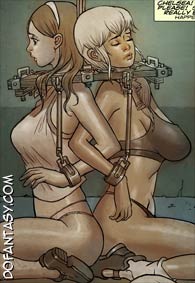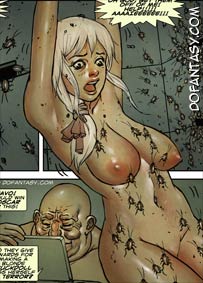 "You sluts are in for the time of your lives with me. You're my property,
just like I own my shitty van, I own you too!"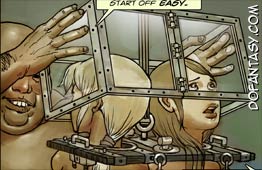 "Since rules and discipline are new to ya,
I'm gonna start off easy."
"Dammit, bitch! Where do you think you're going?" Grabbing her tender breasts in hands like steel claws he forced her down into her knees. Chelsea sobbed uncontrollably and shot a look to her sister who was waiting in the corner for her turn. She looked miserable and helpless.
_________________________________
Ariel bit her tongue to keep her teeth from chattering. The freezing pit she'd been thrown into was a nightmare!
She wondered what sick mind could think up such a thing.
She was naked, and the icy dank started to seep into her bones. She felt her arms and legs cramp and her fingers go numb.
She shivered and suddenly tasted blood. She'd bitten her tongue until she bled.
She tried to look over her shoulder to see her sister, but the iron collar locked tightly around her neck kept her from moving.
She felt frost on the collar, and the cold metal bit into her skin.
Was she going to get frostbite, she wondered?
If she got any colder she'd go into shock, she knew that.
Her naked body shivered again.
That wouldn't stop HIM, of course. He would think it was funny to see her fighting for breath, struggling to keep alive against the relentless cold.
Then he'd probably take her out and come up with even more horrible ways make her wish she were dead!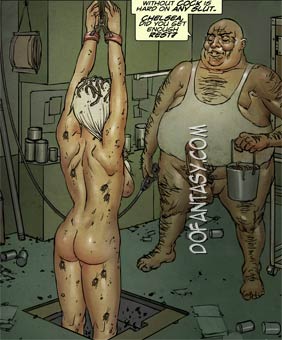 "Two days in the box without cock is hard on any slut."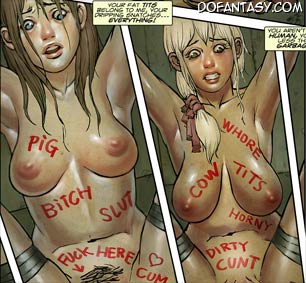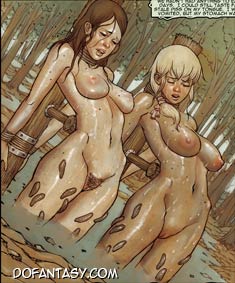 "Your fat tits belong to me, your dripping snatches... everything!"
UNLIKE ANY COMIC YOU'VE EVER READ BEFORE, AND WITH PERILS AND HUMILIATIONS
GUARANTEED TO BLOW YOUR MIND! THIS ISN'T JUST ANOTHER 'DAMSEL IN DISTRESS' STORY.
OWEN HAS CREATED A WORK THAT CREATES A NEW DEFINITION FOR EXTREME GRAPHIC ACTION!
MUST BE SEEN TO BE BELIEVED!
PDF by DOWNLOAD. The PDF electronic version contains the same images and text as the paperback edition (if a paperback exists). Please be aware that most of the ENGLISH VERSIONS are in PDF version exclusively. You'll have instant access to your files just after the credit card transaction is approved. You'll receive a confirmation e-mail with directions to download if you prefer to download at a later time. To open PDF files you need Adobe Acrobat Reader. Download it for free by clicking here!
PDF in a CD. If you prefer, we'll burn a CD-ROM especially for you with the PDF files that you choose. Postage (14.99 Euro) will be added to the total cost of the books. If you want to order on a CD-ROM please check the corresponding check-box in the shopping cart.
Copyright © 1998-2011 Dofantasy - ETHAN ltd