Use our On-Line 100% Secure EncryptedShopping Cart Ordering System. Simply browse
our site and Click the ADD TO SHOPPING CART buttons to place items in your Shopping Cart
[ HOME ] [ COMICS ] [ MOVIES ] [ NOVELS ] [ CD-ROM ] [ Order info ] [ Help ] [ ARTIST SITES ] [ SEARCH ]
[ Disclaimer ] [ CATALOGUE ] [ Copyright ]
FANSADOX COLLECTION 31
HER BEST FRIEND - TEMPLETON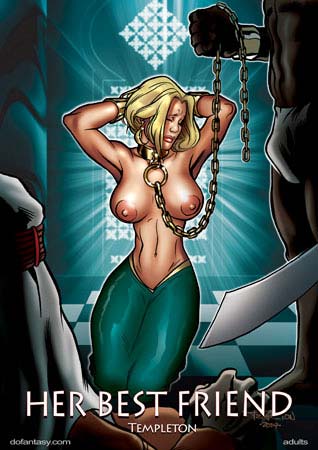 HER BEST FRIEND
NEW IN PDF ELECTRONIC VERSION!
Adult Comic Album by TEMPLETON
HIGH RESOLUTION PDF deluxe edition
42 full comic pages by TEMPLETON
-COMPLETE, UNABRIDGED VERSION-
EXCLUSIVE ART BY TEMPLETON
IMPORTANT NOTICE:
All characters are 18 years old or older.
All action is simulated and involves
no real people.
The authors/publishers do not condone
violence of any kind.
These are completely fictional comics
for adult entertainment.
Rebecca was the hottest piece on campus. She and Jasmine were best friends. They studied in the same college in the States, and they hung out together, at least when Rebecca wasn't with her boyfriend, Bill...
Bill was a hunky baseball ace. Everyone said he and Rebecca made a perfect couple. Everyone admired them and everyone invited them to their parties.
A lot of people envied them too. Especially Jasmine...
Jasmine never told Rebecca, but she was in love with Bill. The trouble was that, deep down, Bill was a racist. He would never go out with an Arab girl. Jasmine knew it. A lot of the men she knew were like that. They found her attractive. They couldn't take their eyes off her tits. But they were racists. She just wasn't the sort of girl they would take back home to meet the parents. The result was that Jasmine saw no action, went out with no one, had no fun, and grew bitter...
One day she invited Rebecca to her country, an obscure Emirate, deep in the desert. She insisted she brought Bill too...
Rebecca was delighted to accept the invitation. She'd never been abroad. And yes, of course she'd bring Bill...
_______________________
Templeton is back after his highly successful African Horror, with another wonderful tale of smoldering hatred, secret envy and dark, unsatisfied lust...
Rebecca and Bill are a good-looking all-American couple. Rebecca is the girl everyone wants to date: gorgeously sexy, with unbelievable breasts, and smart with it. Bill is a chunky baseball ace. They made a great couple, much-admired and much-envied...
One day Rebecca's best friend, Jasmine, invites them to spend two weeks in her country.
On arrival in the small, obscure Arab emirate, Rebecca and Bill are surprised to learn that Jasmine's father is the Emir himself.
The second surprise is the size of the limousine that takes them to the Palace... And the Palace itself!

The third is Caroline...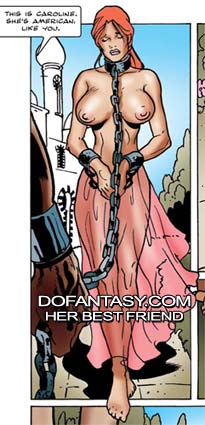 The fourth is that Jasmine kidnaps them...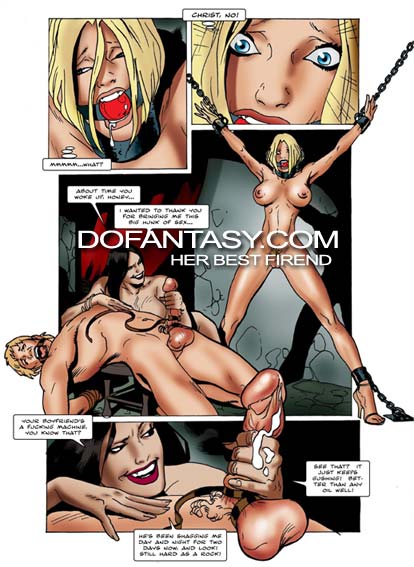 She holds them forcibly in the palace and submits them to all kinds of sexual abuse, to turn them into sexual slaves. At last, she can get her hands on Bill. At last, she has the power. It is Bill's turn, and Rebecca's, to feel humiliated...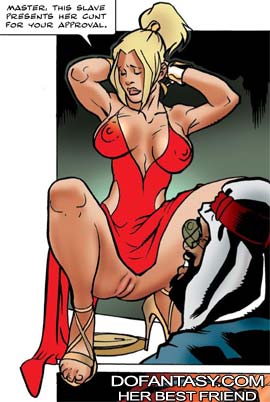 They are trained...
Jasmine hands Rebecca over to Mandingo, a huge sinister negro well over six feet tall and prodigiously well hung. He will take charge of Rebecca's training as a sex slave. He will teach her how to put her whole body at the service of the Emir, her ageing Master, for whatever purpose he chooses...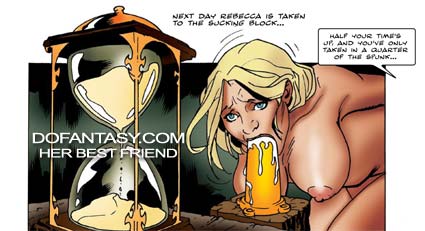 They are punished and humiliated...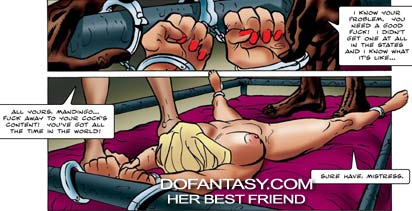 They are forced to serve...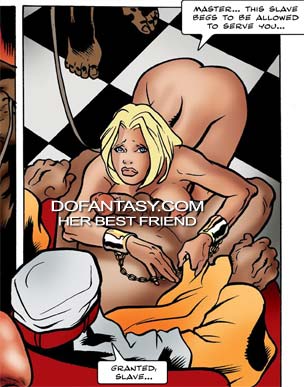 This is a story of revenge...
Now that the couple are in Jasmine hands, she will wreak terrible revenge for the way she was treated back in America. Her long-repressed lust knows no restraints. She decides to take charge of Bill's sexual training personally, and it is Bill's member that takes receives of the punishment...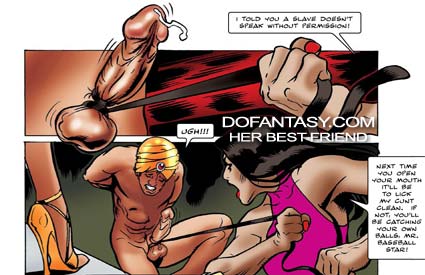 ...and shameful humiliation.
Not happy with Bill's debasement, Jasmine will also use Rebecca for her own sexual satisfaction, so completing the girl's humiliation...
(Sorry, we can't show most of the images in a non-protected site)
HER BEST FRIEND: 42 pages of HOT, non stop action!
VISIT TEMPLETON SITE FOR A COMPLETE
LIST OF TEMPLETON COMICS AND OFFERS