Use our On-Line 100% Secure Encrypted Shopping Cart Ordering System. Simply browse
our site and Click the ADD TO SHOPPING CART buttons to place items in your Shopping Cart
[ HOME ] [ COMICS ] [ MOVIES ] [ NOVELS ] [ CD-ROM ] [ Order info ] [ Help ] [ ARTIST SITES ] [ SEARCH ]
[ Disclaimer ] [ CATALOGUE ] [ Copyright ]
FANSADOX COLLECTION 348 and 349
HAREM 2012 & LAST HOLIDAY by CAGRI
TWO COMICS FOR THE PRICE OF ONE - 84 color comic pages!!!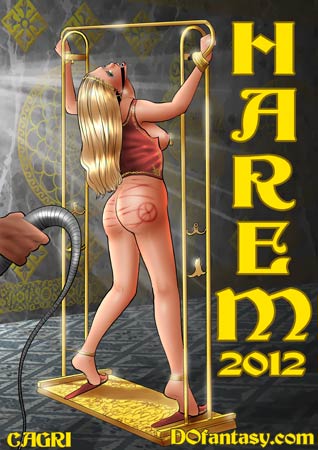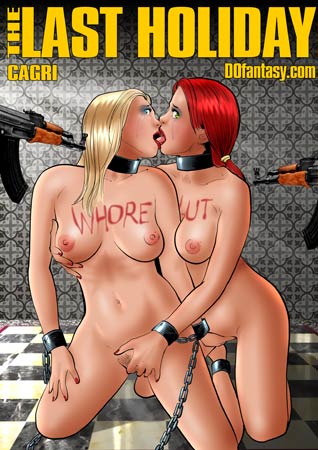 NEW Adult Comic Albums by CAGRI. In high resolution PDF deluxe edition
-COMPLETE, UNABRIDGED VERSION-
IMPORTANT NOTICE - DISCLAIMER
All characters are 18 years old or older. This is an entirely fictional work based on
cartoon characters for adult entertainment. It shows no real people or events.
The characters are shown participating in CONSENSUAL role-play for their own
personal satisfaction, simulating activities which involve sexual dominance and
submission. No actual toons were harmed in the making of this comic.
TWO COMICS FOR THE PRICE OF ONE - 84 full color comic pages!!!
_______________________________________________________________
HAREM 2012
ANOTHER YEAR, ANOTHER GREAT HAREM COMIC FROM CAGRI! YET ANOTHER HOT,
TIGHT BITCH FALLS VICTIM TO CAGRI'S SADISTIC IMAGINATION!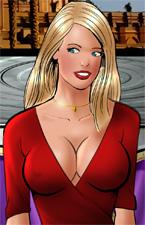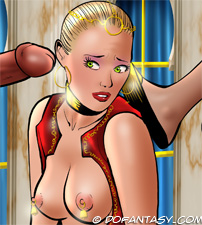 In the Emirate of Al-Hawwash, the lovely architect Vera Bailey has been supervising the construction of the Emir's new shopping mall: the largest ever built, and one that will herald in a new era of economic development for Al-Hawwash. Vera has heard of the human rights violations in Al-Hawwash of course, but the pay was just too good to pass up. And now that construction is almost complete, she's looking forward to receiving her reward…

But of course the Emir isn't about to let such a delicious American bitch just slip through his fingers. No, he'll be slipping his fingers into her tight cunt instead, and poor Vera Bailey won't be able to do anything to stop him.

Vera will be joining a large harem of broken, submissive women taken from all over the world. They've been whipped, fucked and humiliated to the point of hopelessness, and when they make their appearance at the Emir's banquet Vera sees the fate in store for her.

The rest of Vera's life will revolve around pleasing the Emir's thick, throbbing cock, and anyone else he orders her to please.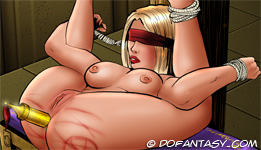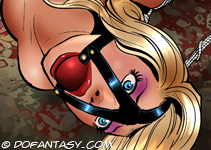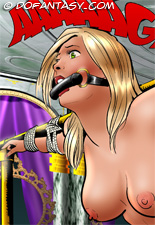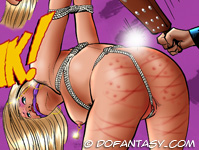 She'll be trained how to take hard cocks up her tiny asshole, because the emir and his friends find nothing more pleasurable than buggering an unwilling American slut.

And she'll learn to pleasure them with her pain as they paddle, cane and spank her ass until its welted and bruised.

This is the tale of a modern day harem, and all the suffering and humiliation that entails. If you haven't seen Cagri's pervious Harem comics, then this is the one you'll definitely want to read. And if you have, well then, you know exactly what kind of sadistic, BDSM fun is contained within! Make sure you don't miss it!


YET ANOTHER AMAZING COMIC FROM CAGRI, AND A GREAT ADDITION TO THE HAREM SERIES!

_______________________________________________________________

THE LAST HOLIDAY


A NOTORIOUS GUN RUNNER AND HIS BEAUTIFUL FAMILY FALL INTO THE HANDS OF VICIOUS REBELS! WATCH THESE WOMEN SUFFER AT THE HANDS OF VENGEFUL ARAB REBELS!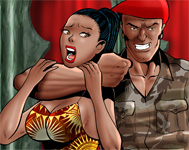 Al McCoy is one of the most successful arms dealers in the world, and has made his fortune selling top-end military hardware to the brutal dictator Abdul-Hamad Pasha. In honor of their long, and lucrative, business relationship Pasha has invited the McCoy family to his palace for a holiday. He's brought along his wife and daughter as well, although they're not exactly happy about staying in a country embroiled in a vicious and bloody civil war.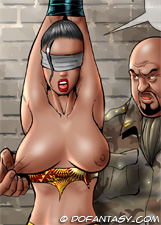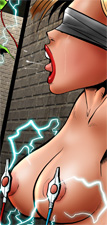 When Abdul-Hamad Pasha's reign comes to an abrupt end at the hands of one his own soldiers, Al McCoy finds himself following his best customer down into the depths of hell. And they're the lucky ones. Unfortunately his wife and daughter will find themselves wishing they too had been killed in the uprising when they're forced to become slaves alongside Pasha's widow, Yasmin.
General Mashud, the man behind the rebellion, quickly arrives to lay claim to his prize: Yasmin herself. He's been longing after her for a long time, and now the little slut will obey his every command, or suffer the consequences. And fate has also delivered into his hands two gorgeous American sluts, and he's going to use their tight, adorable bodies until they're completely used up.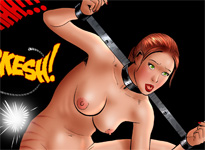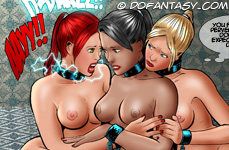 This is the McCoy family's last holiday, and it'll be filled with more sex, suffering and sadism than they ever thought possible. Even in their worst nightmares.

This is one family vacation you'll want to see all the pictures of, that's for sure. Another great comic from Cagri!

A REBELLION OF SEX AND SUFFERING THAT THEY CAN'T ESCAPE! A FAMILY HOLIDAY THAT TURNS INTO A RELENTLESS NIGHTMARE! CAGRI'S BRINGS YOU ANOTHER AMAZING TALE FILLED WITH HIS INTOXICATING IMAGERY! A DEFINITE MUST-SEE!

!

TWO HOT TALES OF DOMINATION AND HUMILIATION
BY AN UNDISPUTED MASTER OF THE CRAFT: CAGRI!

GET THESE 2 COMICS FOR THE PRICE OF ONE
WHILE THE OFFER LASTS!!!

[ CAGRI SITE ] [ HOME ]