Use our On-Line 100% Secure EncryptedShopping Cart Ordering System. Simply browse
our site and Click the ADD TO SHOPPING CART buttons to place items in your Shopping Cart
[ HOME ] [ COMICS ] [ MOVIES ] [ NOVELS ] [ CD-ROM ] [ Order info ] [ Help ] [ ARTIST SITES ] [ SEARCH ]
[ Disclaimer ] [ CATALOGUE ] [ Copyright ]
FANSADOX COLLECTION 353
BIRTHDAY GIFT 10 - LOVELUST - ERENISCH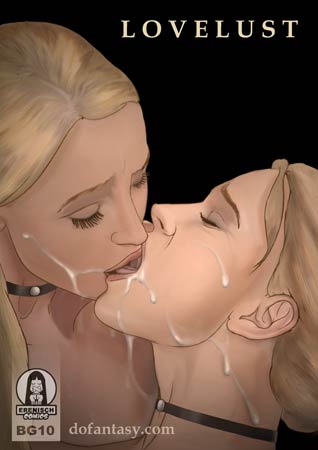 NEW IN PDF ELECTRONIC VERSION!
Adult Comic Album by ERENISCH.
HIGH RESOLUTION PDF deluxe edition
50 full color comic pages!!!
-COMPLETE, UNABRIDGED VERSION-
JOURNEY TO THE ICONIC FUTURE WHERE WOMEN HAVE BEEN STRIPPED OF ALL RIGHTS AND TURNED INTO OBEDIENT SEXTOYS!
SPRUNG FROM THE LEGENDARY IMAGINATION
OF ERENISCH, SEE A FANTASY UNIVERSE OF
UNPARALLELED DETAIL, WHERE TWISTED SEXUAL CRUELTY HAS BECOME A PART OF
EVERYDAY LIFE...

IMPORTANT NOTICE - DISCLAIMER
All characters are 18 years old or older.
This is an entirely fictional work based on
cartoon characters for adult entertainment.
It shows no real people or events.
The characters are shown participating in
CONSENSUAL role-play for their own
personal satisfaction, simulating activities
which involve sexual dominance and
submission. No actual toons were harmed
in the making of this comic.
WOMEN ARE USED ON THE SMALLEST WHIM AND THEY ARE TAUGHT TO BEG FOR MORE…
The year 2022... Many countries have passed the 'Compulsory Female Slavery Law' and legalized the sexual use and trade of nubile women over 18 years of age. When a girl reaches slavery age, she can be bought and sold, hired and whored, and used in every imaginable way...
She becomes her owner's personal property.
There is no escape for the young women of the future, nowhere they can hide from their fate as toys in the hands of men.
The best a girl can hope for, is to find a master who is less cruel. But there are many monsters out there, and few girls are that lucky...
__________________
THE STORY SO FAR…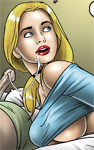 Poor Carol Sweetie didn't think life could get any worse until her husband sold both her and her daughter, Maggie Sweetie, to their sadistic and cruel neighbors, the Stevensons! It was bad enough when her dumb husband sold off their one and only daughter to those monsters, but when he sold his own wife too, Carol almost gave up in complete despair...
Life has turned into a hellish ordeal for Miss Carol Sweetie, now known as "Whorebunny" as she's forced to service an awkward and horny teenager, Peter Stevenson. Even worse, Carol Sweetie is made to watch as her own daughter succumbs to a life of sexual slavery... and enjoys it!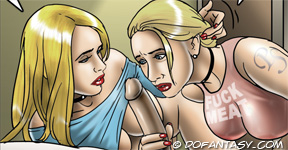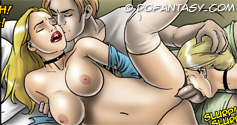 Could things possibly get any worse for Carol Whorebunny? Of course!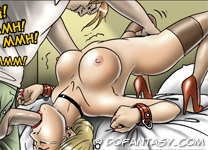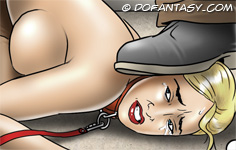 __________________
IN THIS COMIC…
Sherry Potts' life has improved since she submitted to the will of the sadistic Paul Stevenson. The newly raised queen of the henhouse has it out for those who have wronged her. Square in her sights is Paul Stevenson's former slave-wife, Kittywhore, and Carol Sweetie, recently returned from body rejuvenation at the slave clinic.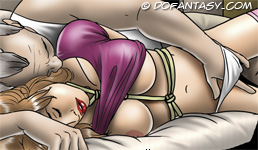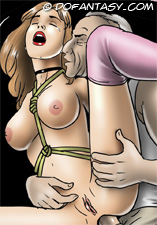 Sherry Slutkitten relishes the power she has over the female slaves of the Stevenson household, and she's not afraid to use it, especially when Master Paul gives her permission to use Mr. Whip...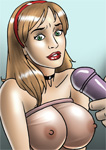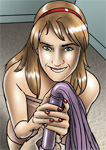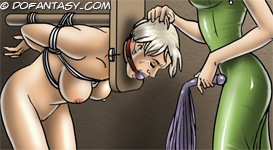 Other than the intense bondage and fucking, Sherry's life might have actually returned to normal. It seems that her time as a sex slave has not tempered her pride! Drunk with power, Sherry makes full use of her privileges as a fresh, young slave-wife... by abusing the other poor girls in the Stevenson harem!

But there was something Sherry Slutkitten didn't count on... it seems that Master Paul Stevenson holds fond memories for Carol Sweetie, and with Carol's return from the body rejuvenation clinic, Paul finds that he's no longer interested in his young, redheaded slave-wife...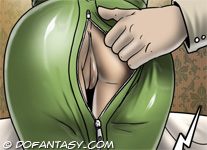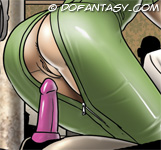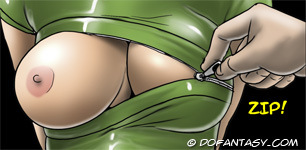 Things get intense at the Stevenson household as old alliances and rivalries crumble and the two masters of the house bicker for control of the prettiest slavegirls in the harem. Tension is thick in the air, and everything might turn upside down before the night is over...

ERENISCH PROVIDES ANOTHER BRILLIANT CHAPTER IN THE "BIRTHDAY GIFT" SAGA!

FULL OF INTRICATE DETAIL AND SHOCKING CRUELTY, ERENISCH PAINTS A WORLD WHERE THE ULTIMATE MALE PATRIARCHY RULES AND WHERE WOMEN HAVE NO RIGHTS AT ALL!

BIRTHDAY GIFT 10 HAS ANOTHER SURPRISE TWIST THAT YOU WON'T WANT TO MISS, CREATED IN LOVING, STUNNING ARTISTIC DETAIL!

YOU WON'T WANT TO MISS THIS COMIC, BROUGHT TO YOU HERE AT DOFANTASY.COM!


_________________________________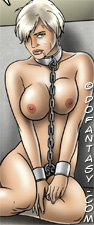 DON'T MISS THE PREVIOUS COMICS ON ERENISCH SLAVE WORLD:
BIRTHDAY GIFT PART 1
BIRTHDAY GIFT PART 2
BIRTHDAY GIFT PART 3 - DETENTION
BIRTHDAY GIFT PART 4 - HOMEWORK
BIRTHDAY GIFT PART 5 - TEACHER'S PET
BIRTHDAY GIFT PART 6 - FAMILY REUNION
BIRTHDAY GIFT PART 7 - THE EXCHANGE
BIRTHDAY GIFT PART8 - THE FAVORITE
BIRTHDAY GIFT PART9 - VENGANCE
**** BUY THE 10 COMICS AND GET 20% DISCOUNT! ****
VISIT
ERENISCH SITE
FOR A COMPLETE LIST OF ERENISCH COMICS AND OFFERS
VISIT