Use our On-Line 100% Secure EncryptedShopping Cart Ordering System. Simply browse
our site and Click the ADD TO SHOPPING CART buttons to place items in your Shopping Cart
[ HOME ] [ COMICS ] [ MOVIES ] [ NOVELS ] [ CD-ROM ] [ Order info ] [ Help ] [ ARTIST SITES ] [ SEARCH ]
[ Disclaimer ] [ CATALOGUE ] [ Copyright ]
FANSADOX COLLECTION 364
ENSLAVED WITHOUT A CAUSE Part 2 by SLASHER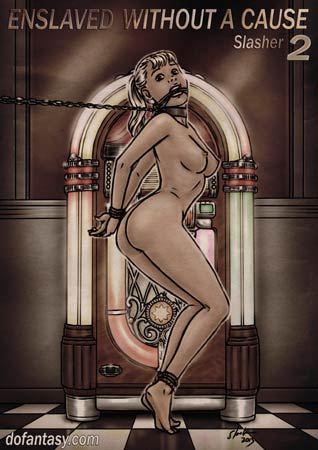 NEW IN PDF ELECTRONIC VERSION!
Adult Comic Album by SLASHER.
HIGH RESOLUTION PDF deluxe edition
50 full color comic pages!!!
-COMPLETE, UNABRIDGED VERSION-
DIALOGS BY NAJ
A GORGEOUS 50'S GIRL FINDS HERSELF IN HOT WATER! GETTING SOLD INTO SEXUAL SLAVERY WAS ONLY THE BEGINNING!
PRETTY BABY DOLL SANDY'S NIGHTMARISH RIDE CONTINUES! IF SHE THOUGHT SHE WAS IN HELL, SHE AIN'T SEEN NOTHING YET!
IMPORTANT NOTICE - DISCLAIMER
All characters are 18 years old or older.
This is an entirely fictional work based on
cartoon characters for adult entertainment.
It shows no real people or events.
The characters are shown participating in
CONSENSUAL role-play for their own
personal satisfaction, simulating activities
which involve sexual dominance and
submission. No actual toons were harmed
in the making of this comic.

THE STORY SO FAR: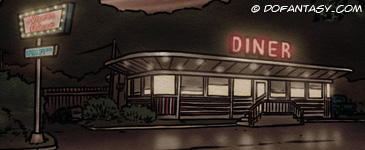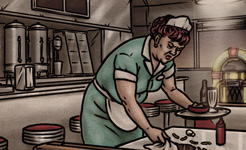 Sandy was the luckiest girl in the world. She'd just turned 18, and Jonathan, the dreamy captain of the football team had just asked her out to the high school sock hop! Life couldn't get any better. He was the boss, a perfect gentleman and not the kind of screwed up perv all her friends insisted he was. He was so handsome, he couldn't be anything but perfect... right?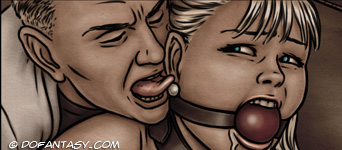 Unfortunately for Sandy, dating Jonathan turned out to be the biggest mistake of her life. When she and Jonathan are jumped by a gang of greasers, Sandy finds herself caught in a terrifying world of excruciating bondage and sexual servitude that she could have never imagined existed! Hidden beneath the sunshine suburbs of 1950s America lurks a dark lust for fresh cunt meat, and Sandy is the latest entrée on the menu!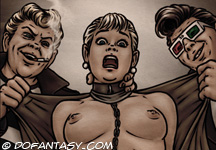 _________________________________
THE COMIC:
Sandy thought she'd seen the last of Jonathan. That loser had left her alone with the greasers, and it was his fault that she was in this mess in the first place! But sadly for Sandy, she was wrong. It turns out that her new master, Mr. Tullis, is Jonathan's uncle. The two don't know it, but they're in for a date with destiny... only it's not going to be anything that Sandy had ever imagined... not even in her worst nightmares!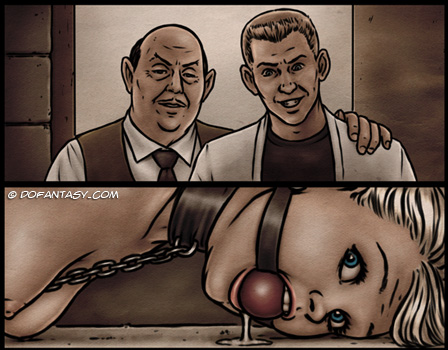 "It's you! It's your fault that those greasers busted my teeth, and my dad yelled at me for that! I'm going to make sure you pay with your ass and your holes, you slut!"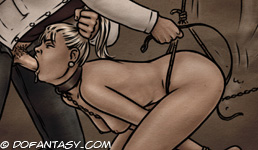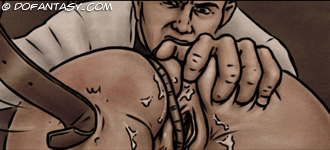 Fortunately, or rather unfortunately, Sandy's torment is cut short by the arrival of Mr. Tullis' guests... a pair of old geezers who were given a special offer: for the low, low price of $500 a month, Sandy would be rented out to be their personal slavegirl! Sandy's whole world has been turned upside down! This can't be possible!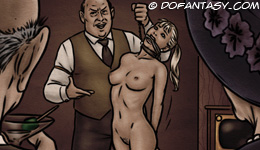 How could she, the prettiest girl in school, end up a sex slave to two stinky, foul-smelling old timers? Of course, the prospective owners want to make sure that Sandy is up to snuff... their last slavegirl didn't last that long...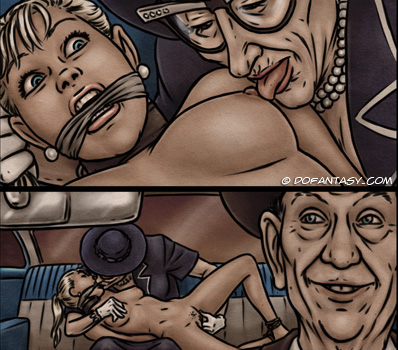 Sadly for Sandy, that's just the start of her horrible ride! In the night, there are no qualms, no boundaries, no limits that can stop these depraved, sex crazed maniacs!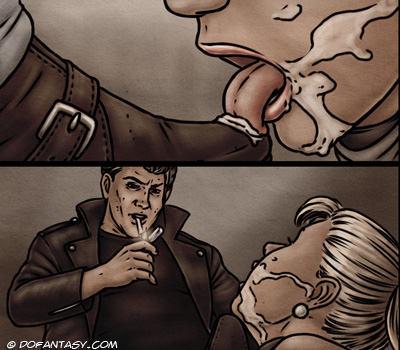 Sandy's adventure doesn't stop there. This train only goes one way, and it can only end in tears. Some old "friends" return, and they're not about to let Sandy off the hook. This might just be a night to remember... it just might be Sandy's last...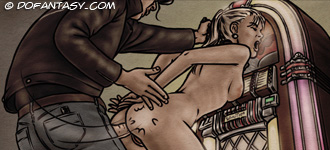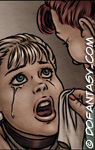 THE HORROR CONTINUES IN SLASHER'S LATEST COMIC MASTERPIECE! BENEATH THE POLISHED AND FANTASTIC 50'S LURKS A DARK AND UNSPEAKABLE DEPRAVITY JUST WAITING TO PREY ON THE INNOCENT AND THE SLUTTY! READ IN SHOCK AND AMAZEMENT AS SANDY'S PAIN GROWS BEYOND BELIEF! WHAT WILL HAPPEN TO POOR, INNOCENT SANDY? WILL SHE SURVIVE HER LATEST "ADVENTURE"? WHAT UNBELIEVABLE CRIMES WILL SHE BE FORCED TO ENDURE? YOU DON'T WANT TO MISS THIS SHOCKING COMIC, BROUGHT TO YOU HERE EXCLUSIVELY AT DOFANTASY.COM!
DON'T MISS THE EXCITING FIRST PART OF THIS COMIC
ENSLAVED WITHOUT A CAUSE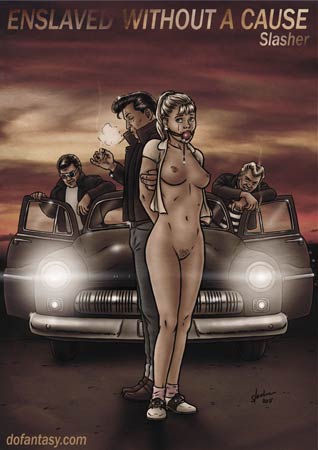 THE 50'S GOT NOTHING ON THIS! THIS NEW FANSADOX COMIC
BY SLASHER WILL TAKE YOU ON A WILD RIDE!
YOU DON'T WANT TO MISS THIS!