Use our On-Line 100% Secure Encrypted Shopping Cart Ordering System. Simply browse
our site and Click the ADD TO SHOPPING CART buttons to place items in your Shopping Cart
[ HOME ] [ COMICS ] [ MOVIES ] [ NOVELS ] [ CD-ROM ] [ Order info ] [ Help ] [ ARTIST SITES ] [ SEARCH ]
[ Disclaimer ] [ CATALOGUE ] [ Copyright ]
FANSADOX COLLECTION 366
PRISON HORROR STORY - Part 3 - PREDONDO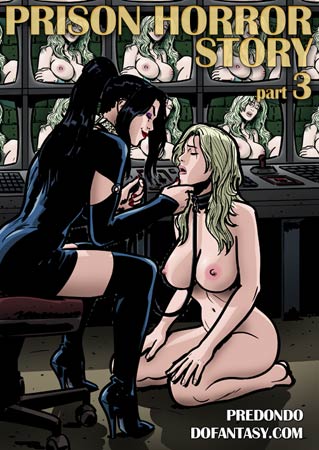 NEW IN PDF ELECTRONIC VERSION!
Adult Comic Album by PREDONDO.
HIGH RESOLUTION PDF deluxe edition
40 full color comic pages!
-COMPLETE, UNABRIDGED VERSION-
A STUNNING MILF AND HER DAUGHTER ARE FORCED INTO DEVIANT, SEXUAL SLAVERY IN A SOUTH AMERICAN PRISON!
IN THIS BRUTAL BANANA REPUBLIC, THE ONLY THING THAT IS CERTAIN IS THAT WHITE, FOREIGN WOMEN ARE NOT SAFE!
IMPORTANT NOTICE - DISCLAIMER
All characters are 18 years old or older.
This is an entirely fictional work based on
cartoon characters for adult entertainment.
It shows no real people or events.
The characters are shown participating in
CONSENSUAL role-play for their own
personal satisfaction, simulating activities
which involve sexual dominance and
submission. No actual toons were harmed
in the making of this comic.
ANOTHER GRIPPING COMIC BY PREDONDO SET IN A SECRET PRISON FOR WOMEN DEEP IN THE HEART OF A COUNTRY RULED BY A MILITARY JUNTA! WITHIN THE SINISTER PRISON WALLS FOREIGN WOMEN ARE TRAINED TO BE SUBMISSIVE SEX SLAVES WHO WILL OBEY ALL ORDERS!
In this episode we learn how a missionary, the Rev. Stevenson, and his beautiful wife Mary Ann were captured by the military. They had been working among the poor, helping many of them to cross the border and escape from the cruel dictatorship of Coronel Cisneros... Mary Ann suspects that things are going very wrong when the guards at the checkpoint rip her blouse open and take her bra off, revealing her magnificent breasts...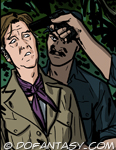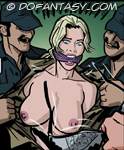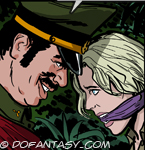 The Rev. Stevenson is taken away and charged with treason, for which there is the death penalty. Mary Ann has no choice. To keep her husband alive, she must cooperate. She is taken to the female prison, known as the FSCC (Foreign Sluts Correctional Centre), and is welcomed by the woman who runs it, a cruel lesbian known as Miss Melanie. Mary Ann is taken away for her first session of correctional treatment. She is tied to a table and abused by a group of soldiers as well as by Miss Melanie herself and her idiot son Gustavo...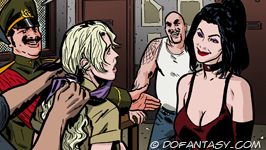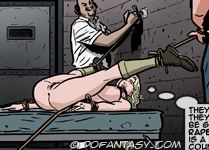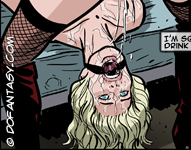 One day the military come to inspect the girls' progress. An exhibition is laid on for them, in which Vicky, the daughter of a foreign aid worker Claire Redfern, puts the girls through their paces. There is not a soft member in the military junta as the girls are forced to exhibit the most intimate parts of their naked bodies...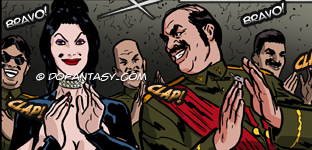 Vicky has gradually come under Miss Melanie's influence and will do everything her mistress tells her to. Her mother Claire watches helpless as her daughter puts the girls through her paces. Is Vicky doing it because she has to, or because she wants to?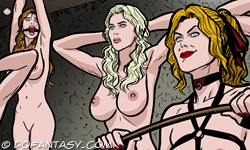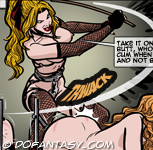 The mother watches in horror as the daughter takes the girls to the brink of orgasm again and again and then denies them the relief their bodies so badly need...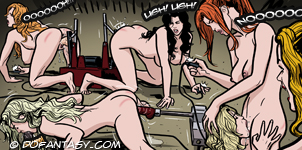 When the show is over, the girls walk over to meet the members of the junta and offer them their mouths...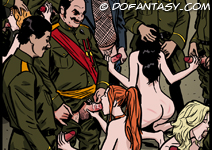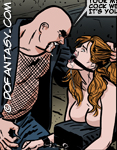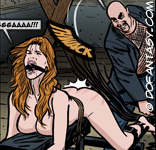 Humiliation, public and private, is the key word. Miss Melanie is interested in Mary Ann and films her secretly when she is alone and pleasuring herself...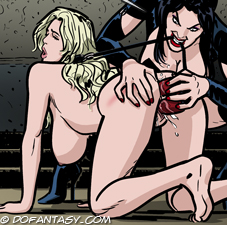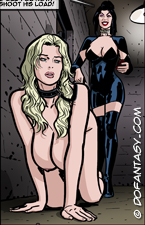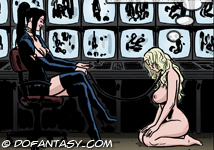 Things get even worse for Mary Ann when her daughter finally receives permission from Miss Melanie to give herself an orgasm, but on one condition... a terrible one...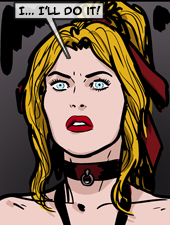 PREDONDO RETURNS TO DOFANTASY.COM WITH ANOTHER THRILLING ADVENTURE SET IN THE HOT HUMID WORLD OF A SOUTH AMERICAN DICTATORSHIP! EXPLICIT GRAPHICS AND SHOCKING DETAILS EMERGE AS TWO INNOCENT WOMEN RECEIVE THE FULL FORCE OF UNRESTRAINED LUST AND SADISTIC CRUELTY IN A LAWLESS STATE! PREDONDO, A MASTER OF QUALITY AND CRAFTSMANSHIP, IS AT HIS BEST HERE.
YOU WON'T WANT TO MISS THIS COMIC!
VISIT PREDONDO'S SITE
FOR A COMPLETE LIST OF PREDONDO COMICS AND OFFERS