Use our On-Line 100% Secure EncryptedShopping Cart Ordering System. Simply browse
our site and Click the ADD TO SHOPPING CART buttons to place items in your Shopping Cart
[ HOME ] [ COMICS ] [ MOVIES ] [ NOVELS ] [ CD-ROM ] [ Order info ] [ Help ] [ ARTIST SITES ] [ SEARCH ]
[ Disclaimer ] [ CATALOGUE ] [ Copyright ]
FANSADOX COLLECTION 367
INDEFINITE DETENTION by ROBERTS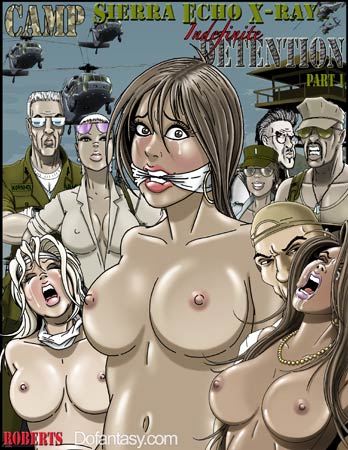 NEW IN PDF ELECTRONIC VERSION!
Adult Comic Album by ROBERTS.
HIGH RESOLUTION PDF deluxe edition
25 full color comic pages!!!
** ONLY 12.95 Euros **
-COMPLETE, UNABRIDGED VERSION-
IN A SECRET MILITARY INSTALLATION ON AN UNMARKED ISLAND IN THE MIDDLE OF NOWHERE, "TERRORIST" GIRLS ARE "INTERROGATED" IN ALL THEIR HOLES!
THESE "TERRORIST" GIRLS ARE GUILTY OF EXTREME SEXINESS AND INSUBORDINATE SLUTTINESS! ONLY A MILITARY TRIBUNAL OF SADISTIC SOLDIERS CAN SET THEM STRAIGHT!
IMPORTANT NOTICE - DISCLAIMER
All characters are 18 years old or older.
This is an entirely fictional work based on
cartoon characters for adult entertainment.
It shows no real people or events.
The characters are shown participating in
CONSENSUAL role-play for their own
personal satisfaction, simulating activities
which involve sexual dominance and
submission. No actual toons were harmed
in the making of this comic.
THE LATEST ROBERTS COMIC... THE LIVING MASTER OF BDSM COMICS!!!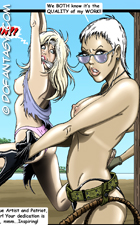 Major Dykes is one of the top military officials who runs this prison camp for suspected terrorist scum slaves. Hard nosed and no nonsense, Major Dykes has only one thing on her mind – ensuring that the slave meat at her disposal is properly trained and ready to confess each and every crime they have not only committed, but those they wanted to commit, didn't even think they wanted to commit, and those they secretly wished to commit in their filthy, disgustingly perverted hearts...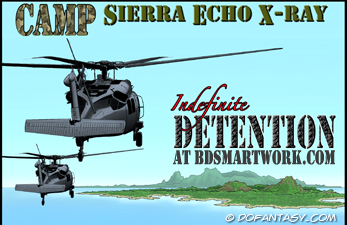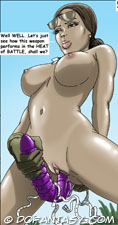 It seems that there is an enormous number of terrorist girls out there, and the military has no qualms about secreting them away via "extraordinary rendition." Only the vigilant and the patriotic can protect our country from all manner of terrorist plots. These girls harbor weapons of mass destruction in their luscious breasts, sweet and innocent pussies, and tight and virgin assholes! Only a thorough inspection will ensure that our country remains safe...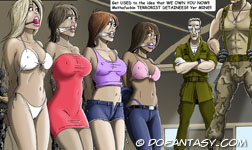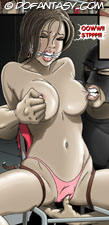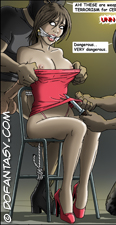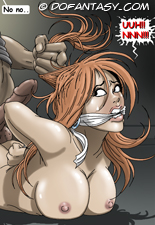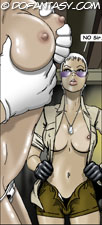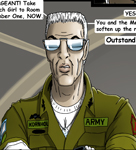 Running this military installation is Colonel Kornhol, a corrupt military man who is more than happy to keep his activities to himself. The government doesn't need to know about his methods or his means. As long as those pencil pushers in the capitol keep writing checks and keeping their noses out of his business, that suits Colonel Kornhol just fine...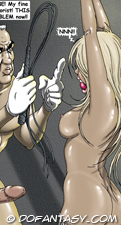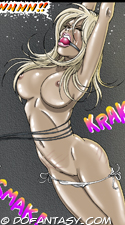 Still, Colonel Kornhol runs a tight ship, and insubordination is not tolerated. Major Dykes might learn this, much to her humiliation...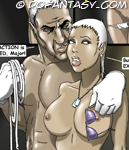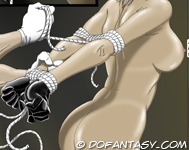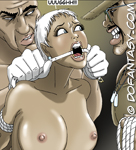 ANOTHER UNBELIEVABLE VIEW OF SECRET MILITARY BLACK SITES AND "ENHANCED INTERROGATION TECHNIQUES." ENTER A WORLD OF CORRUPTION AND DECADENCE WITH CAUTION, FOR THIS IS SOME OF THE MOST EXTREME STUFF YET!
ROBERTS AMAZES AND WOWS WITH A COMIC THAT IS HOT, HOT, HOT!!!! YOU DON'T WANT TO MISS THIS COMIC, ESPECIALLY IF YOU'RE A GORGEOUS YOUNG LADY, OR ELSE THE GOVERNMENT MIGHT CONSIDER YOU A TERRORIST SYMPATHIZER...

AVAILABLE ONLY AT DOFANTASY!
IT'S HOT, IT'S FUN AND IT'S NOT TO BE MISSED!

THE LATEST ROBERTS!
DON'T MISS IT!