Use our On-Line 100% Secure EncryptedShopping Cart Ordering System. Simply browse
our site and Click the ADD TO SHOPPING CART buttons to place items in your Shopping Cart
[ HOME ] [ COMICS ] [ MOVIES ] [ NOVELS ] [ CD-ROM ] [ Order info ] [ Help ] [ ARTIST SITES ] [ SEARCH ]
[ Disclaimer ] [ CATALOGUE ] [ Copyright ]
FANSADOX COLLECTION 372
INDEFINITE DETENTION Part 2 by ROBERTS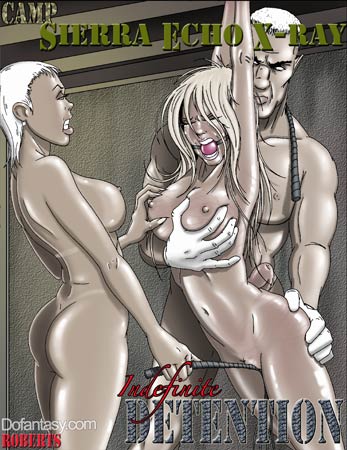 NEW IN PDF ELECTRONIC VERSION!
Adult Comic Album by ROBERTS.
HIGH RESOLUTION PDF deluxe edition
25 full color comic pages!!!
** ONLY 12.95 Euros **
-COMPLETE, UNABRIDGED VERSION-
THESE TERRORIST GIRLS HAVE PROVEN HARD NUTS TO CRACK. MORE EXTREME MEANS OF INTERROGATION ARE REQUIRED TO MAKE THESE GIRLS CUM AGAINST THEIR WILL!
A NEW BATCH OF TERRORIST SLAVE GIRLS HAS ALL THE SOLDIERS WORKING OVERTIME. A SURPRISE INSPECTION FROM A HIGH RANKING SENATOR COULD END THE PARTY EARLY!
IMPORTANT NOTICE - DISCLAIMER
All characters are 18 years old or older.
This is an entirely fictional work based on
cartoon characters for adult entertainment.
It shows no real people or events.
The characters are shown participating in
CONSENSUAL role-play for their own
personal satisfaction, simulating activities
which involve sexual dominance and
submission. No actual toons were harmed
in the making of this comic.
THE LATEST ROBERTS COMIC... THE LIVING MASTER OF BDSM COMICS!!!
Things are proceeding on schedule at this corrupt military black site where only the prettiest and sexiest suspected terrorists are brought for "enhanced interrogation." At this location, run by the strict and sadistic Colonel Kornhol, discipline is used both on his subordinates and suspected terrorists with equal prejudice. No breast, pussy, or ass will be spared from the Colonel's wrath. Joining the team is the esteemed Doctor Lovecraft, a brilliant physician who is intent on ensuring the most efficient and economical means of abusing and humiliating the terrorist slutbags on site. Only idiots would leave any sensitive or throbbing hole unplugged and any juicy pussy or hard tit unshocked!!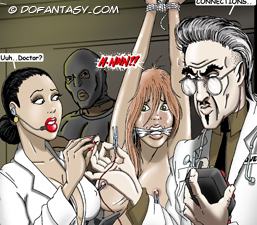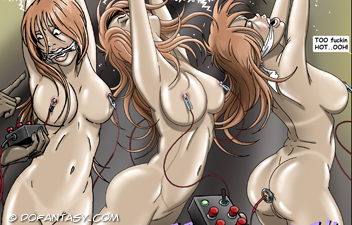 After a particularly humiliating display of discipline and obedience, Major Dykes is out for revenge. Her insubordinate Captain Lesbi is going to suffer the consequences while Colonel Kornhol looks on with approval...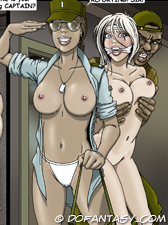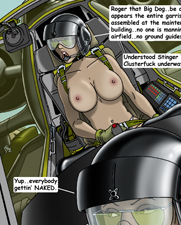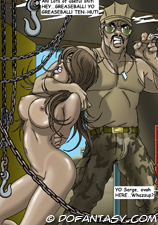 While the cat's away, the mice will play. Sergeant Hardick has his own plans for the newest terrorist arrival, and it includes the entire garrison along with the retarded mechanic Greaseball. Only the most intense and extreme methods will ensure these terrorist sluts confess to their crimes of being trampy whores!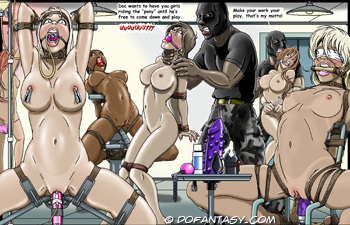 But a threat looms on the horizon, unseen by either Colonel Kornhol or the mechanic Greaseball or anyone in between. A surprise inspection is inbound, carrying the corrupt and drug addled Senator Feelie and his more competent aide, Luther. While a debauched revelry of sexual perversion rages throughout the military black site, Senator Feelie is inbound with his own plans and his own intentions on how best to treat the newest terrorist arrivals...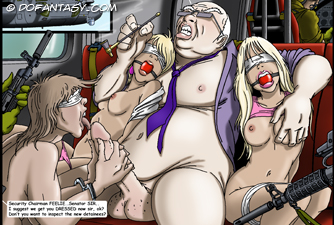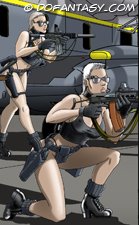 Someone is going to pay for this rank insubordination and unacceptable conduct. Immediate disciplinary action is required...

ROBERTS PRODUCES STUNNING AND BEAUTIFUL WORK WORTHY OF A MASTER. THIS SHOCKING NEW COMIC IS ONE OF THE MOST INTENSE YET!! GORGEOUS GIRLS ARE USED, ABUSED, AND HUMILIATED BY THE HARDEST MILITARY ELITE, AND NO MATTER WHO WINS, THESE "TERRORIST BEAUTIES" WILL LOSE! YOU WON'T WANT TO MISS THIS COMIC!!

IT'S THE MOST EXCITING AND AMAZING TALE YET, HOT HOT HOT, BROUGHT TO YOU ONLY BY THE EXCEPTIONAL TALENTS OF RO

BERTS HERE EXCLUSIVELY AT DOFANTASY.COM!!

THE LATEST ROBERTS, PART 2!
DON'T MISS IT!