Use our On-Line 100% Secure EncryptedShopping Cart Ordering System. Simply browse
our site and Click the ADD TO SHOPPING CART buttons to place items in your Shopping Cart
[ HOME ] [ COMICS ] [ MOVIES ] [ NOVELS ] [ CD-ROM ] [ Order info ] [ Help ] [ ARTIST SITES ] [ SEARCH ]
[ Disclaimer ] [ CATALOGUE ] [ Copyright ]
FANSADOX COLLECTION 373
THE OFFICE - ERENISCH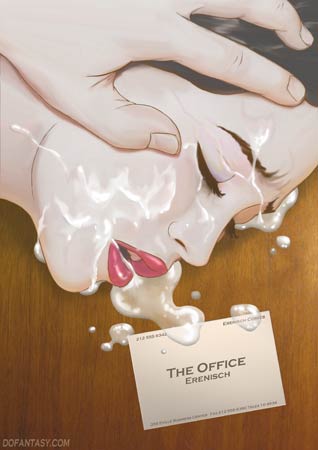 NEW IN PDF ELECTRONIC VERSION!
Adult Comic Album by ERENISCH.
HIGH RESOLUTION PDF deluxe edition
52 full color comic pages!!!
-COMPLETE, UNABRIDGED VERSION-

TAKE A JOURNEY TO A SHOCKING, UNIMAGINABLE FUTURE WHERE WOMEN HAVE BEEN STRIPPED OF ALL RIGHTS AND TURNED INTO OBEDIENT SEX TOYS!

BROUGHT TO YOU FROM THE LEGENDARY IMAGINATION OF ERENISCH, COME VISIT A FANTASY UNIVERSE OF INTRICATE DEPTH AND DETAIL WHERE PERVERTED, SEXUAL CRUELTY HAS BECOME A PART OF EVERYDAY LIFE...

IMPORTANT NOTICE - DISCLAIMER
All characters are 18 years old or older.
This is an entirely fictional work based on
cartoon characters for adult entertainment.
It shows no real people or events.
The characters are shown participating in
CONSENSUAL role-play for their own
personal satisfaction, simulating activities
which involve sexual dominance and
submission. No actual toons were harmed
in the making of this comic.

EVEN IN THE GLASS SKYSCRAPERS OF THE CORPORATE OFFICE, WOMEN ARE STILL LITTLE MORE THAN MEAT TO BE USED BY THEIR MALE COWORKERS!

The year is 2022... Many countries have passed the 'Compulsory Female Slavery Law' and legalized the sexual use and trade of nubile women over 18 years of age. When a girl reaches the age of legal enslavement, she can be bought and sold, hired and whored, and used in every imaginable way...



She becomes her owner's personal property.



There is no escape for the young women of the future, nowhere they can run or hide to escape their fate as bondage slave toys in the hands of men.


The best a girl can hope for is to find a master who is less cruel. But there are many monsters out there, and few girls are that lucky...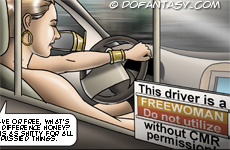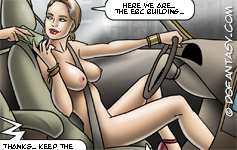 _________________
BACKGROUND…
Paul Stevenson is one of the most powerful men in the world and owner of a successful business corporation, STEVENSON CTS, located in one of the tallest buildings in the heart of Eville. Paul Stevenson is one of the leading captains of industry, and he makes his living in the sale and trade of female slaves both nationally and internationally. But even here, or perhaps ESPECIALLY here, even though the women are educated and perhaps overqualified, they are little more than playthings for their male coworkers. All the women must follow not only the Compulsory Female Slavery laws but must be willing to put her holes and dignity on the line, lest she lose her job for failing to "socialize" with her peers...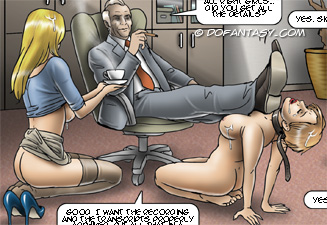 __________________
IN THIS COMIC…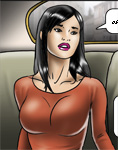 Aiko Yariman is a nervous freewoman desperately seeking employment at Stevenson CTS. She has a tough interview ahead of her, and even she knows that despite her diplomas, CV, certificates, and references, there really is only one thing the interviewer has in mind. Still, Aiko is nervous as hell: "Will the interviewer think I'm pretty enough? Will the interviewer think my holes are tight enough? Oh God, did I remember to bring my lube? If not, this is going to be very painful!" It doesn't help that there are plenty of other pretty, young girls working just as hard for the position... there are all those fees and taxes one must pay for the privilege of being uncollared...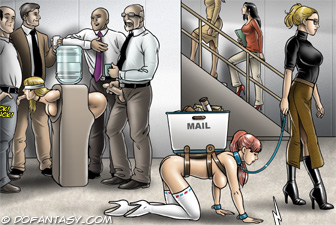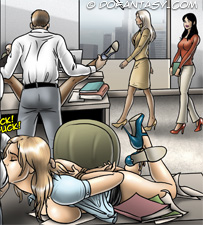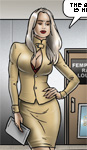 Still, even in the corporate world, life is no picnic, especially for the women. All of the girls must be available at all times to please and satisfy not only their superiors, but also their coworkers! The female population of the office is ruled with an iron fist by the notoriously brutal Ms. Holly Venger, a no nonsense woman who had to claw her way up from the ranks to become one of the only female managers at Stevenson CTS. Ms. Venger even has the privilege of being protected by the big boss himself; no man may use except for Paul Stevenson. This has left many a man not only blue balled, but also quite contemptuous of the arrogant Ms. Venger. This is not to say that Ms. Venger has many friends among the women of the company either, after all she is the Female Discipline Manager for the company, it was she who penned the notorious FEMPLOYEE DISCIPLINE HANDBOOK...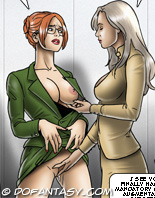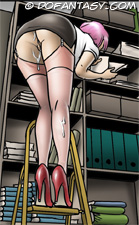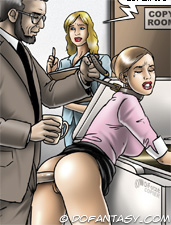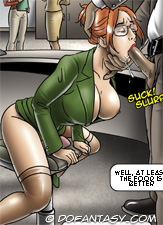 Ms. Venger enforces the rules of the Femployee Discipline Handbook like a tyrant. She ensures that the girls fill out their weekly FUC-SHEETS to prove that they've been willing submissives for the men in the office. Things look set for Ms. Venger...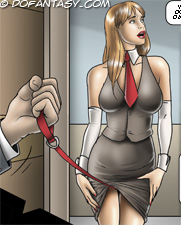 That is, until a new face shows up at the office. A new face that just might have the cunning and the spine to challenge the arrogant female manager and level the playing field, force the arrogant Ms. Venger to face the most humiliating time of her life...
However, things are not quite as they seem at Stevenson CTS... beyond the world of office politics, there is something else waiting just around the corner that no one seems aware of, at least not yet...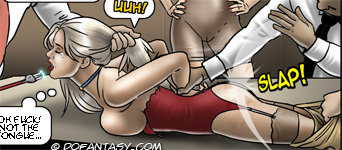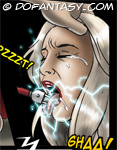 ERENISCH HAS PROVIDED YET ANOTHER LOOK INTO HIS RICH AND COMPLEX WORLD OF FEMALE SLAVER Y AND SUBMISSION! EVEN IN THE GLASS AND STEEL HIGH REACHES OF THE CORPORATE WORLD, WOMEN ARE NOT SAFE FROM THE RAVAGES OF MEN AND THEIR LUSTS! PAUL STEVENSON CAME TO BE ONE OF THE LEADING TRADERS OF FEMALE MEAT IN THE ENTIRE WORLD, AND IT WAS NOT BECAUSE OF HIS KINDNESS OR LENIENCY! WHAT WILL HAPPEN IN THIS CUTTHROAT WORLD OF OFFICE SHARKS AND HELPLESS FEMININE SLUTS? YOU CAN ONLY FIND OUT HERE IN THIS LATEST ISSUE, BROUGHT TO YOU EXCLUSIVELY BY DOFANTASY.COM!
YOU WON'T WANT TO MISS THIS COMIC! IT IS HOT, HOT, HOT!
________________________________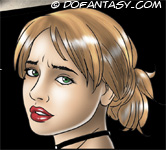 VISIT
ERENISCH SITE
FOR A COMPLETE LIST OF ERENISCH COMICS AND OFFERS
VISIT