Use our On-Line 100% Secure Encrypted Shopping Cart Ordering System. Simply browse
our site and Click the ADD TO SHOPPING CART buttons to place items in your Shopping Cart
[ HOME ] [ COMICS ] [ MOVIES ] [ NOVELS ] [ CD-ROM ] [ Order info ] [ Help ] [ ARTIST SITES ] [ SEARCH ]
[ Disclaimer ] [ CATALOGUE ] [ Copyright ]
FANSADOX COLLECTION 375
PRISON HORROR STORY - Part 4 - PREDONDO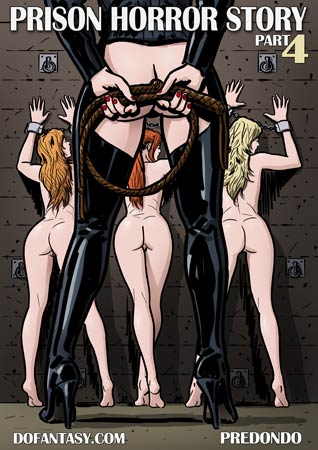 NEW IN PDF ELECTRONIC VERSION!
Adult Comic Album by PREDONDO.
HIGH RESOLUTION PDF deluxe edition
40 full color comic pages!
-COMPLETE, UNABRIDGED VERSION-
A STUNNING MILF AND HER DAUGHTER ARE FORCED INTO DEVIANT, SEXUAL SLAVERY IN A SOUTH AMERICAN PRISON!
IN THIS BRUTAL BANANA REPUBLIC, THE ONLY THING THAT IS CERTAIN IS THAT WHITE, FOREIGN WOMEN ARE NOT SAFE!
IMPORTANT NOTICE - DISCLAIMER
All characters are 18 years old or older.
This is an entirely fictional work based on
cartoon characters for adult entertainment.
It shows no real people or events.
The characters are shown participating in
CONSENSUAL role-play for their own
personal satisfaction, simulating activities
which involve sexual dominance and
submission. No actual toons were harmed
in the making of this comic.
MUCH-ACCLAIMED ARTIST PREDONDO CONTINUES HIS EXCITING STORY OF THE SANTA RITA PRISON, WHERE FOREIGN GIRLS ARE TREATED AS SLUTS WHO NEED "RE-EDUCATING". THE PRISON IS RUN BY A DOMINATRIX KNOWN AS MISS MELANIE, AND THE RE-EDUCATING PROGRAM TAKES THE FORM OF WHATEVER SEXUAL ABUSE SHE DECIDES...
Stella, a rich American who inherited a fortune from her mother. Stella lived life in the fast lane until the day she took a fancy to a young man at a party on her yacht.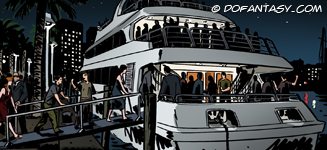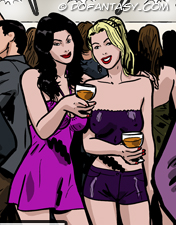 It was a bad move. The young man was a corrupt police Inspector and he planted drugs on the boat. He had Stella arrested and taken to Santa Rita prison.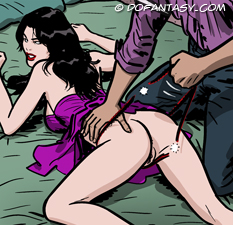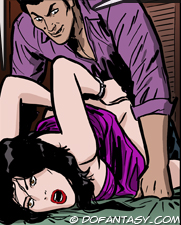 One day the Inspector visits the prison to check on her progress...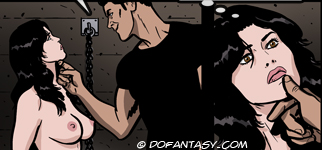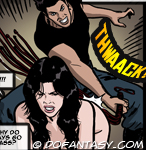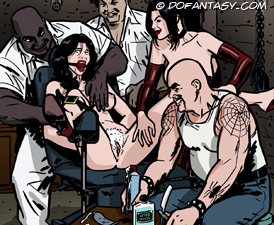 The military Dictator Coronel Cisneros later visits the centre and grants Stella bail on a terrible condition ...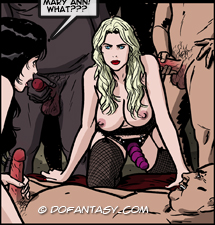 We also follow the beautiful Claire, a foreign aid worker who is in the center along with her daughter Vicky. Claire receives special attention from Miss Melanie. Her daughter Vicky has already succumbed to her Mistress's sexual abuse and has joined what Miss Melanie calls "the dark side", a region where pain and pleasure and power come together in intensely physical relationships.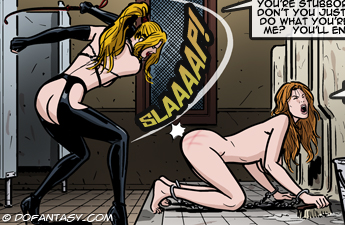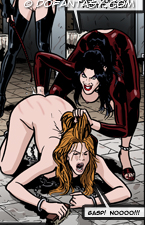 Miss Melanie wants to break Claire in and win her over. But Claire is a hard woman to dominate...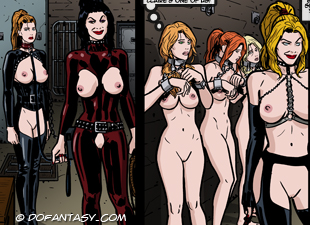 Miss Melanie has her naked body. But she wants her mind too...

PREDONDO RETURNS TO DOFANTASY.COM WITH ANOTHER THRILLING ADVENTURE SET IN THE HOT HUMID WORLD OF A SOUTH AMERICAN DICTATORSHIP! EXPLICIT GRAPHICS AND SHOCKING DETAILS EMERGE AS INNOCENT WOMEN RECEIVE THE FULL FORCE OF UNRESTRAINED LUST AND SADISTIC CRUELTY IN A LAWLESS STATE! PREDONDO, A MASTER OF QUALITY AND CRAFTSMANSHIP, IS AT HIS BEST HERE.
YOU WON'T WANT TO MISS THIS COMIC!
VISIT PREDONDO'S SITE
FOR A COMPLETE LIST OF PREDONDO COMICS AND OFFERS