Use our On-Line 100% Secure EncryptedShopping Cart Ordering System. Simply browse
our site and Click the ADD TO SHOPPING CART buttons to place items in your Shopping Cart
[ HOME ] [ COMICS ] [ MOVIES ] [ NOVELS ] [ CD-ROM ] [ Order info ] [ Help ] [ ARTIST SITES ] [ SEARCH ]
[ Disclaimer ] [ CATALOGUE ] [ Copyright ]
FANSADOX COLLECTION 383
REPURPOSED - ERENISCH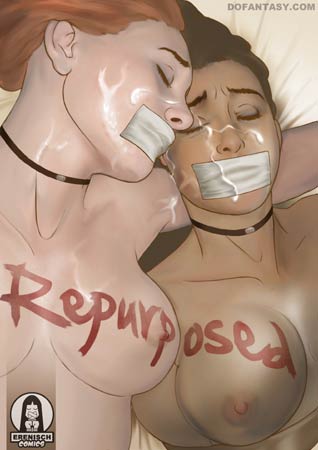 NEW IN PDF ELECTRONIC VERSION!
Adult Comic Album by ERENISCH.
HIGH RESOLUTION PDF deluxe edition
58 full color comic pages!!!
-COMPLETE, UNABRIDGED VERSION-
TAKE A JOURNEY TO A SHOCKING, INCREDIBLE FUTURE WHERE WOMEN HAVE BEEN STRIPPED OF ALL RIGHTS AND TURNED INTO OBEDIENT SEX TOYS!
BROUGHT TO YOU FROM THE LEGENDARY IMAGINATION OF ERENISCH, COME VISIT A FANTASY UNIVERSE OF INTRICATE DEPTH AND DETAIL WHERE PERVERTED, SEXUAL CRUELTY HAS BECOME A PART OF EVERYDAY LIFE...
IMPORTANT NOTICE - DISCLAIMER
All characters are 18 years old or older.
This is an entirely fictional work based on
cartoon characters for adult entertainment.
It shows no real people or events.
The characters are shown participating in
CONSENSUAL role-play for their own
personal satisfaction, simulating activities
which involve sexual dominance and
submission. No actual toons were harmed
in the making of this comic.
IMAGINE A WORLD WHERE YOU COULD JUST BUY THE PRETTY GIRL WHO IGNORED YOU IN HIGH SCHOOL...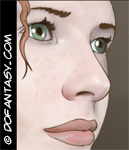 The year is 2022... Many countries have passed the 'Compulsory Female Slavery Law' and legalized the sexual use and trade of nubile women over 18 years of age. When a girl reaches the age of legal enslavement, she can be bought and sold, hired and whored, and used in every imaginable way...

Many years have passed since the law went into effect, and society has grown accustomed to female slavery. Young, high school girls now grow up, knowing and accepting that their fathers can sell them into slavery as soon as they turn 18.
_________________
BACKGROUND…
Heather McSluddie is an average high school girl, but the world can be a very scary place for an average high school girl in 2037. The girls in school try not to think about it, but they all know they could be enslaved soon. There is nowhere to run. There is no one who could protect them. The entire world conspires to enslave them. They can be captured and ravaged and forced to serve men for their entire lives. And it's all completely legal.
Life is hard for Heather and her friends. From a young age, their society had shaped them to be obedient fucktoys. Every influence on them, from their public schools, to their parents, to their television shows, all train them to be weak-willed and pliant. At every turn, their teachers and role models tell them that their only purpose in life is to please men. Even "free" girls have no self-confidence, and submissively accept their classmates right to use them sexually.
But no matter how hard life may be, it can always get worse…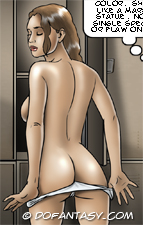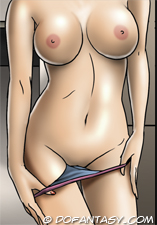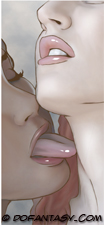 __________________
IN THIS COMIC…
Unbeknownst to Heather and her friends, the Regional Education Board has just approved new school regulations. Now anyone will be allowed to buy 18 year-old high school girls, even if the girl has not graduated yet. Suddenly, it is very dangerous for a girl to reject any boy's advances at school. If a boy becomes angry with a female classmate who rejects him, now he can just buy her.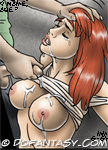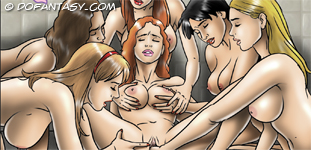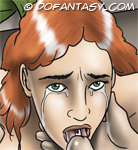 Once a girl is legally enslaved, there is very little she can do to resist her new Master. Eventually, her owner will break her will and turn her into whatever he wants her to be. Heather and her friends will soon learn that a girl's entire sense of identity can be taken away from her. She can have all of beliefs ripped away and changed around. Given enough time, a slavegirl can be made to think and believe whatever her Master wants­­. Her very sense of right and wrong can be re-oriented.
One by one, all of Heather's friends are doomed to lose their sense of identity and be re-purposed as total slaves. Nothing can save them.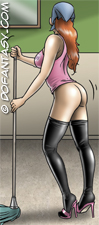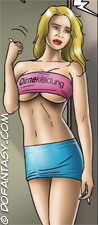 Heather and her friend Nathalie make the mistake of insulting Jeff, a dorky classmate who tried to sneak into the girls' locker room to take naked pictures of them. Heather and Nathalie vow that Jeff is a loser and he will never touch them. So Jeff decides to buy and enslave them both.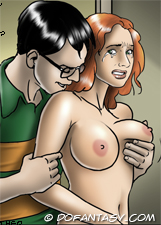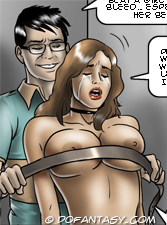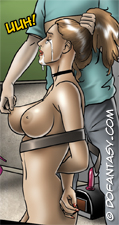 Over the course of the next year, Jeff systematically trains and transforms the girls who once spurned him. The very same girls who once called him a loser must now fight for the privilege of sucking his cock as a team.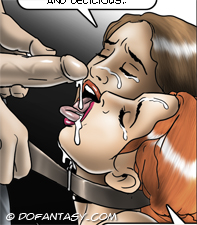 And the changes in the girls are not limited to their behavior. Their minds have been changed on a very deep level. Over time, Nathalie and especially Heather come to truly believe that it is morally right for them to be eager slaves and to strive to please the boy who owns them. Their old beliefs are completely gone.
Now they want to be good slaves for him!

Entire books of philosophy exist to help girls understand that is natural and good to surrender their free will to men. Female college professors with PhDs in Female Studies now teach classes and lecture young girls on the deep philosophical reasons why women should be happy to be slaves.
And their reasons are strangely convincing…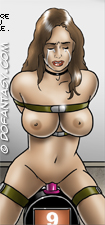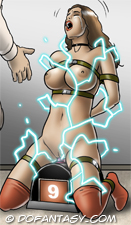 ERENISCH HAS BECOME A LEGEND IN THE WORLD OF BDSM. THE COMICS OF THE FAMOUS "E-VERSE" FEATURE SOME OF THE FINEST CRAFTED ARTWORK IN THE INDUSTRY. NOT ONLY DO THE NAKED SLAVEGIRLS HAVE BEAUTIFUL BODIES, BUT THEY ALSO HAVE COMPLEX AND BEAUTIFUL FACIAL EXPRESSIONS AND EMOTIONS.

READING THE COMIC, YOU CAN EASILY IMAGINE THAT THE HIGH SCHOOL GIRLS BEING ENSLAVED ARE REAL PEOPLE, MAYBE EVEN THE SAME GIRL YOU ONCE KNEW WHEN YOU WERE YOUNGER. AND AT THE SAME TIME AS THE COMICS ARE TURNING YOU ON, THEY ARE ALSO UNEXPECTEDLY THOUGHT-PROVOKING.

NOTHING LIKE THIS EXISTS ANYWHERE ELSE! BDSM HAS REACHED A NEW LEVEL AS AN ART FORM, AND IT IS HOT AS HELL!
VISIT
ERENISCH SITE
FOR A COMPLETE LIST OF ERENISCH COMICS AND OFFERS
VISIT