Use our On-Line 100% Secure EncryptedShopping Cart Ordering System. Simply browse
our site and Click the ADD TO SHOPPING CART buttons to place items in your Shopping Cart
[ HOME ] [ COMICS ] [ MOVIES ] [ NOVELS ] [ CD-ROM ] [ Order info ] [ Help ] [ ARTIST SITES ] [ SEARCH ]
[ Disclaimer ] [ CATALOGUE ] [ Copyright ]
FANSADOX COLLECTION 388
BEWARE! OLD FOLKS by SLASHER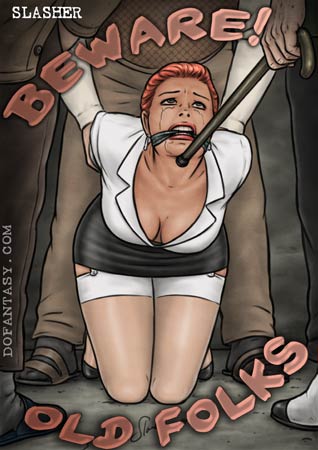 NEW IN PDF ELECTRONIC VERSION!
Adult Comic Album by SLASHER.
HIGH RESOLUTION PDF deluxe edition
38 full color comic pages!!!
-COMPLETE, UNABRIDGED VERSION-
DIALOGS BY NAJ
THIS STUNNING REDHEAD CHOSE THE WRONG OLD TIMERS TO PISS OFF! SHE MAY BE YOUNG AND SPRY, BUT THESE OLD FOLKS HAVE A TRICK OR TWO UP THEIR SLEEVES...
NURSE RACHEL LET POWER GO TO HER HEAD WHEN SHE WAS SENT SOLO TO SUPERVISE THE ELDERLY. SHE MAY HAVE BITTEN OFF MORE THAN SHE COULD CHEW...
IMPORTANT NOTICE - DISCLAIMER
All characters are 18 years old or older.
This is an entirely fictional work based on
cartoon characters for adult entertainment.
It shows no real people or events.
The characters are shown participating in
CONSENSUAL role-play for their own
personal satisfaction, simulating activities
which involve sexual dominance and
submission. No actual toons were harmed
in the making of this comic.

The Good Life Retirement Home is a small community for the elderly and aged. On most days, it is a quiet populace that needs minimal supervision, and in this region of the Bible belt, Sundays are by far the slowest day ever. On this particular Sunday, one Nurse Rachel is left alone as adequate supervision. Surely this young whippersnapper is more than capable of handling a bunch of crotchety old fossils... right?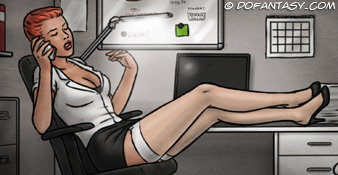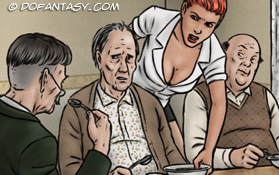 Maybe if she had better manners! Nurse Rachel is strong willed and sassy. She thinks she's the queen of the henhouse, and there's nothing she'd rather do than push these smelly old codgers around and shunt them off to the sidelines where they can hurry up and die!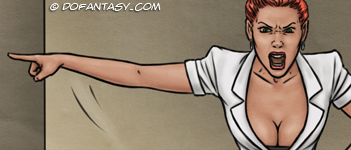 Unfortunately for Nurse Rachel, she chose the wrong people to piss off today. These old timers may have aching joints and tired bodies, but they are more than capable of putting a sassy trashy in her place... a mind grows keener with age, and the most wicked and sadistic thoughts of elder perverts knows no limits! These henpecked graybeards have had enough, and the stunning redhead will get the comeuppance she so richly deserves!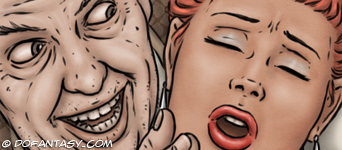 These antediluvians will prove they still have a trick or two up their sleeve...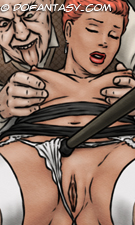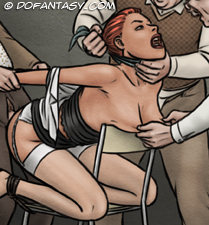 As Nurse Rachel will find this out... much to her humiliation!

Now the question is... what other nasty tricks have these dirty old codgers learned?

SLASHER CREATES YET ANOTHER AMAZING PIECE SHOWING THE TWISTED PERVERSIONS OF THE DEMENTED AND THE AGED! ONE SHOULD NEVER TAKE ONE'S ELDERS FOR GRANTED, ESPECIALLY WHEN ONE IS A BEAUTIFUL, REDHEADED FEMALE! THIS MAY BE ONE OF HIS MOST EXPLICIT, SHOCKING, AND TWISTED COMICS EVER! THIS IS ONE HOT AND HEAVY TALE THAT YOU DEFINITELY DON'T WANT TO MISS, BROUGHT TO YOU HERE EXCLUSIVELY AT DOFANTASY.COM!

!

YOU WON'T WANT TO MISS THIS! IT'S HOT, HOT, HOT!

YOU DON'T WANT TO MISS THIS!