Use our On-Line 100% Secure EncryptedShopping Cart Ordering System. Simply browse
our site and Click the ADD TO SHOPPING CART buttons to place items in your Shopping Cart
[ HOME ] [ COMICS ] [ MOVIES ] [ NOVELS ] [ CD-ROM ] [ Order info ] [ Help ] [ ARTIST SITES ] [ SEARCH ]
[ Disclaimer ] [ CATALOGUE ] [ Copyright ]
FANSADOX COLLECTION 389
VENDETTA by CELESTIN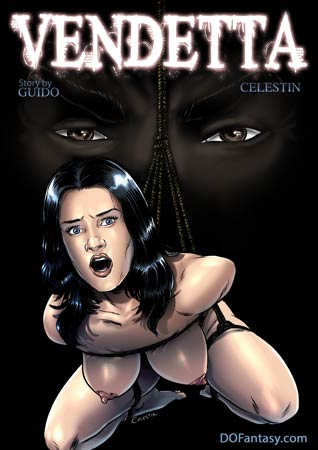 NEW IN PDF ELECTRONIC VERSION!
Adult Comic Album by CELESTIN.
HIGH RESOLUTION PDF deluxe edition
40 full color comic pages!!!
-COMPLETE, UNABRIDGED VERSION-
DIALOGS BY NAJ
THE VICIOUS ANNA DEVANI IS A FEARED MOB WIFE… UNTIL SOME DEADBEAT CLUB EMPLOYEES LEARN HER DARK, LESBIAN SECRET…

ANNA PISSED OFF THE WRONG PEOPLE WITH HER ARROGANT ATTITUDE. SHE WILL BE FORCED TO PAY THE PRICE WITH HER DIGNITY AND HER HOLES!
IMPORTANT NOTICE - DISCLAIMER
All characters are 18 years old or older.
This is an entirely fictional work based on
cartoon characters for adult entertainment.
It shows no real people or events.
The characters are shown participating in
CONSENSUAL role-play for their own
personal satisfaction, simulating activities
which involve sexual dominance and
submission. No actual toons were harmed
in the making of this comic.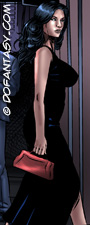 Anna Devani is a tall, statuesque woman with raven hair and a fiery temper. Everyone in the entire city knows not to mess with her. Even her own husband, the feared and ruthless Mr. Devani, can't get the time of day from his own wife! Protected by her husband's money and power, Anna Devani gets what she wants when she wants how she wants, and anyone who talks back is quickly taught the error of their ways…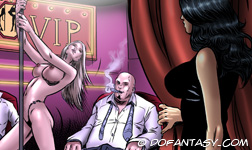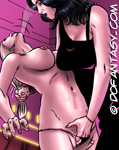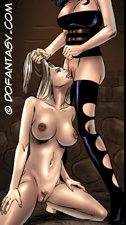 Even Mr. Devani can't get a moment alone with Anna. That's because Anna has another, secret taste: Anna is a sadistic, lesbian dominatrix… and she only has eyes for one person, a doe eyed blonde stripper by the name of Vanessa. Vanessa herself has suffered greatly from a string of drunken and abusive boyfriends, and though Anna is a cruel and sadistic bitch, she's a far cry better than those hulking brutes! At least Anna has a woman's touch, and to this pretty damsel, that means a lot…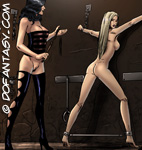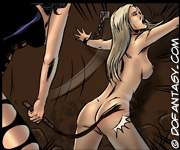 However, one night, Anna decides to piss off the wrong people. The club valet and bouncer decide to get back at Anna for being a grade A bitch by coming up with a horrible and terrible plan with the Devani family's main rival: Fabrinni.

But Fabrinni won't be satisfied with shaming and forcing Anna to submit. He wants to break her completely, and that means pulling out the big guns…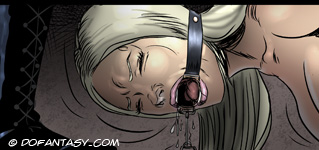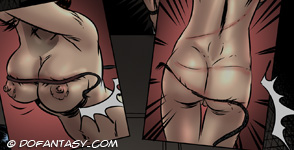 Anna is a proud and arrogant woman who will get her just desserts… and then some… the question isn't whether she will fall but instead how far she'll fall…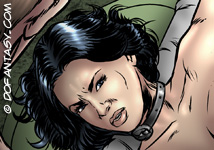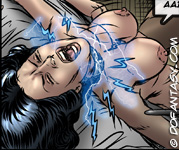 From the heights of power and privilege to the lowest, most degraded position as a female sex slave!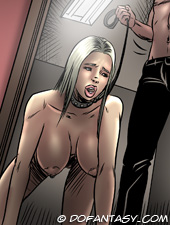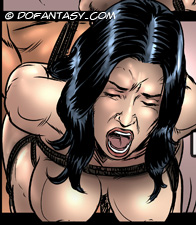 CELESTIN PROVIDES YET ANOTHER STUNNING AND AMAZING STORY OF CRIME AND BONDAGE! THIS MASTERPIECE OF CUNNING, UNDERWORLD POLITICS AND BACK ALLEY SKULLDUGGERY WILL LEAVE YOU ON THE EDGE OF YOUR SEAT AND WANTING MORE, MORE, MORE!!! YOU WON'T WANT TO MISS THIS COMIC, BROUGHT TO YOU HERE EXCLUSIVELY AT DOFANTASY.COM!!!

YOU DON'T WANT TO MISS THIS ISSUE! THIS COMIC IS HOT, HOT, HOT!!!!!!!

YOU DON'T WANT TO MISS THIS!