Use our On-Line 100% Secure EncryptedShopping Cart Ordering System. Simply browse
our site and Click the ADD TO SHOPPING CART buttons to place items in your Shopping Cart
[ HOME ] [ COMICS ] [ MOVIES ] [ NOVELS ] [ CD-ROM ] [ Order info ] [ Help ] [ ARTIST SITES ] [ SEARCH ]
[ Disclaimer ] [ CATALOGUE ] [ Copyright ]
FANSADOX COLLECTION 396
GHOSTHOUSE Part one by SLASHER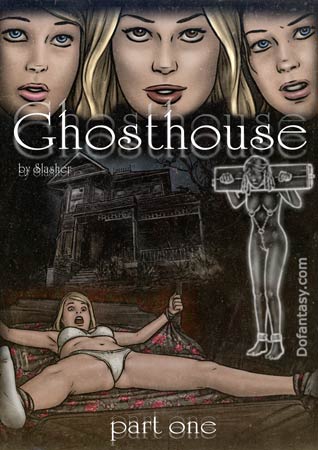 NEW IN PDF ELECTRONIC VERSION!
Adult Comic Album by SLASHER.

HIGH RESOLUTION PDF deluxe edition
25 full color comic pages!!!
-COMPLETE, UNABRIDGED VERSION-
DIALOGS BY NAJ

THREE GIRLS MAKE A DARE TO SPEND THE NIGHT IN THE HAUNTED BERGENSON MANSION. UNFORTUNATELY FOR THE GIRLS, THE MANSION'S PERVERTED GHOSTS STILL ROAM ITS HALLS AND ARE HUNGRY FOR FEMALE FLESH!


THESE GIRLS CHOSE THE WRONG PLACE TO SPEND THE NIGHT! THESE GHOSTS GROW STRONGER AS THEIR SPIRITS ARE FILLED WITH CARNAL LUST FOR YOUNG, FEMALE BODIES!

IMPORTANT NOTICE - DISCLAIMER
All characters are 18 years old or older.
This is an entirely fictional work based on
cartoon characters for adult entertainment.
It shows no real people or events.
The characters are shown participating in
CONSENSUAL role-play for their own
personal satisfaction, simulating activities
which involve sexual dominance and
submission. No actual toons were harmed
in the making of this comic.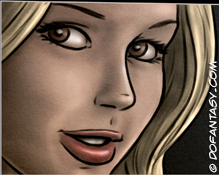 Danielle was alpha bitch of the pack of girls and had made a bet with her best friends. Whomever could stay the night in the old, haunted Bergenson mansion would be in the clear. Whomever chickened out and bolted before dawn would be forced to go to school the next day in the tightest, most revealing hot pants!
None of the girls wanted to lose out on the bet! Danielle's friends, Randy and Trixie, agreed to accompany the blonde beauty into the dark recesses of the house. There, they found the place empty and deserted, still covered in a fine layer of dust, with only mice and spiders to provide them company.
This would be a piece of cake! After all, it was just a spooky old mansion. Surely there wouldn't be any dangers here. The only danger would be from dying of boredom! Danielle decided to explore the place, leaving her friends Randy and Trixie behind…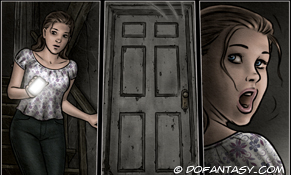 Randy and Trixie were having second thoughts about staying in the mansion. There was something weird about it, and it felt even colder than usual for a quiet, autumn night. The two started to hear things, weird things in the night. That was before they saw something, a ghastly sight that would leave the two filled with fright!
A little ghost girl still bound savagely with board and chains approached them! "Get out! Get out before they get you too! Get out before it's too late!"
Unfortunately for the girls, they do not need the ghost girl's warning. As the witching hour approaches, the spirits that inhabit the house grow stronger and stronger. Soon, they are able to materialize and affect the material plane…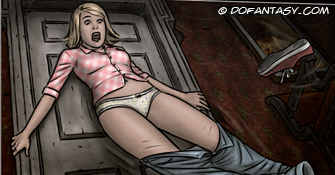 ...which means trouble for the girls!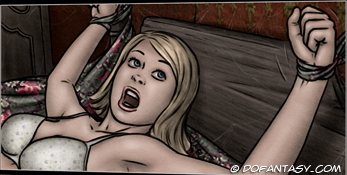 They might not survive the night after all… if the Bergenson's centuries old lust for fresh, female flesh is not satisfied, Danielle, Randy, and Trixie may find themselves the newest residents of the Bergenson house… permanently!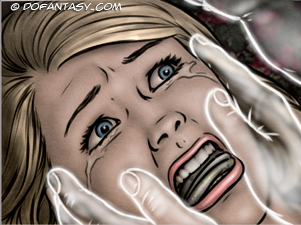 SLASHER IS ONE OF THE GREAT MASTERS OF DISASTER AND PRODUCES SOME OF THE MOST WICKED AND PERVERTED BONDAGE COMICS OUT THERE ON THE WEB. GHOST HOUSE IS YET ANOTHER STUNNING AND THRILLING DISPLAY OF HIS ARTISTRY AND STORYTELLING SKILL! HIS GIRLS ARE FULL OF LIFE AND BEAUTY WHILE THE GHOSTS ARE EVIL, DARK, HORNY, AND DREARY! A GREAT READ AND SPOOKTACULAR ADVENTURE, THIS IS A COMIC YOU WON'T WANT TO MISS, AND THE FUN ISN'T OVER YET… NOT BY FAR… BROUGHT TO YOU HERE EXCLUSIVELY AT DOFANTASY.COM!!!
YOU DON'T WANT TO MISS THIS COMIC! IT'S HOT, HOT, HOT!!!