Use our On-Line 100% Secure Encrypted Shopping Cart Ordering System. Simply browse
our site and Click the ADD TO SHOPPING CART buttons to place items in your Shopping Cart
[ HOME ] [ COMICS ] [ MOVIES ] [ NOVELS ] [ CD-ROM ] [ Order info ] [ Help ] [ ARTIST SITES ] [ SEARCH ]
[ Disclaimer ] [ CATALOGUE ] [ Copyright ]
FANSADOX COLLECTION 398
THE HOTTIES NEXT DOOR - Part 5 - PREDONDO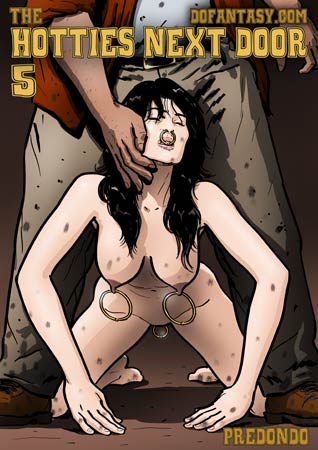 NEW IN PDF ELECTRONIC VERSION!
Adult Comic Album by PREDONDO.
HIGH RESOLUTION PDF deluxe edition
40 full color comic pages!
-COMPLETE, UNABRIDGED VERSION-

THERE'LL BE HELL TO PAY WHEN TWO WORLDS COLLIDE! THE MUGSHOT FAMILY AND FRIENDS WANT THEIR "PROPERTY" BACK, AND WHEN THEY FIND THE BROTHERS BUBBA AND WILBUR, BAD THINGS WILL HAPPEN... WHILE THE GIRLS ARE CAUGHT IN THE MIDDLE OF THE MAYHEM!

THINGS GO FROM BAD TO WORSE IN THE BACKWATER BAYOU!! NO MATTER WHO WINS THIS BATTLE OF THE PERVERTS, THE GIRLS WILL SURELY BE BOTH LOSERS AND LOOSER IN THE END!

IMPORTANT NOTICE - DISCLAIMER
All characters are 18 years old or older.
This is an entirely fictional work based on
cartoon characters for adult entertainment.
It shows no real people or events.
The characters are shown participating in
CONSENSUAL role-play for their own
personal satisfaction, simulating activities
which involve sexual dominance and
submission. No actual toons were harmed
in the making of this comic.

THE STORY SO FAR...

Dana and Holly were two young, innocent teenage girls starting a wild party while their parents were away. Things got off to a bad start when their dirty neighbor, Keith, got tired of watching the cockteasing sluts from the privacy of his second story window. He wanted to be part of the action, so Keith decided to crash the party early! He took the girls, dragging their unconscious, succulent bodies to his basement. Another unfortunate "guest" joined the perverted party when Dana and Holly's brunette friend, Vera, was brought along. Vera should have arrived fashionably late… she might not have ended up part of Keith's disgusting, bondage nightmare!

The girls and their shapely MILF mother, Mrs. Taylor, manage to escape from the Mugshot family, but they end up in even worse company! A pair of alligator poachers, Bubba and Wilbur, decide to take their due from the girls' holes, while their defiant mother finds herself on the wrong side of the redneck cops and inbred townsfolk who run this backcountry place! Mrs. Taylor is taken in by the "law" to answer for her crimes of sluttiness and public whoring, while the girls are further twisted to the brothers' will by their well-trained sex pet, "Goldie" and a strange and terrifying, tattooed preacher man...

...could things get any worse? Like you had to ask!

THIS COMIC...

It didn't take long for the Mugshots to track down their wayward toys. Even though this is a lonely and lightly trodden place, the swamp has its way of keeping its secrets. The Mugshots are native to this strange and terrifying wilderness, and there aren't many places that a set of shapely sluts can hide. The Mugshot family finds the island home of the redheaded, redneck brothers... and they're here to claim what's theirs!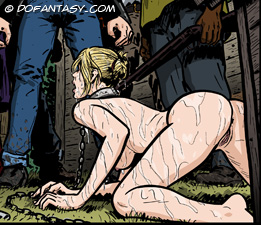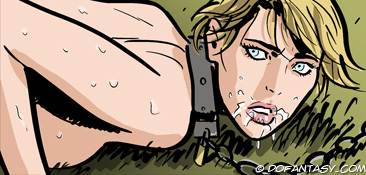 They have fun with the brothers' pet Goldie. Surprised by this sudden home invasion, the blonde former reporter has no time to warn the brothers before she's taken and brutally violated... not that they would've even paid her any attention... they were too busy fucking their prized pets, "Brownie" and "Red!"

Things go from awesome to awful for the brothers Bubba and Wilbur as the Mugshots take back what's theirs! And the Mugshots aren't shy about reminding the brothers about what happens to nasty little thieves who mess up their young, nubile slave girls! Mrs. Mugshot in particular makes sure these redneck boys don't forget their wrongs!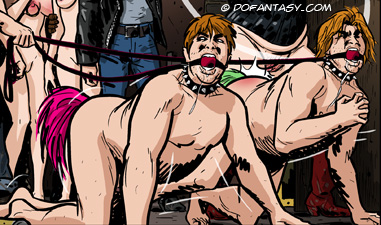 And the Mugshot boys make sure the girls understand who truly owns them! Vera especially is taught a lesson in obedience!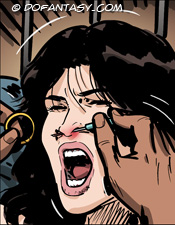 Meanwhile, there's justice to be done back in the "city!" Mrs. Taylor has plenty of crimes to answer for: public indecency, public lewdness, fucking without a license, and being an all around nasty bitch! Things really come to a head when Police Chief Kallahan, and her right hand woman, Agent Laverne, decide to dispense some indiscriminate justice...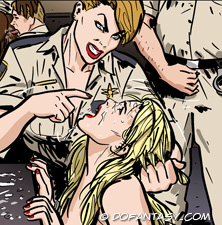 ...not only do they take out their fury on Mrs. Taylor, but Deputy Wilson will soon find out what happens to "insubordinate" little boys!

Things aren't looking good... and they'll only get worse!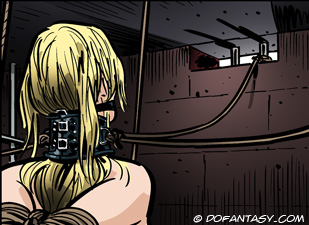 PREDONDO IS BACK AND BETTER THAN EVER WITH HIS LATEST EXPLOSIVE MASTERPIECE, HOTTIES NEXT DOOR 5! PERVERSION AND BONDAGE SLAVERY NEVER LOOKED SO GOOD IN THIS POWERFULLY LOADED, MEGA COMIC! NEW CHARACTERS ARRIVE AND WORLDS COLLIDE, AND THE ONES WHO WILL PAY THE DEAREST ARE THE PRETTIEST AND SHAPELIEST OF FEMALES!
YOU CAN'T MISS THIS ISSUE!!!
AFTER TODAY... NOTHING WILL EVER BE THE SAME... IN PREDONDO'S "HOTTIES NEXT DOOR 5!"
GIVE YOUR FANTASIES A WORK-OUT! DON'T MISS THE LATEST EPISODE OF A NEW CLASSIC, THE HOTTIES NEXT DOOR!
VISIT PREDONDO'S SITE
FOR A COMPLETE LIST OF PREDONDO COMICS AND OFFERS